The Summit 5 LAN preview gives insight into the recent history and performances of the eight teams – OG, Team Liquid, Na'Vi, Wings Gaming, Digital Chaos, Fnatic, Ad Finem and FDL gearing up to battle. An event expected to be filled with fun, thrilling matches and some of the best teams in the world will take place in the comfort of the BTS house between July 13-17 in Los Angeles, California. The first match will kick off on July 13 at 19:00 CEST between OG and FDL
Could not have asked for a better tournament than The Summit on the final stretch to #TI6. Begins in ~32 hours. pic.twitter.com/MWVFhHfN3N

— Wykrhm Reddy (@wykrhm) July 12, 2016
As the countdown for TI6 begins – with less than month to go – fans will get a chance to see some of their favorite teams in action now.
Eight of the best teams – six of which will be attending TI6 – will compete in the always entertaining and never disappointing Summit series at the BTS house in LA. Over the course of five days, the teams will provide viewers with some intense match-ups amidst the playful and spirited creative content and segments brought to life by Beyond the Summit.
Summit 5 LAN preview format
Double elimination
Best-of-three bracket
The Grand Final Best-of-five
No winners bracket advantage
Summit 5 LAN preview brackets

Summit 5 LAN preview teams
Three teams were directly invited to participate in the event. One team from each region qualified for the event. One team earned their spot through the community Redemption Vote.
OG – Direct Invite
Na'Vi – Direct Invite
Team Liquid – Direct Invite
Digital Chaos – Americas qualifier
Wings Gaming – Chinese qualifier
Ad Finem – European qualifier*
Fnatic – SEA qualifier
FDL – Redemption Vote
*Ad Finem replaced Virtus.Pro when the CIS team admitted to cheating.

Summit 5 LAN preview schedule
Day 1, July 13

Day 2, July 14

Day 3, July 15

Day 4, July 16

Day 5, July 17


Summit 5 LAN preview of teams

OG – Direct Invite


The team first defied the odds when they rose through the lower brackets, bested The International 5 champions, Evil Geniuses, and upset favorites Team Secret to rocket to the top and claim the championship title and the staggering 1.1 million dollars prize at the first Dota Major, in Frankfurt.
They followed up with a first place finish at DreamLeague Season 4 but slid into the 5th-8th place at the DotaPit Season 4 LAN. Stepping back up, they secured the fourth place at StarLadder iLeague Dota Invitational after being bested by Na'Vi, 2:1, in the lower brackets.
They continued to re-climb the ladder of success and took a remarkable third place at EPICENTER Moscow and then the championship title at DreamLeague Season 5 one week later, after they absolutely shellacked Na'Vi, 3:0.
In another ground-breaking moment, OG seized their second Valve championship title at the Manila Major, when they defeated Team Liquid, 3:1 – becoming the first team to claim two Valve titles. Merely one week later they claimed the title for ESL One Frankfurt, rounding out their year so far on a very high note.
OG roster:

Johan "BigDaddy" Sundstein


Tal "Fly" Aizik


David "MoonMeander" Tan


Andreas "Cr1t-" Franck Nielsen


Amer "Miracle-" Barqawi

Team Liquid – Direct Invite


When Team Liquid seized second place at the Shanghai Major after taking down Alliance, MVP.Phoenix and Evil Geniuses, they also captured the favor and seal of approval from tournament organizers and fans around the world. Since the Shanghai Major, they were directly invited to participate in ESL One Manila, ESL One Frankfurt 2016 and assumed the place of EHOME when the Chinese team's invite to EPICENTER Moscow was revoked due to roster changes.
On April 24th, Team Liquid went undefeated into the ESL One Manila Grand Finals, but ended up dropping three games, along with the championship title, to Wings Gaming.
EPICENTER Moscow would be their shining moment. After two consecutive second place finishes at premier events, the European mix seized their first premier championship title when they edged out Newbee, 3:2, in an intense and dramatic series.
Once again, the European team provided some standout performances and breathtaking matches at the Manila Major, only days ago. After an almost perfect run through the lower brackets, Team Liquid was bested by OG in the Grand Finals, 3:1. Liquid ended up taking another second place position in a Dota 2 Major.
They have since taken a 3-4th place finish at ESL One Frankfurt 2016.
Team Liquid roster:

Kuro "Kuroky" Salehi Takhasomi


Adrian "FATA-" Trinks


Jesse "JerAX" Vainikka


Lasse "MATUMBAMAN" Urpalainen


Ivan "MinD_ContRoL" Borislavov

Na'Vi – Direct Invite


After trying out and then finalizing their roster in February, with Viktor "GeneRaL" Nigrini, Na'Vi began to surge forward with positive results.
In the DotaPit Season 4 LAN, Na'Vi secured an impressive 3rd-4th placement after a long stint of struggles. Na'Vi ended their run at the DotaPit LAN finals having bested the Shanghai Major champions, Team Secret, and pushing the TI5 Championship team, Evil Geniuses, to a deciding third match.
At the SL iLeague Dota Invitational LAN, the Ukrainian team was on fire in front of their hometown audience. Spectacular performances led the squad to the grand finals against ViCi Gaming Reborn, where it took four incredibly intense, hair-raising matches for VG.Reborn to clinch the championship title.
A nod to their thrilling performances and renewed vigor, Na'Vi received a direct invite to the WePlay LAN – where they took a 5th-6th place finish at the WePlay LAN finals after topping their group phase.
The Ukrainian team was the crowd favorite at the Manila Major and didn't disappoint. With heart-stopping matches and clutch plays, they landed a commendable 7th-8th place at the third Dota Major. The revitalized team then followed up their performance with an incredible second place finish at ESL One Frankfurt 2016.

Na'Vi roster:

Danil "Dendi" Ishutin


Akbar "SoNNeikO" Butaev


Dmitry "Ditya Ra" Minenkov


Ivan "Artstyle" Antonov


Viktor "GeneRaL" Nigrini

Fnatic – Qualified team


Showing up to the Shanghai Major in a completely different form, Fnatic started to take on a new life. In the last few months, they secured multiple LAN spots through victories in the regional qualifiers: ESL One Manila, EPICENTER Moscow ESL One Frankfurt 2016 and SL iLeague StarSeries season 2. They won BTS Series 4 SEA and followed up with a championship title at the SEA Kappa Invitational Season 1.
In May, Fnatic announced an update to their roster including the long awaited return of Chai "Mushi" Yee Fung to competitive play. His return stimulated a domino effect of changes in the Fnatic roster – including Adam Erwann Shah "343" bin Akhtar Hussein's move into a primary role on the team and the departure of Wai Pern "Net" Lim.
Without missing a beat, The Summit 5 SEA qualifiers became the second consecutive LAN qualifier Fnatic seized in one week, shortly followed by securing their place in the SL iLeague StarSeries season 2.
The Malaysian-based team finished the Manila Major with a commendable 5th-6th place finish, then a 7-8th place at ESL One Frankfurt 2016.
Fnatic roster:

Chai "Mushi" Yee Fung


Chong "Ohaiyo" Xin Khoo


Djardel "DJ" Mampusti


Zheng "Miduan" Yeik Nai


Adam Erwann Shah "343" bin Akhtar Hussein

Digital Chaos – Qualified team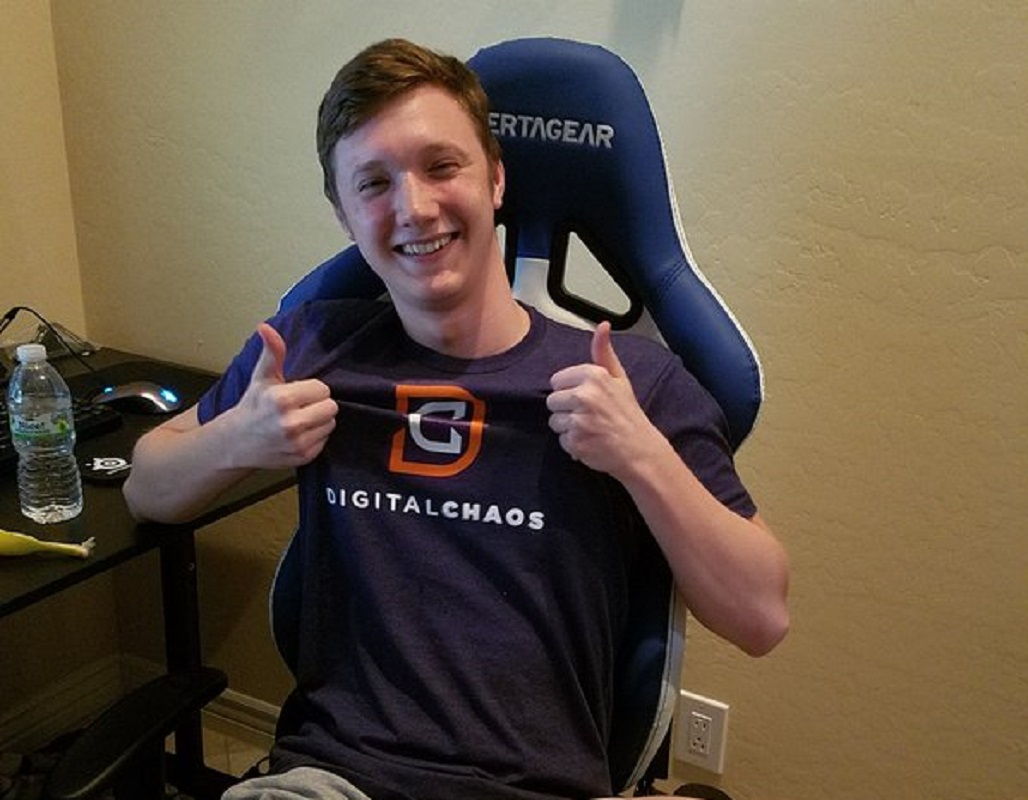 Digital Chaos was dissolved by default after they lost Theeban "1437" Siva to Team Secret as a coach and then Evil Geniuses officially welcomed back both Kurtis "Aui_2000" Ling and Sam "BuLba" Sosale to the organization.
The North American organization then picked up a squad consisting of Omar "w33" Aliwi, Rasmus "MiSeRy" Filipsen, Roman "Resolut1on" Fominok, David "Moo" Hull and Martin "Saksa" Sazdov. The team is attending bootcamp in the United States and competing in events, representing the NA region.
They seized a spot in the Manila Majors after barreling through the Manila Majors NA open qualifiers and then overcoming Shazam, 3:0, in the region's Grand Finals.
They have also proven to be a formidable enemy in the North American region, claiming the NA qualifier spots for both The Summit 5 besting compLexity Gaming 3:2, and SL iLeague StarSeries s2 after once again taking down compLexity Gaming 2:0
The team's first Major LAN debut since formation was the Manila Major where they took 9-12th place. They then took 5-6th place in China just recently at Nanyang Championships season 2.
Digital Chaos roster:

Aliwi "w33" Omar


Roman "Resolut1on" Fominok


David "Moo" Hull


Martin "Saksa" Sazdov


Rasmus "MiSeRy" Filipsen
Wings Gaming – Qualified team

After TI5, the roster made a 100% turnover and has welcomed all new players. The team has stuck together ever since.
They took 4th at WCA 2015, where they demonstrated impressive skill and talent and began to win over fans worldwide. They were the first team to take two games from Team Secret in the group stage of the event and quickly made a name for themselves.
Having minimal official games on record, they did manage to stun many when they snatched the Chinese qualifier spot for ESL One Manila by sweeping Vici Gaming Reborn, 3-0. The Chinese then team made a clean sweep over Team Liquid, 3:0, in the Grand Finals -to walk away with their first championship title as a team and the $100,000 first place prize.
The team was directly invited to the Manila Major where they had a disappointing finish taking 13-16th place. Their next premier LAN event brought back to the forefront the infamous drafting and strategies that Wings became known for and an astounding second place finish.
Wings Gaming roster:

Zhou "bLink" Yang


Zhang "bian" Ruida


Chu "Shadow" Zeyu


Zhang "Innocence" Yiping


Li "iceice" Peng
Ad Finem – Qualified team

Ad Finem have been an imposing force since their inception, when Giorgos "SsaSpartan" Giannakopoulos had once again formed an all-Greek squad on December 4th, in time for the Shanghai Major roster lock.
On January 31st, the team seized their first championship title under the Ad Finem banner, in the ProDota Cup Season 2.
Taking several second and third place finishes, the Greeks have been a formidable opponent to all teams that have crossed their path. It is no surprise that the team was invited to attend WePlay LAN to replace Fnatic, when the SEA team withdrew due to visa issues. They ultimately took 7-8th place at the main event.
Ad Finem had originally placed second in the Summit 5 qualifiers, falling to Virtus.Pro 2:1. After a day of fevered speculation about cheating in The Summit 5 European qualifiers Grand Finals, Virtus.Pro have finally laid their cards on the table to admit their guilt. The full Greek squad was able to assume their place at the Summit 5, taking another step towards their quick moving forward advancement into the tier 1 realm.
Ad Finem roster:

Giorgos "SsaSpartan" Giannakopoulos


Omar "Madara" Dabasas


Xaris "SkyLark" Zafiriou


Dimitris "ThuG" Plivouris


Verros "Maybe Next Time" Apostolos

FDL – redemption team

Friendship, Dedication, Love was originally created to compete in the open qualifiers for the The Shanghai Major. After falling just short, a new roster competed in the open qualifiers for The Manila Major – ultimately finishing 4th in the Americas Qualifier.
Since their formation on April 29th, the team has primarily taken results in qualifiers and a third place finish in the Dota 2 Canada Cup – Season 7.
FDL roster:
Alder "Beesa" Beano


Quinn "CC&C" Callahan


Michael "MJW" Nyugen


Wilson "Fronz" Teng


Stanley "Stan" Yang