Evil Geniuses officially welcome back both Kurtis "Aui_2000" Ling and Sam "BuLba" Sosale to the organization. The TI5 championship team has weathered the storm of the reshuffle to welcome back two familiar faces into their lineup. Aui had previously been a member when the team seized the Aegis of Champions, while BuLba – who played for the organization during The International 2 – coached the TI5 winning squad to success.
Evil Geniuses announces changes to its @DOTA2 roster. Read more here: https://t.co/LZBPOrR89y pic.twitter.com/B1s8DoAmZe

— Evil Geniuses (@EvilGeniuses) March 25, 2016
After the unanticipated departure of both Artour "Arteezy" Babaev and Saahil "UNiVeRsE" Arora to Team Secret towards the last days of the team registration period, the future of Evil Geniuses seemed uncertain. Rumors of disbanding or additional player changes had swelled until Evil Geniuses made their official announcement only two days before the lock.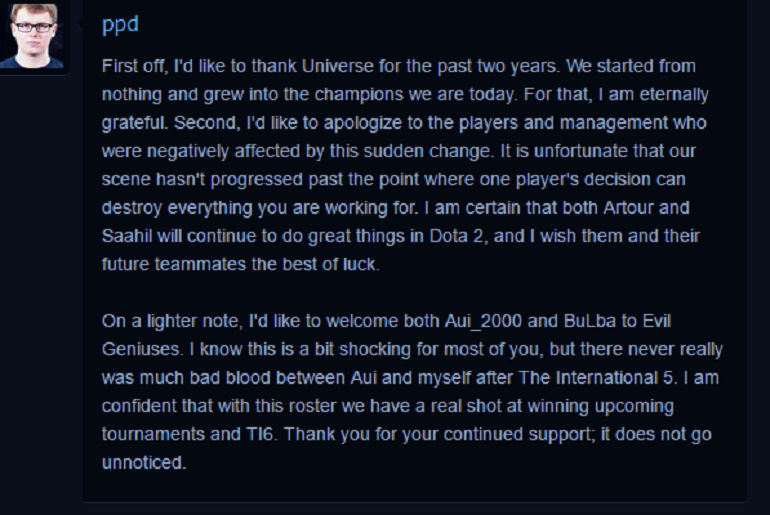 Ex-member of the TI5 championship team, Kurtis "Aui_2000" Ling has returned to the lineup. Fans will remember the parting of ways between Aui and the organization merely weeks after they secured the TI5 Championship title.
Despite the understandably difficult situation, the dynamics and relationships seem to have smoothed out between all parties.
Sam "BuLba" Sosale is also making a return to the organization. As a member of Evil Geniuses for several months in 2012, he participated in TI2 with the organization. He also assumed the role of the TI5 coach for the winning team.
BuLba will be taking on the offlaner role, one of three roles he is known to play well. He began his DotA career in 2007 and has had several high achievements in his career.
The Evil Geniuses new roster will debut at the WePlay Season 3 LAN in Kiev, Ukraine from April 29 to May 1, 2016.
Evil Geniuses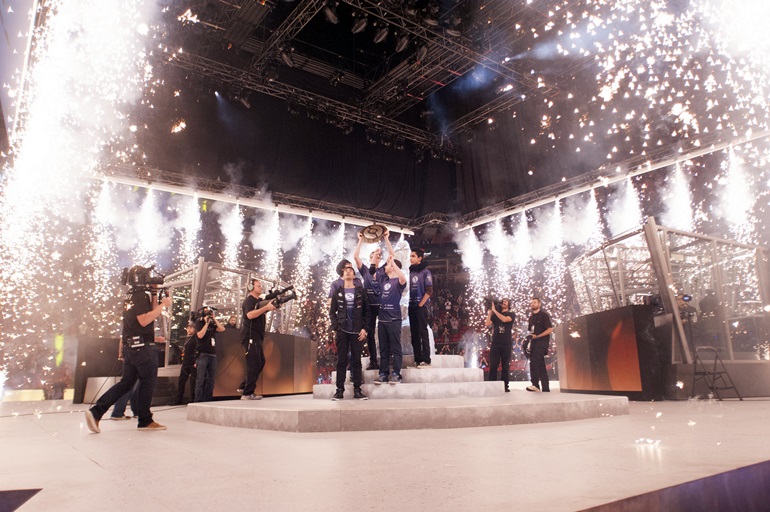 In August, Evil Geniuses managed to turn the odds to their favor and claim the coveted TI5 Aegis of Champions and $6.6 million in prize money, thus becoming the first American team to win The International.
Their record is undeniably one of the strongest in the scene. Despite the fact that they started off the fall season on the wrong foot, being eliminated in the very first round of the ESL One New York, they went on to take second place at the MLG World Finals, third at the Frankfurt Major and first at the Summit 4. The Summit 4 was EG's fourth championship title last year, bringing their 2015 tournament winnings close to 8.7 million dollars.
They have since taken 2nd place in StarLadder iLeague and MDL Winter 2015, as well as taking their first championship title of 2016 when they out-drafted and outplayed Vega, 3:1, in Captains Draft 3.0. The team rounded out the top three on the podium for the Shanghai Major and placed second at the DotaPit LAN in Croatia.
Evil Geniuses new roster:

Clinton "Fear" Loomis


Syed Sumail "Suma1L" Hassan


Sam "BuLba" Sosale


Kurtis "Aui_2000" Ling


Peter "ppd" Dager