The Arcana Votes continue to progress with only eight heroes left in the mix. Astonishingly, Io – which has picked up much attention and traction recently – overpowered Queen of Pain with a whopping 10.6 million votes to her 2.4 million. This week's competition ends on July 25th, revealing the semi-finalists.

UPDATE (August 13th):
TI6 final standings, updates and highlights – HERE
The Arcana Votes have been gaining much attention from the community in recent weeks, as TI6 Battle Pass owners scurry to cast their votes to give their favorite heroes an arcana set and model rework. Out of over 100 heroes gathered at the start line, only eight remain – Io, Slark, Wind Ranger, Wraith King, Earth Spirit, Juggernaut, Sven and Pudge.
There are only two more weeks left for people to cast their Arcana votes, after the current "quarterfinals" end on July 25th. The winner of the Arcana votes grand finals will be revealed at TI6.
Io overpowered the usually popular Queen of Pain with a staggering 10.6 million votes vs. 2.4 million votes. Despite the hero's comparatively low play rate, it has previously bested Phantom Lancer, Nature's Prophet and Invoker in the Arcana votes competition. This week, Io will take on Wraith King in the semifinals.

Arcana Votes showdown

The final eight heroes will be brought to the final four in the Arcana votes semifinals on July 25th – only three days from now.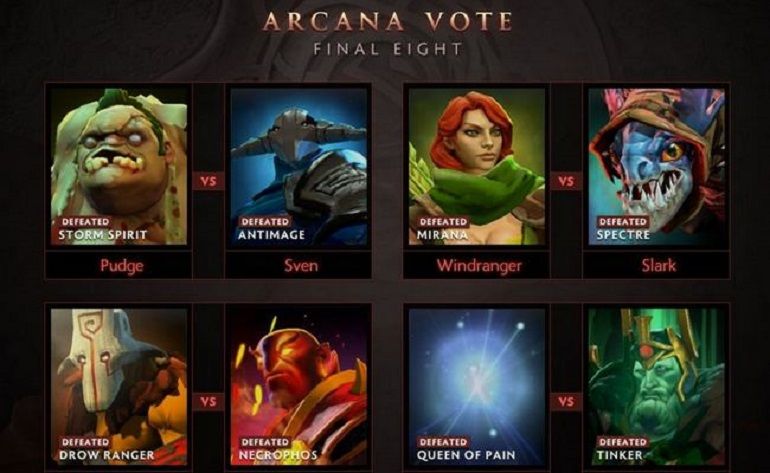 Arcana Votes

Compendium owners vote for the next hero to receive an Arcana item.
Heroes are split into four single elimination brackets.
Each player gets 16 Arcana votes per week.
Arcana votes can be stacked on the same hero.
Unused Arcana votes do not roll over.
An extra 16 Arcana votes per week are granted at Battle Pass level 9 for a total of 32.
An extra 16 Arcana votes per week are granted at Battle Pass level 28 for a total of 48.


International 6 Battle Pass

The International 6 Battle Pass was released on May 17th.
The basic version is still available for $9.99, while the Level 50 Battle Pass is on sale for a discounted price of $26.99. Owners can also purchase bundles of 5, 11 and 24 levels to upgrade their Battle Passes, for $2.49, $4.99, and $9.99.
Since its release, the TI6 Battle Pass has fueled the TI6 prize pool to a staggering $18,027,624 – approximately $400,000 shy of the TI5 record breaking prize fund. With the impending release of the Immortal Treasure III, TI6 prize pool is bound to shatter records.
If we take away the $1,600,000 Valve chipped in, we're left with over $16,400,000 raised by the community. However, only 25% of the proceeds of each sale contributes to the TI6 prize-pool. Therefore, the Dota 2 community has actually spent over $65.6 million on TI6 Battle Passes and levels.