The Frankfurt Major was the first tournament of the new circuit implemented by Valve. Spanning over several days, with 99 games played, the tournament has plenty of interesting factoids and statistics. Here are some of the most interesting Frankfurt Major stats.
Article written by Corey "Cart" Hospes, in collaboration with Reinessa.

Frankfurt Major Stats: The Changing Farm Distribution
At The International 5, EG was rather unique in that they were the only team in the top six that allocated more farm to their mid player than their carry*, who traditionally gets the most farm, as indicated by his position in the team of "1".
At the Frankfurt Major, however, there was a change from that trend. (*TI5 farm distribution)

Frankfurt Major Stats: Last Hits


Average Last Hits per Role (top eight teams only)

Carry – 272.98

Mid – 255.39

On average, OG, ViCi Gaming, Virtus.Pro, and LGD – in other words, the winning team, along with the teams that placed 5th, 6th and 7th – give more last hits to their mid player than their carry, while in a interesting turn of events, EG along with Team Secret, EHOME, and CDEC give more farm to their carry player than to their mid, in the more "traditional" way of playing the game.

Frankfurt Major Stats: Radiant vs. Dire
One of the things that I personally think is interesting to see during a tournament is how a specific side winrate can be so different when compared to the rest of the patch. For example, over the entirety of 6.85 (as of 11/27/15, 1,250 games) Dire has a 50.88% winrate.
At the Frankfurt Major, which had 99 games total, Dire had a 60.6% winrate. This is generally due to the top tier teams favoring picking Dire over Radiant. Of the top 4 teams at the Frankfurt Major, only EG picked Radiant more than Dire: in fact, they didn't pick Dire once during the main event.
Which leads us to the next question:

Why didn't EG pick Dire? At TI4, weren't they the D I R E B O Y S?
To me, EG not picking Dire is indicative of their current type of play: take the game late and farm. Farm a lot.

Frankfurt Major Stats: Average Last Hits per Team, per Game

From the table, we can see that EG farms more than every other team in the top 8, averaging at almost 900 last hits per game. Even when you take the average of all the last hit counts in the top 8 (which equals 756.93), EG beats out that number by 137.77. To demonstrate it a bit more dramatically, you can order the last hits per team by percentile, when setting EG to 100.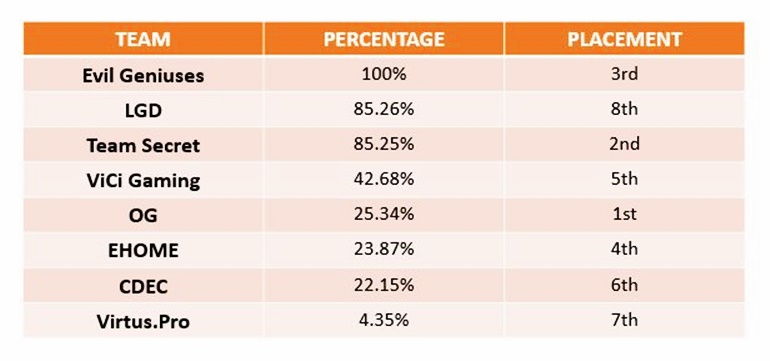 **Percentages calculated by Reinessa

As far as taking the game late goes, EG also stood out: not counting the group stages, the average game at the Frankfurt Major ran for 41 minutes. EG's five games outside of the groups had an average length of 49 minutes, their games running nearly 8 minutes longer than the average.
However, five games isn't the greatest sample size, so let's take a look at the whole event.
The average game time during the event was 39 minutes, and EG's average match length over the whole event was 43, about 4 minutes longer than the average game (they played 17 games over the whole event).
EG picks Radiant because they like to play greedy, and in order to play greedy you have to win your lanes. General consensus is that Radiant has easier lanes and a more efficient jungle farm, so a greedy team like EG would favor Radiant over Dire.

Misc Stats
EternaLEnVy averaged the highest Hero Damage (15,802) and Tower Damage (3,024) per game at the Frankfurt Major and spent the 2nd most gold on average (22,750).
Arteezy took first with 23,048. He also holds the record for the highest individual hero damage in a single game – 36,469 as Spectre.
Envy also had the 2nd highest KDA at the event (5.3), while Agressif took first with 5.6.
Only one player broke 1k last hits in a game: Hao's Ember Spirit ruthlessly murdered 1,118 creeps in a 81-minute game against Virtus.Pro. They then proceeded to lose the game.
Virtus.Pro's Lil ended up actually getting more kills per game on average than Illidan (5.3 to 5.1).
Envy also took the record for the most kills in a single game with 20 in Secret's 68-minute epic against EG, narrowly beating out Cty's 19. He was carrying 2 Rapiers as Ember Spirit.

Speaking of Rapiers…
Divine Rapier was only purchased four times in the 99 games at the Frankfurt Major: three of these purchases were done by EternaLEnVy on his Ember Spirit, and all three were in Secret's Upper Bracket series against Evil Geniuses. The 4th was purchased by Miracle-'s Gyrocopter against Vega Squadron, during the Frankfurt Major group stages.