Jimmy "DeMoN" Ho has joined forces with the South American team Infamous Gaming as a replacement for retired player Juan "AtuuuuuN" Ochoa. His transfer to the Peruvian team leaves a hole in the EverNovaS roster, the team he had competed for most recently. EverNovaS has not reported any replacements or status of the team.
Infamous the Peruvian Dota 2 organization has welcomed North American veteran – Jimmy "DeMoN" Ho to the squad.
DeMoN will be replacing Juan "AtuuuuuN" Ochoa who retired May 13th. AtuuuuuN was one of the founding members and part of the Unknown.xiu roster that had participated in the Frankfurt Major.
Highly experienced and well known in the Dota 2 scene, DeMoN was part of the infamous Meet your Makers squad to take fourth place at TI1. He played with Evil Geniuses for almost two years and competed in TI2 with the team. Various of teams and tournaments later he also competed in TI4 with Team Liquid and other multiple premier and major events through the years. Most recently he was playing on the North American team Super NovaS with Yawar "YawaR" Hassan and Brian "FLUFFNSTUFF" Lee.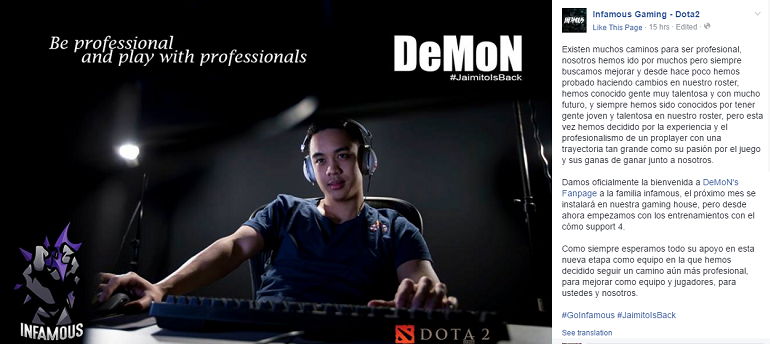 Lately the Peruvian team has hit a 5th place rut, struggling to advance further in the regional events and qualifiers. According to the organization's announcement, the team will be focusing on integrating DeMoN into his support position and then moving into a team house for more intensive training.
The changes in the team composition for both Infamous Gaming and EverNovaS will require both teams to participate in the TI6 open qualifiers for an opportunity to compete in the regional qualifiers and event.
Infamous Gaming
Infamous is a Peruvian Dota 2 team that was formed by the former members of Unknown.xiu. The Peruvian team was the first South-American to ever qualify for an event organized by Valve when they managed to move forward into the Americas qualifiers from the Open Qualifiers and grab one of the two available spots for the Frankfurt Major. The team finished with a 9-12th place.
Since then Jesus "Ztok" Carhuaricra parted ways with the Peruvian team. Due to his involvement in match-fixing, Ztok was deemed ineligible to register for any Manila Major and TI6 rosters and has been banned from participating in any Valve tournaments for at least the time being.
Infamous Gaming roster:

Alonso "Kotarō Hayama" Lion


Jimmy "DeMoN" Ho


Alexis "Greedy" Ventura


Steven "StingeR" Vargas


Christian "Accel" Cruz