Fnatic went head to head against the Korean team MVP.Phoenix and prevailed in The Summit 5 SEA qualifiers. Wiping out MVP.Phoenix 3:0, the Malaysian team secured their spot to be one of eight teams – four qualified and four invited – to compete in the The Summit 5 main event. The annual event will be held at the Summit House in Los Angeles, California from July 13-17.
Team @FNATIC are the winners of #TheSummit5 SEA & will be joining Wings and @DIGITALCHAOSgg in Los Angeles in July! pic.twitter.com/KMKksHSKb9

— Beyond the Summit (@BeyondTheSummit) May 28, 2016
The Malaysian team continued to be on a dominating streak lately, securing back-to-back victories, titles and LAN spots.
Fnatic quickly took out their competition in a clean 3:0 sweep over MVP.Phoenix during the grand finals in The Summit 5 SEA qualifiers. Their remarkable victory granted them the a spot in the highly coveted intimate event held yearly at the Summit House in Los Angeles, California.
The Malaysian team began their campaign in the second phase of The Summit 5 SEA qualifiers. Without dropping a single match in the series, they wiped out Execration and TnC Gaming before landing in the Grand Finals.
MVP.Phoenix struggled from the start of The Summit 5 SEA qualifiers. They were wiped out 2:0 by TnC in the first round of the second phase. In the lower brackets, the Korean team then found their rhythm and swept through Execration 2:0 and then re-matched against TnC – this time sweeping through their rivals. Reaching the Grand Finals, they faced off against Fnatic.
The Summit 5 SEA qualifiers is the second consecutive LAN qualifier Fnatic seized this week alone. They most recently secured their place in the SL iLeague StarSeries season 2 taking down Mineski 2:0 in the grand finals only three days ago.
Thus far Wings and Digital Chaos have qualified for the event. Five more spots are up for grabs – one EU qualifier place and four slots reserved for invited teams yet to be announced.
Fnatic
Showing up to the Shanghai Major in a completely different form, Fnatic started to take on a new life. In the last few months, they secured multiple LAN spots through victories in the regional qualifiers: ESL One Manila, EPICENTER Moscow ESL One Frankfurt 2016 and SL iLeague StarSeries season 2. They won BTS Series 4 SEA and followed up with a championship title at the SEA Kappa Invitational Season 1.
Earlier this month Fnatic announced an update to their roster including the long awaited return of Chai "Mushi" Yee Fung to competitive play. His return stimulated a domino effect of changes in the Fnatic roster -including moving Adam Erwann Shah "343" bin Akhtar Hussein into a primary role on the team and the departure of Wai Pern "Net" Lim.
Fnatic roster:

Chai "Mushi" Yee Fung


Chong "Ohaiyo" Xin Khoo


Djardel "DJ" Mampusti


Zheng "Miduan" Yeik Nai


Adam Erwann Shah "343" bin Akhtar Hussein
The Summit 5
Eight teams (top teams from the open qualifiers and directly invited teams) will compete in Los Angeles, July 13-17th for The Summit 5 $100,000 minimum prize pool.
The Summit 4
The Summit 4 was deemed a success by fans and players alike. The five day event stirred up its share of commotion between flashy plays, cheeky builds and hero selections and a dramatic five game grand finale. With a noticeable absence of the traditional "Bathtub interviews", the antics and shenanigans including the BTS cribs segment and the exclusive Ice Frog Interview more than satisfied viewers.
Evil Geniuses edged out Virtus.Pro in a decisive fifth game in the grand finals and walked away with almost $50,000 in prize money. The Summit 4 was EG's fourth championship title of the, bringing their 2015 tournament winnings close to 8.7 million dollars.
The base prize pool of $100,000 reached $114,866 through crowd funding.
1st place: $48,818 (42.5%) – Evil Geniuses
2nd place: $25,845 (22.5%) – Virtus.Pro
3rd place: $14,933 (13%) – ViCi Gaming
4th place: $11,487 (10%) – OG
5th place: $4,020 (3.5%) – Team Liquid
6th place: $4,020 (3.5%) – EHOME
7th place: $2,872 (2.5%) – Mineski
8th place: $2,872 (2.5%) – Digital Chaos
BTS Summit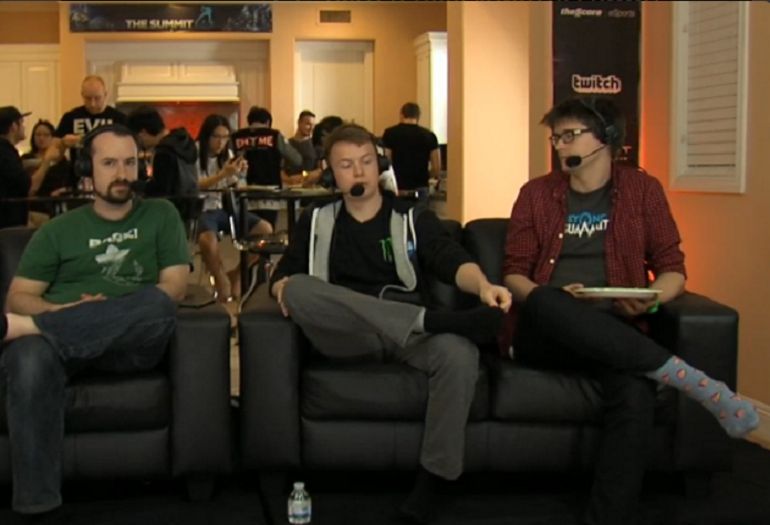 Beyond the Summit's goal was to create a "behind the scenes" oriented tournament, inspired by TakeTV's Homestory Cup in StarCraft 2. The format was designed to give fans an inside peek into their favorite players' personalities and experience an entirely different capacity, while still providing quality production and matches. The tournament takes place inside the BTS house, as a way to further enhance the intimacy and laid back environment.
The Summit tournaments have been taking place since June 2014, starting with a base prize pool of $50,000, which has now doubled to $100,000. It has since grown into a cult-like classic, becoming one of the most fan and player favorite events.