Valve has finally revealed the TI6 schedule and format with only six days to go for the TI6 Wild Card series to commence. The event starts on August 2 with the TI6 Wild Card series, followed by the Group Stage from August 3-5. The teams will make their TI6 main stage debut on August 8. The event will end with the Aegis being claimed by the world's best team on August 13th.

UPDATE (August 13th):
TI6 final standings, updates and highlights – HERE
The release of the TI6 schedule and format begins the much awaited and seemly delayed hype surrounding the most prestigious Dota 2 event of the year. Boasting another record shattering prize pool this year – an astounding $18,529,234 – TI6 is expected to be spectacular.
The TI6 Wild Card series will begin on August 2nd. The four teams will battle it out for the last two spots remaining to participate in the main event. The elimination series will be immediately followed by the Group Stage – spanning the course of three days to determine the seeding and brackets that will plot out the future course of the main event.
The main event will kick off on the stage of Key Arena in Seattle, Washington on August 8th. In front of 17,000 avid Dota Fans in the live audience and millions of other spectators via live stream – 16 teams will battle it out for the largest prize pool in esports history and the most coveted trophy – The Aegis of Immortal.
TI6 prize-pool
Currently, the total prize pool has reached $18,543,750. As per usual, 25% of all TI6 Compendium sales will be redirected to increasing The International prize-pool.
This year's Compendium comes with many exciting features, including a Dota 2 MMR boosting opportunity. As expected, sales are soaring.
TI6 schedule
August 2 – TI6 Wildcard Series
August 3-5 – TI6 Group Stage
August 8 – 15 – TI6 Main Event
The International 2016 Event Format. #TI6 pic.twitter.com/oUdIa9TOK4

— Wykrhm Reddy (@wykrhm) July 26, 2016
TI6 format
TI6 Wildcard Series
The Wildcard Series contenders: Execration (SEA Qualifiers), EHOME (Chinese Qualifiers), compLexity Gaming (Americas Qualifiers), Escape Gaming (European Qualifiers)
Top two teams will advance to Group Stage
Bottom two teams will be eliminated
All matches will be best-of-three series


TI6 Group Stage
Six invited teams: OG, Team Liquid, Na'Vi, MVP.Phoenix, LGD Gaming, Newbee
Eight qualified teams: Team Secret (TI6 European Qualifiers),Alliance (TI6 European Qualifiers) TnC Pro Gaming (TI6 SEA Qualifiers),Fnatic (TI6 SEA Qualifiers), Evil Geniuses (TI6 Americas Qualifiers), Digital Chaos (TI6 Americas Qualifiers), Wings Gaming (TI6 Chinese Qualifiers),ViCi Gaming.Reborn (TI6 Chinese Qualifiers)
Two teams from the Wildcard Series
Two groups of eight teams
Teams will play every other team in their group in a best-of-two series
All 16 teams will advance to the TI6 Main Event
Top four teams in each group will advance into the Upper Brackets of the Main Event
Bottom four teams in each group will be placed into Lower Bracket of the Main Event
TI6 Main Event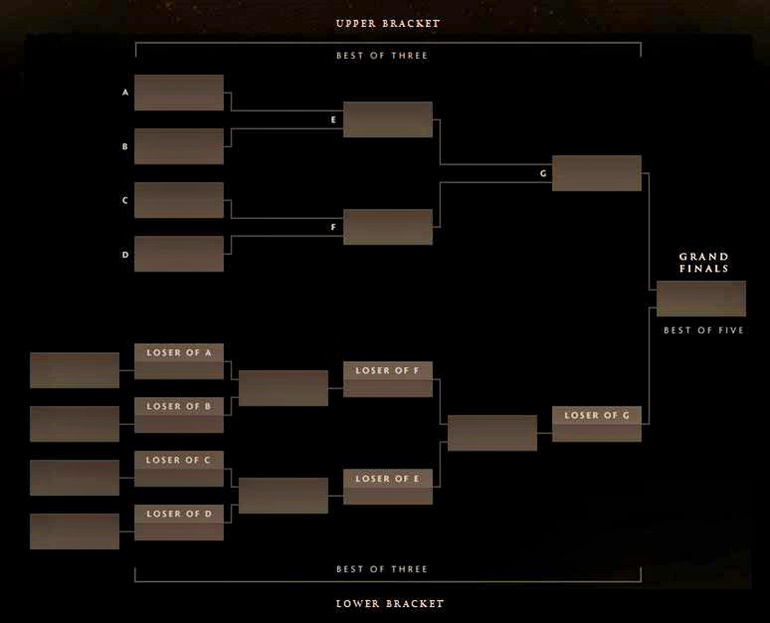 16 teams will play in a double elimination format, over the course of six days
8 teams will start in the Upper Brackets
The remaining 8 teams will start in the Lower Brackets
The first round of the Lower Brackets will be played as a best-of-one series
All the other games will be best-of-three series
The International 6 Grand Finals will be best-of-five series