ViCi Gaming Reborn overtake Natus Vincere, 3:1, in the SL iLeague Dota 2 Grand Finals. It took four incredibly intense, hair-raising matches in order to determine a winner. The event ended late into the night with some of the best performances of recent Dota 2 history. With Manila Major invites on the line, both ViCi Gaming Reborn and Na'Vi have proven they are apt at providing some high caliber Dota 2.
The SL iLeague Dota 2 Grand Finals were heart-stopping and "grand" in every way possible.
A spectacular first game yielded the most incredible clutch game changing ending, allowing Na'Vi to seize the opening match on home turf. Na'Vi set the series on fire in a once in a lifetime opener, but ViCi Gaming Reborn would be the team to keep fanning the flames the rest of the series.
Na'Vi hadn't won a championship title in approximately 18 months. ViCi Gaming Reborn entered the event through the regional qualifier. Both teams proved worthy of the title, but ViCi Gaming Reborn came out on top to be crowned the StarLadder iLeague Invitational champions.
Na'Vi started to reestablish themselves after finalizing their roster in February, followed by their remarkable performance at Dota Pit Season 4, where they placed 3rd-4th.
Shortly after their inception, ViCi Gaming Reborn have been looking striking. They secured themselves the spot at SL iLeague Dota Invitational after four consecutive wins in the weekly H-Cup series and have turned heads every match since.
Tong "mikasa" Junjie's mid and late game decision making, positioning and individual skills not only were evident for his own play, but also transitioned into how he was able to lead the team to success. Stepping in at the last moments to fill Wang "Nono" Xin's position, the coach has put his actions where his teachings were and dove right in to show first hand how crucial and valuable a coach is for a team.
The final day of the SL iLeague Dota 2 playoffs kicked off with the Chinese face-off series between ViCi Gaming Reborn and LGD Gaming, where the qualified team outplayed and outdrafted LGD Gaming to advance to the SL iLeague Dota 2 Grand Finals.
LGD Gaming took the third position on the podium.
SL iLeague Dota 2 Grand Finals
Na'Vi started the first game drawing first blood and taking control of the laning phase and early game. By about 15 minutes into the match, VGR started to take favorable trades and fights to bring things back to even. Despite Na'Vi being persistent and consistently regaining their advantage, individual talent and spot on decision making skills helped ViCi Gaming Reborn regroup themselves and close the gaps each time. Trading blows nonstop, the game was action-packed to the top. In an incredibly insane play at the Na'Vi base in a clutch moment, the Ukrainian team turned the tides, and squashed VGR's momentum. Immediately following with a superb three-man Chronosphere, Na'Vi continued to press forward and went for the throne, a full team wipe and the game.

The second match gave Na'Vi first blood once again. They took down Xu "fy" Linsen and shut down the Chen right away to gain a slight advantage initially, but not for long. The two teams started out in a fast pace of trading off kills once again. ViCi Gaming Reborn were all over the map, setting the tempo starting mid game. Na'Vi had no true answers to be able to prevent the Chinese team from continuing to control the game and taking the second game victory.
The third game was a blood bath with 13 kills on the board by minute seven. By 11 minutes into the game, VGR took a huge leap forward in their lead. Maintaining their lead and control, VG.Reborn started to become just too much to handle. Na'Vi's late game was a weakness that they couldn't get past in order to bounce back into the game or turn the tides.

Plunging into the fourth match. ViCi Gaming Reborn continued to ride on the momentum wave. Pushing themselves to their limits, Na'Vi fought hard to stay in the game and capitalized on small mistakes by counter-initiating effectively. Ultimately, ViCi Gaming Reborn would take the SL iLeague Dota 2 Grand Finals victory and the championship title.
SL iLeague Dota 2 Grand Finals: Na'Vi 1:3 ViCi Gaming Reborn. ViCi Gaming Reborn are the StarLadder iLeague Invitational champions. Na'Vi takes second place.
SL iLeague Dota 2 playoffs
The SL iLeague Dota 2 playoffs feature a prize pool of $100,000. The event took place between April 14-17 at the Kiev Cybersport Arena, in the Ukraine.
Eight teams have competed, including reigning champions Alliance. OG, LGD, MVP.Phoenix, Na'Vi and Virtus.Pro have been directly invited. Vega Squadron has secured the European qualifier spot and ViCi Gaming Reborn grabbed the Chinese spot through their victories in the H-Cup.
SL iLeague Dota 2 playoffs participating teams
Alliance
OG
LGD
MVP.Phoenix
Na'Vi
Virtus.Pro
Winner of the European qualifier – Vega Squadron
Winner of the Chinese qualifier – ViCi Gaming Reborn
SL iLeague Dota 2 Grand Finals brackets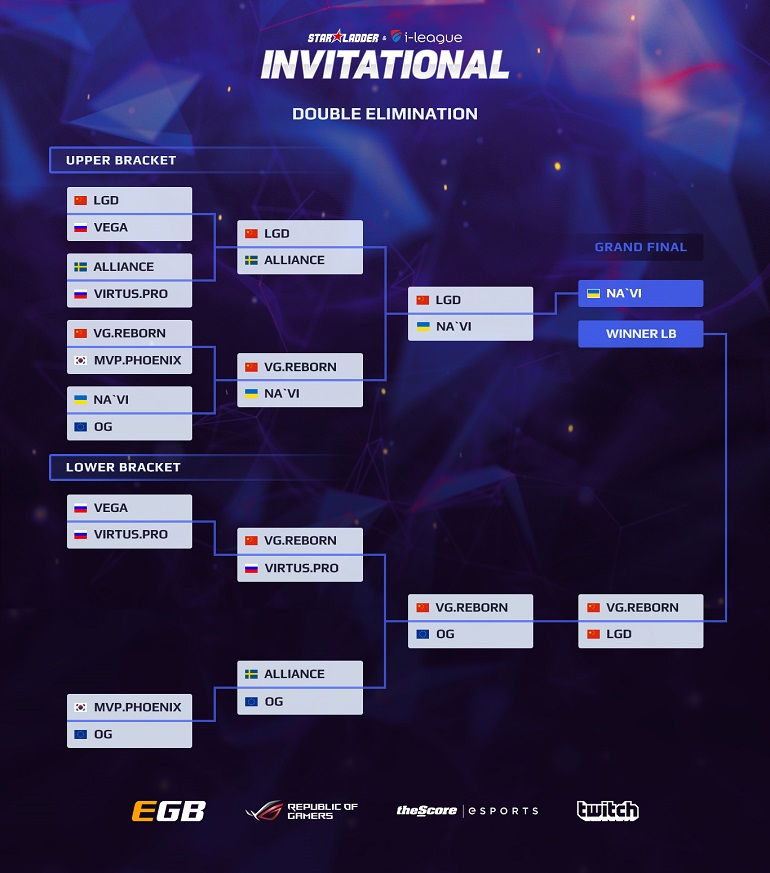 SL iLeague Dota 2 playoffs format
Teams competed in a double elimination bracket.
All matches were best-of-three series.
Grand Finals were best-of-five series.