The DotaPit LAN bids farewell to Na'Vi eliminated by Evil Geniuses The CIS team was the sixth to be eliminated from the event, following Virtus.Pro, OG, Team Secret, Team Empire and compLexity Gaming. Evil Geniuses will advance to the grand finals. One team will be crowned the champions of the first DotaPit LAN at the end of the day. The DotaPit LAN grand finals will continue today with vs. MVP.Phoenix at 18:30 CET.
Guys, thanks everyone! Fans, you are amazing! Victory was very close. Will do better next time. #DotaPit #Dota2 #GoNaVi

— Natus Vincere (@natusvincere) March 20, 2016
The second day of the DotaPit LAN finals saw Na'Vi eliminated by the TI5 Championship team after an incredible three game series.
Na'Vi ended their run at the DotaPit LAN finals with a fantastic run and journey, having bested the Shanghai Major Champions, Team Secret and pushing the TI5 Championship team, Evil Geniuses, to a deciding third match. The CIS team came together recently after a turbulent year and had a very difficult path to travel, doing it with poise and intensity.
Earlier today, the 2:0 clean sweep by MVP.Phoenix brought an end to compLexity Gaming's journey.
The first day of DotaPit LAN finals ended in the early hours of the morning today, witnessing Team Empire eliminated by Evil Geniuses. Yesterday, Virtus.Pro's suffered from an early departure when they were wiped through by compLexity Gaming and OG were bested by MVP.Phoenix 1:2. In a completely shocking turn of events, Shanghai Champions – Team Secret were eliminated by Na'Vi.
DotaPit LAN elimination: Quarterfinals
Na'Vi vs Evil Geniuses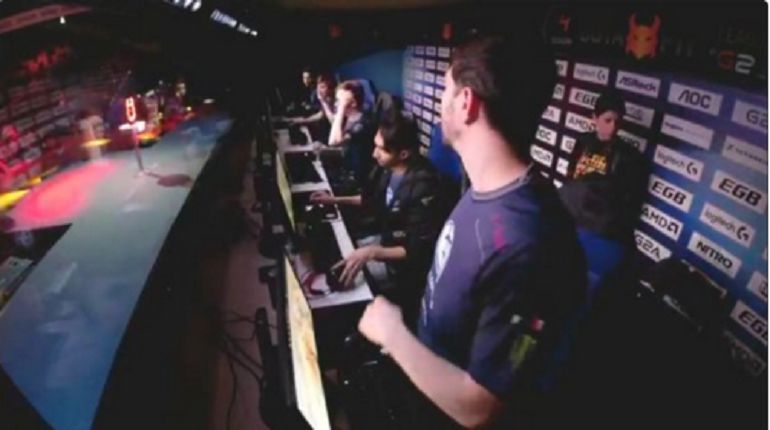 The first game started out with Evil Geniuses taking control early. The North American team executed their strategy perfectly and looking very strong. Saahil "UNiVeRsE" Arora fantastic game on Void 3:0:11. Na'Vi had good single target pick off potential but they were just destroyed in team fights. Perfect swap outs by Peter "ppd" Dager on Vengeful Spirit really helped to pull out clutch plays and took fights to the next level. Evil Geniuses dominated the entire game and crushed Na'Vi in the first match.
Evil Geniuses secured first blood in the second game. An absolutely amazing performance by Na'Vi, just destroying Evil Geniuses to bring the series to a deciding third game. Putting a bristleback mid turned out not to be the best idea for Evil Geniuses and it didn't pay off as Danil "Dendi" Ishutin's Invoker was able to take the lane much easier and had an incredible game. Driving on momentum, Na'Vi were able to just push foward from the very beginning
Na'Vi started out the third game riding on their last momentum, taking the first blood and control immediately. Around 24 minutes they started to lose map control and had to exercise patience and caution. Another extended pause disrupted the momentum and upon resuming the game Evil Geniuses started to slip in their lead. But an incredible fight at the Na'Vi base gave an ultra kill for Sumail "Suma1L" Hassan and Evil Geniuses took the victory and series getting Na'Vi eliminated.
DotaPit LAN results: Na'Vi 1:2 Evil Geniuses. Evil Geniuses will continue to the grand finals for a best-of-five elimination series, leaving Na'Vi eliminated.
DotaPit LAN Finals main event
The LAN finals will be held at the Spaladium Arena in Split, Croatia. The venue boasts a 10,000 seating capacity and was built in 2008.
DotaPit LAN brackets
DotaPit LAN Finals schedule
March 20
10:45 CET: Semifinals MVP.Phoenix vs compLexity Gaming
13:45 CET: Semifinals Na'Vi vs Evil Geniuses
16:45 CET : Grand Finals
DotaPit LAN Finals
A total of eight teams participated in the LAN event:
4 Direct Invites (Virtus.Pro, Team Secret, OG, EG)
2 European qualified teams (Na'Vi,Team Empire)
1 Americas qualified team (compLexity Gaming)
1 South East Asian qualified team (MVP.Phoenix)
Format
Quarterfinals and semifinals are best-of-three series.
Single Elimination bracket
Grand Finals will be best-of-five.