MVP.Phoenix DotaPit LAN Champions, as they completely dominated Evil Geniuses and swept through them 3:0. The event has come to a dramatic end with spectacular matches between the TI5 Championship team and the underdog Korean squad. MVP.Phoenix have proven they are a first class team and formidable opponent as they head into the Manila Major and TI6 season.
MVP Phoenix are the Dota Pit Season 4 Grand Champions. They clean sweep TI5 Champs Evil Geniuses 3-0 for the win. pic.twitter.com/TbBxgHgEFy

— Wykrhm Reddy (@wykrhm) March 20, 2016
In an absolutely thrilling and entertaining grand finals series, sweeping through the TI5 Championship team 3:0 we crowned MVP.Phoenix DotaPit LAN Champions.
MVP left Shanghai Major with their heads held high and their sights set on a championship title. The Korean squad quickly had become part of on the inspiring storylines of the season and they continued with the same tempo when they entered DotaPit LAN. With high quality plays, great combinations and great team-play they continued to display impressive gaming.
The Korean team came to the event from the qualifiers and was able to knock out the Frankfurt Major champions OG and swept through compLexity Gaming – cruising through to the Grand Finals with style. Facing off against the TI5 championship team, they were not daunted by the task ahead of them and convincingly took all three matches.
Earlier today, Na'Vi ended their run at the DotaPit LAN finals with a fantastic run and journey after being defeated by Evil Geniuses 1:2.
The 2:0 clean sweep by MVP.Phoenix brought an end to compLexity Gaming's journey.
The first day of the DotaPit LAN finals ended in the early hours of the morning today, witnessing Team Empire eliminated by Evil Geniuses. Yesterday, Virtus.Pro's suffered from an early departure when they were wiped through by compLexity Gaming and OG were bested by MVP.Phoenix 1:2. In a completely shocking turn of events, Shanghai Champions – Team Secret were eliminated by Na'Vi.
DotaPit LAN: GrandFinals
MVP.Phoenix vs Evil Geniuses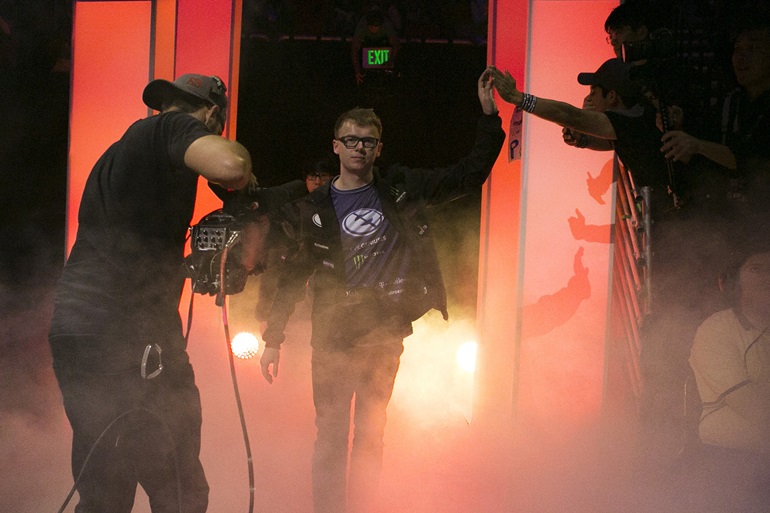 The first game of the series began with Evil Geniuses taking the lead and control. They took the highest net worth of the game, their objectives and smooth execution of their strategy. However, MVP.Phoenix did a fantastic job in holding the North American team off. They continued to make really crucial plays and isolate out heroes and put pressure on the map to bring themselves even with Evil Geniuses. They managed to continue be patient, executed their strategy and assets right and pushed forward. Kim "QO" Seon-yeop on slark was top notch and really was an incredible pick up for the team, played exceptionally well. After an hour of play, a five man wipe secured the first win of the series for the Korean team.
QO averages 8.6 kills/35 min in #Dota2 LAN competition. Of the 295 other players who've played 25+ career LAN matches the next best is 7.7.

— Nahaz (@NahazDota) March 20, 2016
The second game started with Evil Geniuses once again grabbing control early. Again with perfect controlled aggression continued to push forward. Taking objectives and putting constant pressure on Evil Geniuses, they displayed incredible teamwork and synergy. A relocate out of the blackhole during the last few minutes of the game is the perfect example of the precision of their plays and coordination.
Once again the third game of the series started favoring Evil Geniuses. Once again the Korean squad was able to put constant pressure on the North American squad and outplay them with their synergy and coordination. About 14 minutes in, MVP.Phoenix were able to start pulling ahead and by 20 minutes in they started to go high ground had completely dismantled EG. In the end, the victory went in the way to crown MVP.Phoenix DotaPit LAN Champions.
DotaPit LAN results: MVP.Phoenix 3:0 Evil Geniuses. MVP.Phoenix DotaPit LAN Champions, leaving Evil Geniuses eliminated.
DotaPit LAN Finals main event
The LAN finals were held at the Spaladium Arena in Split, Croatia. The venue boasts a 10,000 seating capacity and was built in 2008.
DotaPit LAN Finals schedule
March 20
10:45 CET: Semifinals MVP.Phoenix vs compLexity Gaming
13:45 CET: Semifinals Na'Vi vs Evil Geniuses
16:45 CET : Grand Finals MVP.Phoenix vs Evil Geniuses
DotaPit LAN Finals
A total of eight teams participated in the LAN event:
4 Direct Invites (Virtus.Pro, Team Secret, OG, EG)
2 European qualified teams (Na'Vi,Team Empire)
1 Americas qualified team (compLexity Gaming)
1 South East Asian qualified team (MVP.Phoenix)
Format
Quarterfinals and semifinals were best-of-three series.
Single Elimination bracket
Grand Finals were best-of-five.
Featured image courtesy of kenzi