The DotaPit LAN bids farewell to OG eliminated by MVP.Phoenix. The European team was the second to be eliminated from the event, following Virtus.Pro. MVP.Phoenix continue in the semi finals tomorrow. Two more teams will be eliminated in the first ever DotaPit LANs by the end of the night. The DotaPit LAN quarterfinals will continue today with Team Secret vs. Na'Vi at 19:00 CET.
GG WP to @OGDota2! After an intense series we came out as winner. Next opponent: @compLexityLive (Semi-Finals). pic.twitter.com/aXM4cYaWyi

— Felix Jedelhauser (@MVPJeeF) March 19, 2016
The first day of DotaPit LAN finals got underway today, witnessing OG eliminated by MVP.Phoenix. Earlier Virtus.Pro's suffered from an early departure when they were wiped through by compLexity Gaming.
The beautiful NA and SEA underdog storylines started at the Shanghai Major and continued just as strong during the beginning of the DotaPit LAN finals as both MVP.Phoenix and compLexity Gaming continue to advance.
MVP.Phoenix continued to demonstrate incredible coordination in their team fights, continuing to impress as much as they had wow'd people at Shanghai Major. In two convincing victories, MVP.Phoenix were able to outplay and outdraft the Frankfurt Major Championship team.
Regardless of who wins this game if you still think @SC2MVP's finish at Shanghai was a fluke I'm not sure what games you've been watching.

— Nahaz (@NahazDota) March 19, 2016
DotaPit LAN elimination: Quarterfinals
OG vs MVP.Phoenix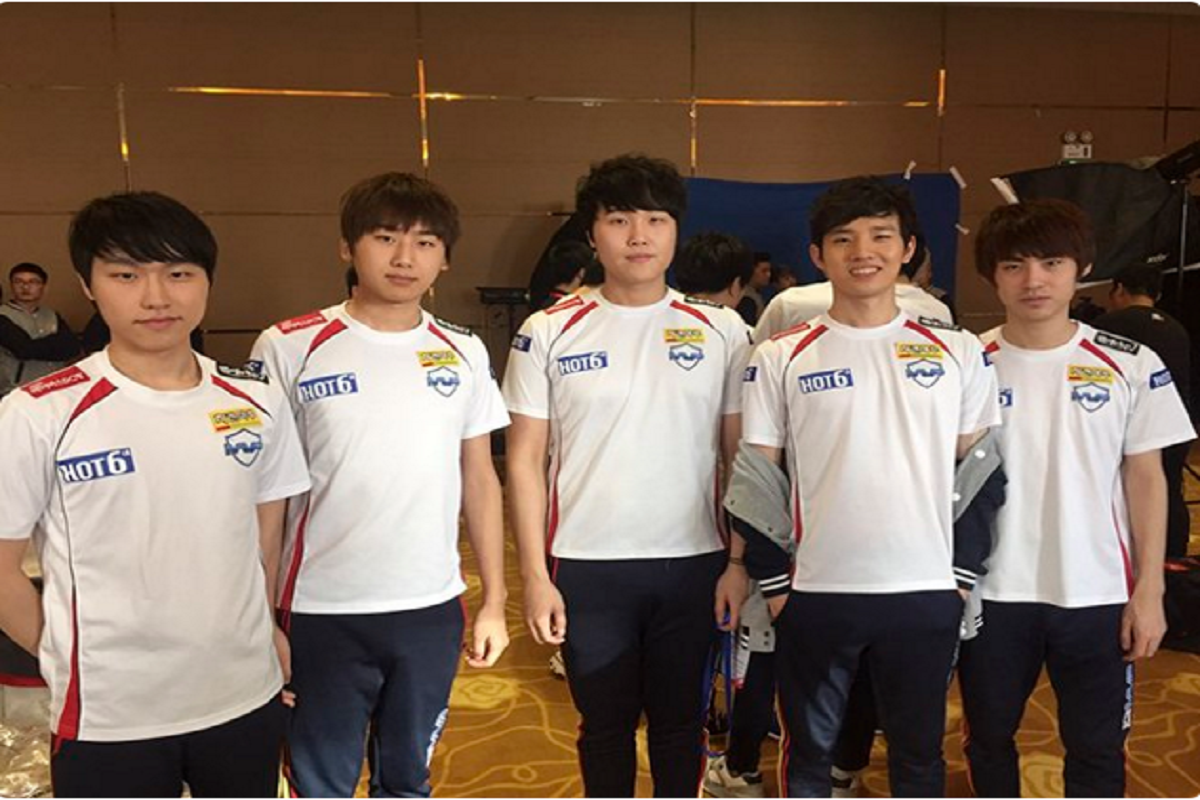 The first game of the series was an exciting match with MVP.Phoenix dominating in their team fights and coordination again. MVP.Phoenix had 37 kills and 100 assists, showing just how much their teamwork and coordination worked together. By slowing down Amer "Miracle-" al-Barqaw's progress MVP.Phoenix were able to move ahead much quicker. They continued to dismantle OG in an impressive and convincing manner.
The second game was a complete stomp in the opposite direction with OG taking the game to tie up the series. OG were able to completely destroy MVP.Phoenix in only 23 minutes with a score of 19:5. A fantastic game on mid lane by Miracle- and an incredibly farmed Sven by Johan "BigDaddy" Sundstein gave MVP.Phoenix no chances to turn things around.
The deciding game started out with OG securing first blood. The game then progressed with back and forth swings in lead and advantage and lots of action. MVP.Phoenix Kim "QO" Seon-yeop on Ember was incredible and Lee "FoREV" Sang-don had a perfect game. The Korean team was able to execute their strategy well and outplay OG in a convincing manner.
DotaPit LAN results: OG 1:2 MVP.Phoenix Gaming. MVP.Phoenix will continue to the semi finals for another best-of-three elimination series, leaving OG eliminated.
DotaPit LAN Finals main event
The LAN finals will be held at the Spaladium Arena in Split, Croatia. The venue boasts a 10,000 seating capacity and was built in 2008.
DotaPit LAN brackets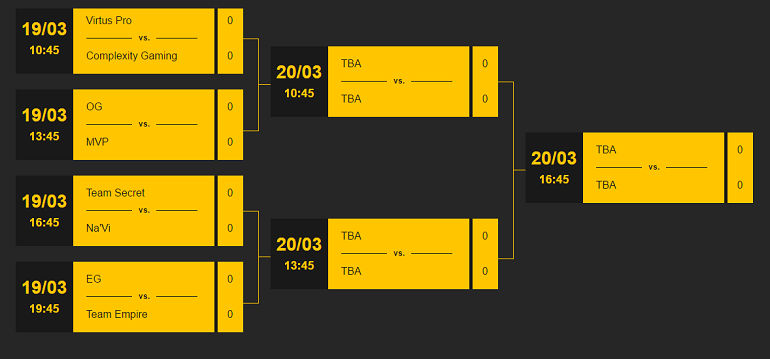 DotaPit LAN Finals schedule
March 19
10:45 CET: Virtus.Pro vs. complexity
13:45 CET: OG vs. MVP.Phoenix
16:45 CET: Team Secret vs. Na'Vi
19:45 CET: Evil Geniuses vs. Team Empire
March 20
10:45 CET: Semifinals
13:45 CET: Semifinals
16:45 CET : Grand Finals
DotaPit LAN Finals
A total of eight teams participated in the LAN event:
4 Direct Invites (Virtus.Pro, Team Secret, OG, EG)
2 European qualified teams (Na'Vi,Team Empire)
1 Americas qualified team (compLexity Gaming)
1 South East Asian qualified team (MVP.Phoenix)
Format
Quarterfinals and semifinals are best-of-three series.
Single Elimination bracket
Grand Finals will be best-of-five.