The DotaPit LAN bids farewell to Virtus.Pro eliminated by compLeixty Gaming. The CIS team was the first to be eliminated from the event. compLexity Gaming continue in the semi finals tomorrow. Three more teams will be eliminated in the first ever DotaPit LANs by the end of the night. The DotaPit LAN quarterfinals will continue today with OG vs. MVP.Phoenix at 15:00 CET.
Complexity took that one pic.twitter.com/Vs0qW2nx2o

— DotaPit.com (@DotaPit) March 19, 2016
The first day of DotaPit LAN finals got underway today, witnessing Virtus.Pro eliminated by compLexity Gaming.
Although the second game was plagued with extensive pauses and delays, disrupting the momentum and the flow for both teams, the game continued at an incredible pace.
Both teams played incredibly well, putting up tough fights and some great plays. Zakari "Zfreek"Freedman once again has been a shining star of the event and compLexity's synergy and coordination continues to be one step ahead.
DotaPit LAN elimination: Quarterfinals
Virtus.Pro vs compLexity Gaming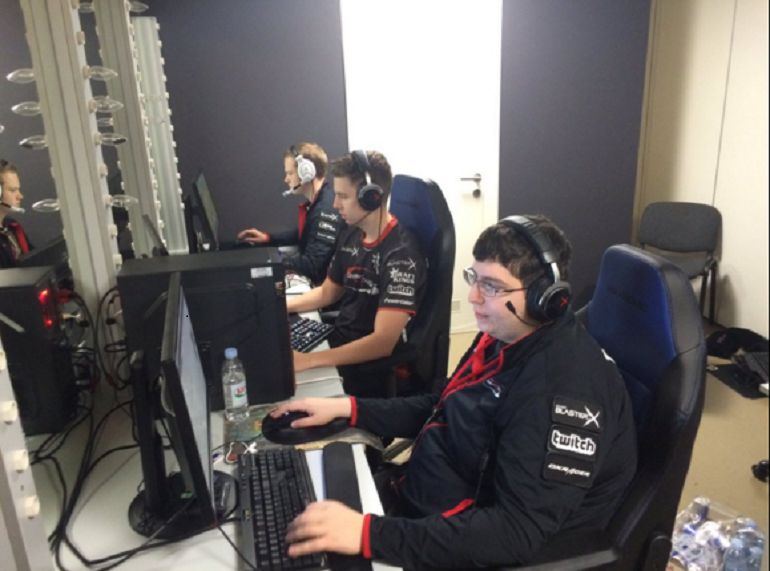 The first game of the series started out with an action packed game. While compLexity ended up taking the first game, Virtus.Pro had a great start and were able to hold off compLexity for quite some time. compLexity was always able to respond to Virtus.Pro and push ahead with the lead about 20 minutes in. Shutting down the Sven on Virtus.Pro was one of the key factors to keeping the CIS team in control.
The second game experienced significant delays and pauses early on in the match. compLexity have been on the offense since the beginning, having great vision and map control. Taking the upper hand in matches and pick offs, the North American team was able to build their advantage. Zakari "Zfreek"Freedman had once again proved his invaluable worth in clutch plays and amazing saves.
Stat of the day, this is now #coLDota's 3rd longest pause in a match and second longest on LAN.

— Kyle Bautista (@coL_Beef) March 19, 2016
DotaPit LAN results: Virtus.Pro 0:2 compLexity Gaming. compLexity Gaming will continue to the semi finals for another best-of-three elimination series, leaving Virtus.Pro eliminated.
DotaPit LAN Finals main event
The LAN finals will be held at the Spaladium Arena in Split, Croatia. The venue boasts a 10,000 seating capacity and was built in 2008.
DotaPit LAN brackets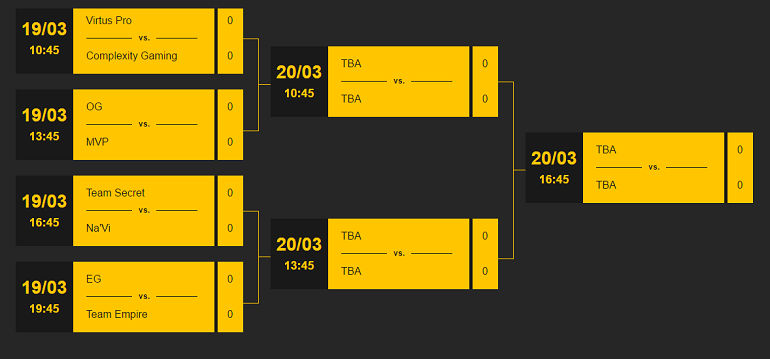 DotaPit LAN Finals schedule
March 19
10:45 CET: Virtus.Pro vs. complexity
13:45 CET: OG vs. MVP.Phoenix
16:45 CET: Team Secret vs. Na'Vi
19:45 CET: Evil Geniuses vs. Team Empire
March 20
10:45 CET: Semifinals
13:45 CET: Semifinals
16:45 CET : Grand Finals
DotaPit LAN Finals
A total of eight teams participated in the LAN event:
4 Direct Invites (Virtus.Pro, Team Secret, OG, EG)
2 European qualified teams (Na'Vi,Team Empire)
1 Americas qualified team (compLexity Gaming)
1 South East Asian qualified team (MVP.Phoenix)
Format
Quarterfinals and semifinals are best-of-three series.
Single Elimination bracket
Grand Finals will be best-of-five.