The DotaPit LAN bids farewell to Team Secret eliminated by Na'Vi. The Shanghai Champions were the third to be eliminated from the event, following Virtus.Pro and OG. Na'Vi continue in the semi finals tomorrow. One more team will be eliminated in the first ever DotaPit LANs by the end of the night. The DotaPit LAN quarterfinals will continue today with Evil Geniuses vs. Team Empire at 23:30 CET.
Crazy game from both @natusvincere and @teamsecret. A quality series that both teams should be proud being apart of.

— Conrad Janzen (@ConradJanzen) March 19, 2016
The first day of DotaPit LAN finals got underway today, witnessing Team Secret eliminated by Na'Vi. Earlier Virtus.Pro's suffered from an early departure when they were wiped through by compLexity Gaming and OG were bested by MVP.Phoenix 1:2.
Besides the continued storyline of NA and SEA rising, DotaPit LAN finals created a commotion of upsets. Both the Frankfurt Major and the Shanghai Major championship teams were brought to their ends in the first round of matches by the underdogs.
Despite taking a loss in the first game in the quarter finals, the beloved CIS team had shown much improvement in their plays and synergy. A refreshing series highlighting Danil "Dendi" Ishutin and Ivan "Artstyle" Antonov rampage in the second game. The team created an incredible upset when after a phenomenal second game, they knocked out the Shanghai Championship team in a very convincing manner in the deciding third match.
DotaPit LAN elimination: Quarterfinals
Team Secret vs Na'Vi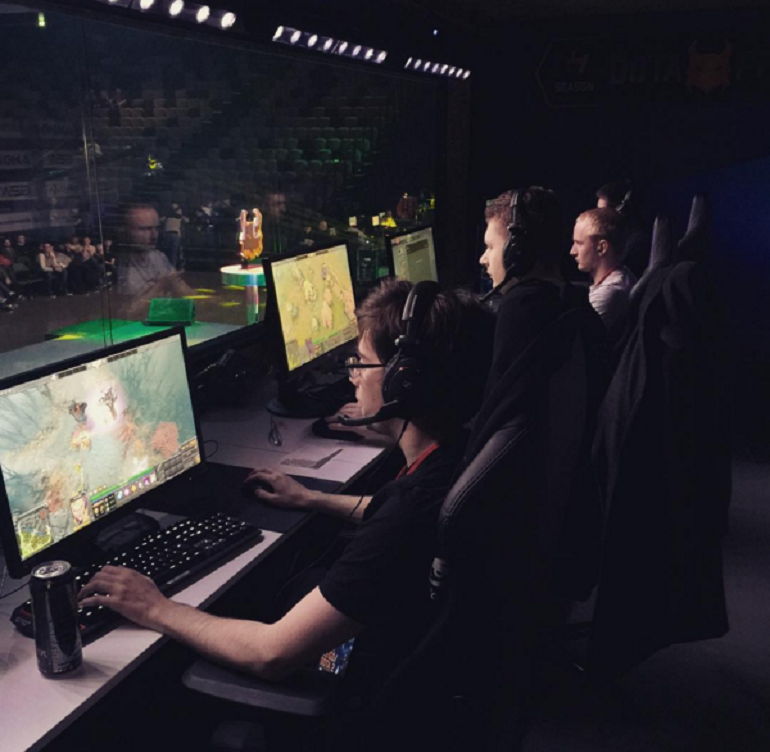 The first game saw Team Secret draft another Doom for Clement "Puppey" Ivanov, something that was seen as effective for them at the Shanghai Major. The first 15 minutes was looking great for Na'Vi but after the first real big fight and with w33Aliwi "w33" Omar Venomancer getting the Aghanim's Scepter it started to get much harder for them. Rasmus "MiSeRy" Filipsen's Natures Prophet split pushing was also difficult for the CIS team to deal with and they ended up slowly losing grasp on being able to make big turn.
The second game was truly a roller coaster match. With swings back and forth in the lead and and advantage, there was no clear winner until the end of the game. A fantastic Invoker from Danil "Dendi" Ishutin gave fans much excitement and the CIS team a lot of momentum. With a show of force, Na'Vi were able to battle back. An amazing rampage on Enchantress by Ivan "Artstyle" Antonov closed the deal and took the second game forcing a third game.
THAT was one of the best Invoker performances Iv'e seen from @DendiBoss in a long time. Absolutely masterful. Wow. GG Na`Vi. Game 3 time.

— Wykrhm Reddy (@wykrhm) March 19, 2016
The third game started out with first blood by Na'Vi. Although the game was about dead even for the first 17 minutes, Na'Vi was able to take an incredible fight and start to really extend their lead quickly. Taking good fights, objectives and pick offs, the CIS team started to quickly snowball towards the end. Akbar "SoNNeikO" Butaev and Victor "GeneRaL" Nigrini were significant factors for their success in clinching the series and getting Team Secret eliminated.
DotaPit LAN results: Team Secret 1:2 Na'Vi. Na'Vi will continue to the semi finals for another best-of-three elimination series, leaving Team Secret eliminated.
DotaPit LAN Finals main event
The LAN finals will be held at the Spaladium Arena in Split, Croatia. The venue boasts a 10,000 seating capacity and was built in 2008.
DotaPit LAN brackets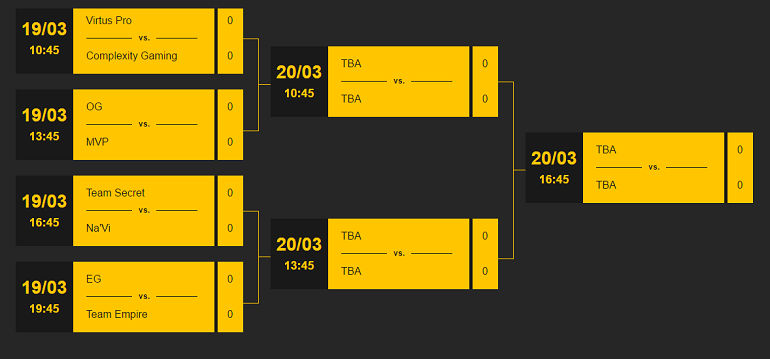 DotaPit LAN Finals schedule
March 19
10:45 CET: Virtus.Pro vs. complexity
13:45 CET: OG vs. MVP.Phoenix
16:45 CET: Team Secret vs. Na'Vi
19:45 CET: Evil Geniuses vs. Team Empire
March 20
10:45 CET: Semifinals
13:45 CET: Semifinals
16:45 CET : Grand Finals
DotaPit LAN Finals
A total of eight teams participated in the LAN event:
4 Direct Invites (Virtus.Pro, Team Secret, OG, EG)
2 European qualified teams (Na'Vi,Team Empire)
1 Americas qualified team (compLexity Gaming)
1 South East Asian qualified team (MVP.Phoenix)
Format
Quarterfinals and semifinals are best-of-three series.
Single Elimination bracket
Grand Finals will be best-of-five.