Na'Vi blow away OG 2:1 during the StarLadder Dota Invitational. OG will now drop to the Lower Brackets, while Na'Vi will move forward in the Upper Brackets. No teams were eliminated today. The StarLadder Invitational continues tomorrow with the lower bracket round 1 series featuring Vega vs Virtus.Pro at 08:30 CEST, followed by more lower bracket round 1 series and two upper bracket semi finals.
We've done it! Amazing victory against The Frankfurt Major champions! Good job, boys!#navifighting #dota2 pic.twitter.com/vBpBCAWuRb

— Natus Vincere (@natusvincere) April 14, 2016
In front of their home crowd, Na'Vi unleashed their fury and bowled over the Frankfurt Major championship team 2:1 in StarLadder Dota Invitational.
Clear game plans, smooth execution and coordinated team play were the highlights and key points of success for Na'Vi. The Ukrainian team proved they are not to be discounted anymore and have begun to rally behind their lineup and reignited passion.
The first day of the StarLadder Dota Invitational had begun with the series between LGD and Vega Squadron. Both teams gave fantastic performances but in the end LGD advanced in the Upper Brackets, as they took a convincing 2:0 sweep over the CIS team.
The series between Virtus.Pro and Alliance got off to an incredibly strong and promising start for the Swedish stars as they swept through Virtus.Pro 2:0.
Unable to ride on the momentum from their most recent championship win, the Korean squad were been dropped into the lower brackets by ViCi Gaming Reborn after a 2:0 upset.
StarLadder Dota Invitational: Upper Bracket Quarterfinals
Na'Vi hit first, securing first blood, but the game would progress with back and forth trades for about the first eight minutes. Na'Vi were then able to pull ahead and looked driven to take the lead. The Ukrainian based team made sure that they did not give OG any room to gain advantage and turn things around. Their overall game plan was executed smoothly with strong drafting and well coordinated plays. A five man wipe at 46 minutes forced OG to call "GG" and surrender the first game to Na'Vi.
The second game was all for OG from the beginning. They were able to pick apart the Ukrainian team and continue to add pressure all over the map. Executing incredibly well and punishing all mistakes OG were able to strike back easily. Dmitry "Ditya Ra" Minenkov on Ember Spirit was not able to turn things around and OG took the second win, forcing a deciding third game.
Na'Vi responded in the third game with first blood. They fell behind shortly after but managed to pull themselves back up and regain the advantage and lead. Shutting down OG in all crucial areas, Na'Vi was able to cruise easily to the victory and take the entire series.
.@natusvincere очень серьёзно настроены на победу в этом матче. Такие файты тому подтверждение!#Dota2Invitational pic.twitter.com/926DG9Pxld

— Dota 2 SLTV (@dotasltv) April 14, 2016

StarLadder Dota Invitational results: Na'Vi 2:1 OG. Na'Vi will continue to the Upper Bracket Semifinals, while OG will drop to the Lower Brackets.
StarLadder Dota Invitational
The StarLadder Dota Invitational will feature a prize pool of $100,000. The event will take place between April 14-17 at the Kiev Cybersport Arena in the Ukraine.
Eight teams will compete, including reigning champions Alliance. OG, LGD, MVP.Phoenix, Na'Vi and Virtus.Pro have been directly invited. Vega Squadron has secured the European qualifier spot and ViCi Gaming Reborn grabbed the Chinese spot through their victories in the H-Cup.
StarLadder Dota Invitational participating teams
Alliance
OG
LGD
MVP.Phoenix
Na'Vi
Virtus.Pro
Winner of the European qualifier – Vega Squadron
Winner of the Chinese qualifier – ViCi Gaming Reborn
StarLadder Dota Invitational brackets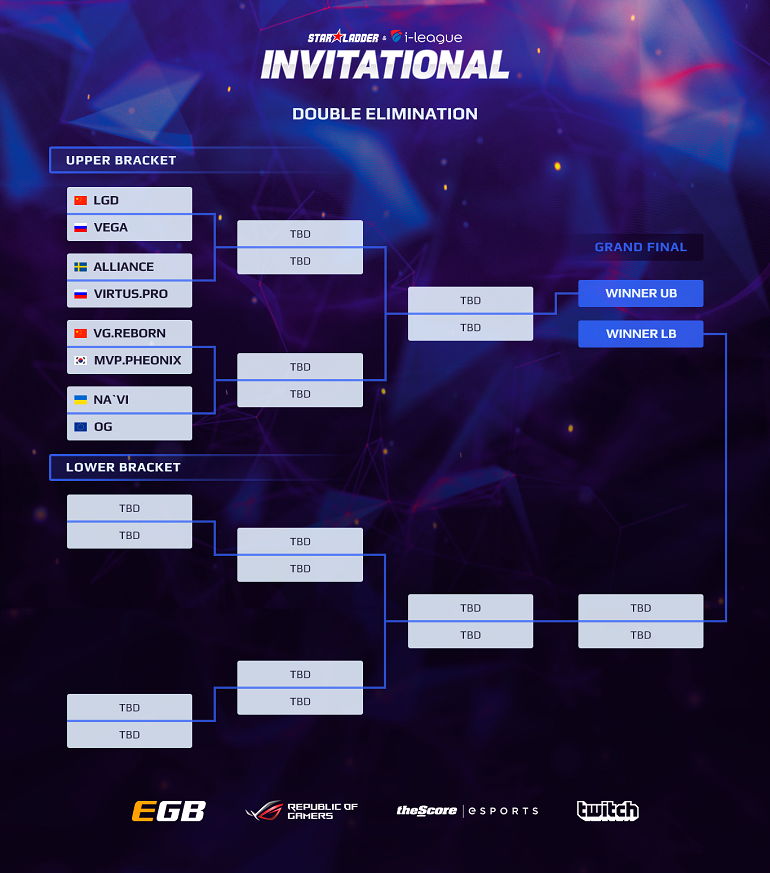 StarLadder Dota Invitational schedule
Friday, April 15
08:30 CEST – Vega vs. Virtus.Pro
12:00 CEST – MVP.Phoenix vs. OG
15:30 CEST – LGD vs.Alliance
19:00 CEST – ViCi Gaming Reborn vs. Na'Vi
Saturday, April 16
08:30 CEST – Winner of M5 vs. Loser of M8
12:00 CEST – Winner of M6 vs. Loser of M7
15:30 CEST – Winner of M9 vs. Winner of M10
19:00 CEST – Winner of M7 vs. Winner of M8
Sunday, April 17
14:00 CEST– Loser of M12 vs. Winner of M11
17:00 CEST – Grand Finals
StarLadder Dota Invitational format
Teams will compete in a double elimination bracket.
All matches are best-of-three series.
Grand Finals are best-of-five series.