The Esportal Dota 2 League finals kick off later today and continue through July 5. The eight participating teams – Team Empire, mYi, Virtus.Pro, Power Rangers, HellRaisers, 4 Clovers and Lepricon, 4 Anchors and Sea Captain, and Vega Squadron, will compete for a $64,000 prize pool. The first game is scheduled for 17:00 CEST, between Virtus.Pro and mYinsanity.
Over the course of seven months, eight teams have qualified through either invitational qualifiers or open qualifiers. The Esportal finals were initially intended to take place offline, in April, but were delayed and adapted, due to scheduling difficulties.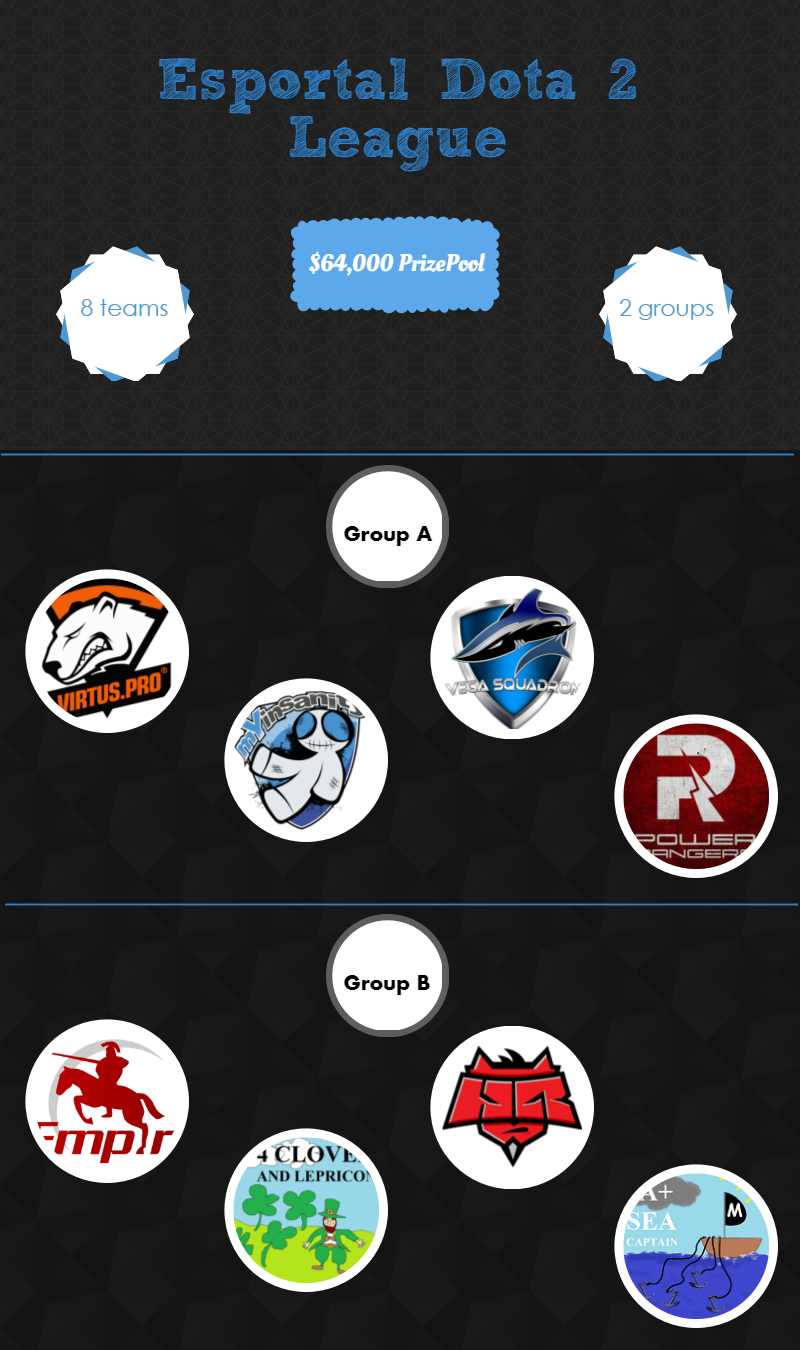 Esportal Dota 2 League qualified teams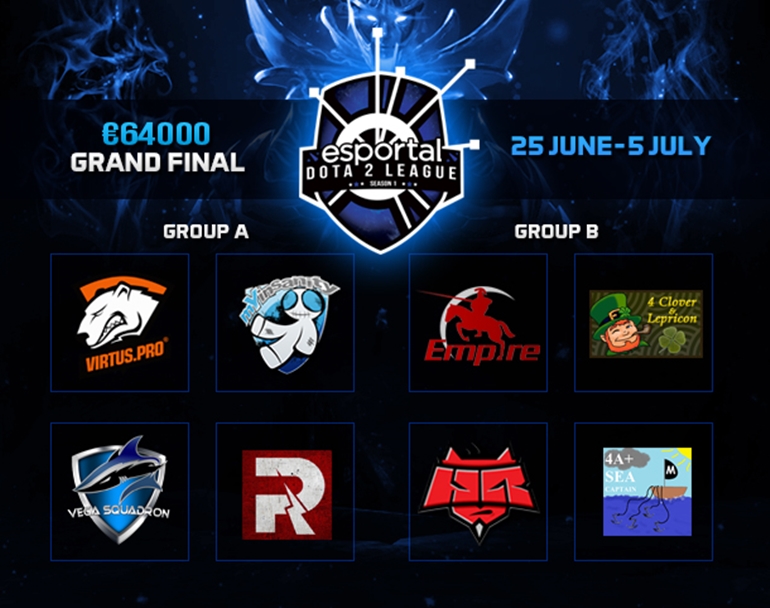 HellRaisers (qualified through the first Open Qualifiers, in November 2014)
Team Empire (qualified through the first Invitational Qualifiers, in December 2014)
mYinsanity (qualified through the second Open Qualifiers, in February)
Virtus.Pro (qualified through the second Invitational Qualifiers, in March)
Power Rangers (replacing Ninjas in Pyjamas*)
4 Clovers & Lepricon (qualified through the third Open Qualifiers, in April)
4 Anchors and Sea Captain (qualified through the fourth Invitational Qualifiers, in May)
Vega Squadron (qualified through the fourth and last Open Qualifiers, in June)
*Ninjas in Pyjamas announced their last minute withdrawal from the Esportal Dota 2 League finals yesterday. They were replaced by Power Rangers, who were runners-up in three of the qualifiers.
Esportal Dota 2 League group stage
The group stage will be played in a double elimination format. The top two teams from each group will advance to the double elimination finals.
Group A
Group A will begin on June 25th and conclude on June 30th.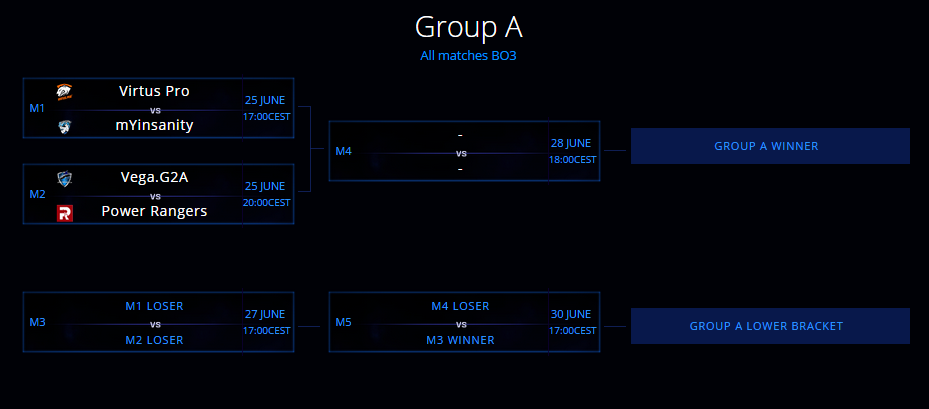 Group B
Group B will begin on June 26th and conclude on June 30th.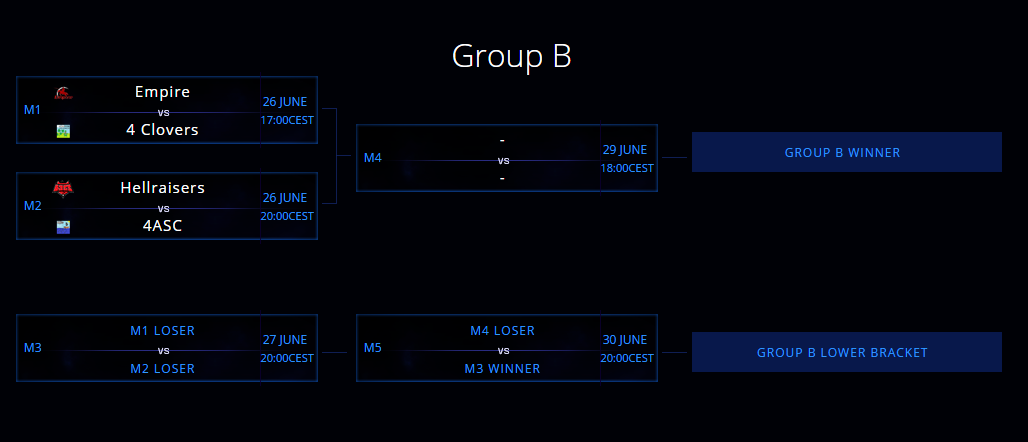 Esportal Dota 2 League playoffs
The last phase of the tournament will take place between July 2-5, featuring the top two teams from both groups. All matches will be best-of-three series, except for the Grand Finals, which will be best-of-five.

Esportal Dota 2 League broadcast
Coverage will be provided by Beyond the Summit. David "GoDz" Parker, David "LD" Gorman and Ben "Merlini" Wu have been in charge of broadcasting the qualifiers and will continue to cast the group stage, playoffs and grand finals. The event will be broadcat on the Esportal dedicated channel, on TwitchTV.
Esportal Dota 2 League prize pool
1st place: $32,000
2nd place: $16,000
3rd place: $4,800
4th place: $4,800
5th place: $1,600
6th place: $1,600
Participating teams
Virtus.Pro
In the last year, Virtus.Pro's roster has shifted significantly and many changes have occurred within the organization. With the current lineup, the team has been displaying stellar performances and are quickly rising to the top of fan favorites for TI5.
After taking first place at the ASUS Play it Cool invitational, the team had a sub-par performace at the MLG Pro League Finals, at X-Games, earlier this month, but then came back to claim the championship title in the DreamLeague Season 3 LAN finals.
Most recently, they swept through all of their opponents in the seeding phase for ESL One Frankfurt and secured the first place, thus taking the first choice in selecting an opponent for the first round of the main event. Virtus.Pro was later defeated by Evil Geniuses in the semifinals of the ESL One Frankfurt main event.
Last night, Virtus.Pro swept through Team Empire, 3:0, in the best-of-five Egaming Bets show match, taking home another title and the $5,000 prize
Virtus.Pro roster

Ilya "Illidan" Pivcaev


Sergey "God" Bragin


Alexander "DkPhobos" Kucheria


Artem "fng" Barshak


Ilya "Lil" Ilyuk
Team Empire
Team Empire have been displaying topmost performances, placing in the top three in all major tournaments they have participated in since October 2014. They are currently attending their second bootcamp in recent months and are one of the top favorites for TI5.
The Russian team won the MLG Championships, in April, and the D2CL Season 5, in May.
Team Empire were supposed to attend the MLG Pro League LAN finals, in Texas, Austin, but announced their last minute withdrawal, due to visa issues. Most recently, they finished second in the MarsTV Dota 2 League, after being bested by Team Secret, 3:1, in the Grand Finals.
Team Empire roster

Airat "Silent" Gaziev


Roman "Resolut1on" Fominok


Maxim "yoky" Kim


Ilya "ALOHADANCE" Korobkin


Andrey "ALWAYSWANNAFLY" Bondarenko
Vega Squadron
Vega Squadron underwent roster changes in mid March. Their latest roster change was the addition of Aleksey "Solo" Berezin and Andrey "Mag" Chipenko, in April.
They have since been carving a spot as a notable CIS team. They recently claimed a Wild Card slot for TI5, won the Yard Festival, in May, and qualified for the last spot in the Esportal Dota 2 League finals.
They were also able to secure the last spot for the MLG Pro League finals at X-games, in Texas, but had to withdraw from the competition due to lack of enough time to obtain visas. They also had to decline replacing Team Empire at DreamLeague Season 3 LAN finals, for the same reason.
Most recently, the team placed first in the Mountain Trail Challenge.
Vega Squadron roster

Semen "Cema" Krivulya


Pavel "9pashaebashu" Khvastunov


Vladimir "no[o]ne" Minenko


Andrey "Mag" Chipenko


Aleksey "Solo" Berezin
4 Anchors and Sea Captain
4 Anchors and Sea Captain is an unsponsored Finnish team formed in September 2014. They have taken first and second places in several tournaments, such as EIZO Cup, Hitbox EU Championship, and Yard Festival.
They had a surprising performance in the TI5 European qualifiers, where they advanced through to the Lower Bracket finals before being eliminated by Na'Vi, 2:1.
4 Anchors and Sea Captain roster

Lasse "MATUMBAMAN" Urpalainen


Sampsa "nemphy" Kutvonen


Kalle "Trixi" Saarinen


Mikko "Vaalix" Ristimäki


Riku "Buugi" Fält
HellRaisers
HellRaisers picked up Kompas.Gaming's lineup and replaced "PSM" with "Dread".
Since then, the team has won a considerable number of tournaments, placing first and second in MSI Dragon Battles, JoinDOTA Masters, GIGABYTE, Battle of Central Europe, Yard Festival, and fourth at the Red Bull Battle Grounds, where they defeated Team Empire, Na'Vi and Virtus.Pro to qualify for their spot.
HellRaisers didn't have a very encouraging performance during the TI5 European Qualifiers and are currently undergoing roster changes, having released Ivan "Gorec" Kartankov and Artes "Artyom" Gorobey. The team has not announced any official replacements.
HellRaisers current active roster

Andrey "Afoninje" Afonin


Dulat "goddam" Seidimomyn


Andrey "Dread" Golubev
4 Clovers & Lepricon
In late March, after Goblak left Na'Vi, he put together a new team with some other known teamless professional players. 4 Clovers & Lepricon made a strong and impressive debut, claiming the Esportal Open Qualifier #3 LAN spot, after defeating 4 Anchors and Sea Captain, on April 15. However, following that performance, the team was defeated by m5, on April 19, in the first round of the Yard Festival, and by YeS on April 28th in the first round of the DreamLeague Qualifiers #4.
Less than one month after forming 4 Clovers & Lepricon, captain and founder Artur "Goblak" Kostenko parted ways with the team and Kai "H4nn1″ Hanbückers announced his retirement from the competitive scene. Swedish player Niklas "Wagamama" Högström would take his place on 4 Clovers & Lepricon.
The team experienced a disappointing performance in the TI5 Open Qualifiers, where they were only able to advance until Round of 128, before they were defeated by a team called HLB.
The third and latest roster change included the addition of Jerry "EGM" Lundkvist and Omar "w33" Aliwi, shortly after the Open Qualifiers. The new lineup made a great debut, winning the GIGABYTE Challenge #15 finals, after taking down Team Alternate, 2:0.
4 Clovers & Lepricon current roster

Niklas "Wagamama" Högström


Alaan "SexyBamboe" Faraj


Ivan "VANSKOR" Skorokhod


Jerry "EGM" Lundkvist


Omar "w33" Aliwi
mYinsanity
mYinsanity is a Swiss organization that had recently broken into two Dota 2 squads. According to Nenad "grizzine" Lukic, the organization has already decided to drop the second squad. grizzine, part of mYinsanity's original squad, was kept on the team.
mYinstanity roster:

Gordan "g0g1" Prosic


Damir "Zamj/Mitch" Skaricic


Admir "lizZard" Salkanovic


Milan "MiLAN" Kozomara


Nenad "grizine" Lukic
Power Rangers
Power Rangers is a Belorussian team that was founded in 2013. After several roster changes over the last two years, the team continued to push forward in the European and CIS scene.
This year, Power Rangers has had a string of difficulties affecting their roster, starting with the departure of Maxim "Shachlo" Abramovskikh in February, followed by the loss of sponsor ESFX.Tv in mid March and the separation from Akbar "SoNNeikO" Butaev who left to Na'Vi, on March 25.
On April 27, the team added Rinat "KingR" Abdulin and Kirill "Sunlight" Kachinsky. KingR was replaced on June 16 by HellRaisers' Ivan "gorec" Kartankov.
In the past year, Power Rangers had a couple of second place finishes in several Esportal qualifiers and InsideDOTA tournaments. The team has finished the TI5 European Qualifiers on the third place in their group, after one win, one draw and two losses.
Power Rangers roster

Dmitry "Ditya Ra" Minenkov


Kirill "Sunlight" Kachinsky


Eugene "chshrct" Kostroma


Alexei "j4" Lipai


Ivan "gorec" Kartankov