Ninjas in Pyjamas have withdrawn from the Esportal Dota 2 League finals, set to begin tomorrow. The Swedish team was scheduled to face Vega Squadron in their first match of the group stage, on June 25th, at 20:00 CEST. Power Rangers will take NiP's place in the league's finals.
Contacted by DotaBlast, Esportal founder Daniel "pani" Aicardi has confirmed NiP's last minute withdrawal:
NiP-Gaming was forced to withdraw from the tournament and Power Rangers were chosen to replace them due to the most 2nd place finishers in all our qualifiers.
NiP's team manager, Linus "isola" Svensson, has refused to comment on the matter.
Alexei "j4" Lipai, Power Rangers team player, told DotaBlast:
It's a great honor for us to be invited, big thanks to Esportal for giving us one more chance after we finished 2nd in qualifiers three times in a row. We are looking forward to tomorrow's match versus Vega and we will surely try our best.
Last week, Esportal released the brackets for their Dota 2 League finals, which will take place online, between June 25-July 5. Over the course of seven months, eight teams have qualified through either invitational qualifiers or open qualifiers. The event was initially intended to take place offline, in April, but was delayed and adapted, due to scheduling difficulties.
The first game is scheduled for tomorrow, June 25, at 17:00 CEST, between Virtus.Pro and mYinsanity. Power Rangers will face Vega Squadron at 20:00 CEST. Coverage will be provided by Beyond the Summit, on the Esportal dedicated channel.
Ninjas in Pyjamas
Ninjas in Pyjamas have recently claimed their first LAN championship title, at MLG Pro League, X-Games. They won the championship's gold medal and the $66,899 prize money.
The team then went on to receive third place in the DreamLeague Season 3 LAN finals at Dreamhack Summer, where they managed to defeat Alliance, 2:1, and then were eliminated by Virtus.Pro, 3:0, in the Lower Bracket finals.
NiP did well in the TI5 European Qualifiers, finishing second in their group and advancing into the Lower Brackets of the playoffs. Vega Squadron eliminated them, 2:1, in the Lower Brackets.
Ninjas in Pyjamas roster

Adrian "Era" Kryeziu


Linus "Limmp" Blomdin


Jonas "joanssomfan" Lindholm


Simon "Handsken" Haag


Elias "Sealkid" Merta
Power Rangers
Power Rangers is a Belorussian team that was founded in 2013. After several roster changes over the last two years, the team continued to push forward in the European and CIS scene.
This year, Power Rangers has had a string of difficulties affecting their roster, starting with the departure of Maxim "Shachlo" Abramovskikh in February, followed by the loss of sponsor ESFX.Tv in mid March and the separation from Akbar "SoNNeikO" Butaev who left to Na'Vi, on March 25.
On April 27, the team added Rinat "KingR" Abdulin and Kirill "Sunlight" Kachinsky. KingR was replaced on June 16 by HellRaisers Ivan "gorec" Kartankov.
In the past year, Power Rangers had a couple of second place finishes in several Esportal qualifiers and InsideDOTA tournaments. The team has finished the TI5 European Qualifiers on the third place in their group, after one win, one draw and two losses.
Power Rangers roster

Dmitry "Ditya Ra" Minenkov


Kirill "Sunlight" Kachinsky


Eugene "chshrct" Kostroma


Alexei "j4" Lipai


Ivan "gorec" Kartankov
Esportal Dota 2 League qualified teams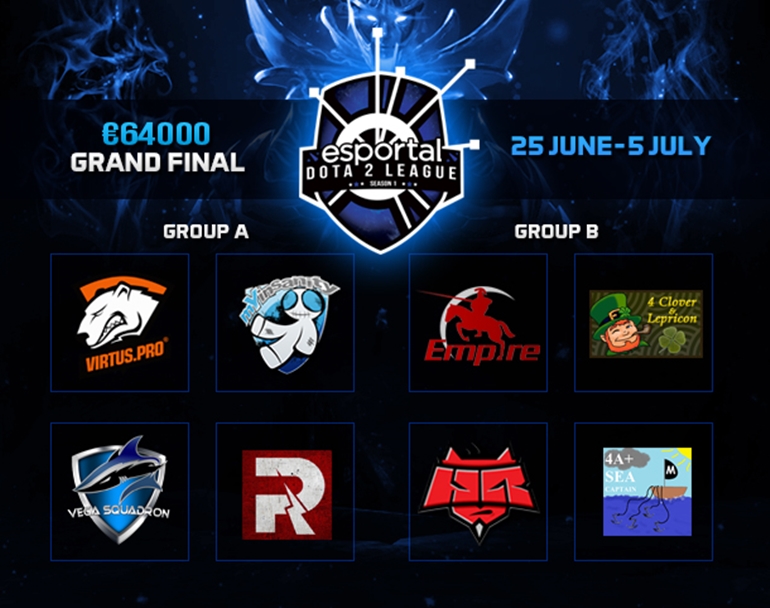 HellRaisers (qualified through the first Open Qualifiers, in November 2014)
Team Empire (qualified through the first Invitational Qualifiers, in December 2014)
mYinsanity (qualified through the second Open Qualifiers, in February)
Virtus.Pro (qualified through the second Invitational Qualifiers, in March)
Power Rangers (replacing Ninjas in Pyjamas)
4 Clovers & Lepricon (qualified through the third Open Qualifiers, in April)
4 Anchors and Sea Captain (qualified through the fourth Invitational Qualifiers, in May)
Vega Squadron (qualified through the fourth and last Open Qualifiers, in June)
Photo Credits: Dreamhack