The TI5 Europe Qualifiers group stage finished out with the top two teams in each group advancing into the playoffs. Matches start tomorrow, May 31, at 12:00 CEST.
UPDATE (August 9):
Evil Geniuses are your TI5 champions! Grand Finals VODS, summaries, pictures and highlights: here.
4ASC and Ninjas in Pyjamas topped their group, with 8 and respectively 6 points. 4ASC will be placed into the Upper Bracket, while NiP will begin the playoffs in the Lower Bracket.
In Group B, Na'Vi will advance to the playoffs, with 9 points. Na'Vi will face 4ASC in the Upper Bracket.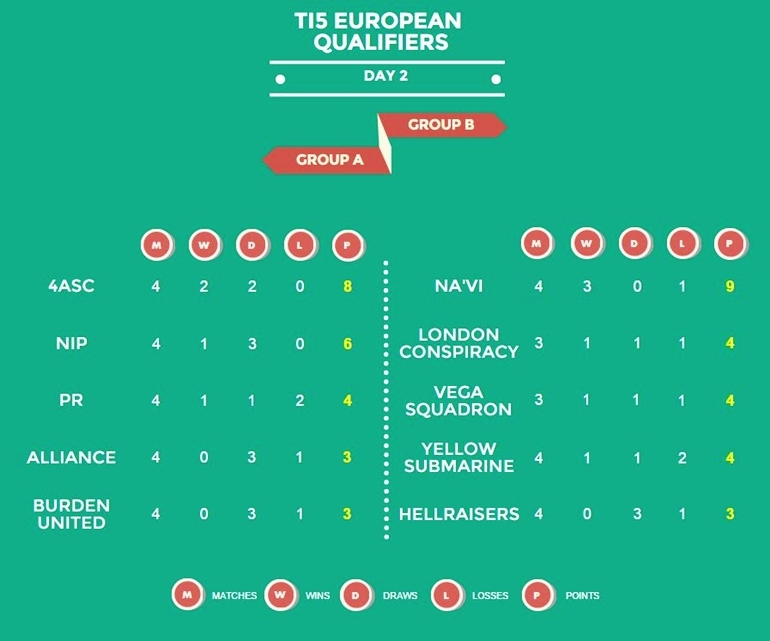 The second place team has yet to be determined, as the match between London Conspiracy and Vega Squadron has been postponed until Sunday, May 31, at 12:00 CEST. Both teams are currently tied for the second place position. Whichever team wins both games in the series will advance to face NiP in the Lower Brackets. If the match results in a draw, with each team taking a win, a best-of-1 tiebreaker will be played to determine the winner.
TI5 Europe Qualifiers Playoffs: brackets, format, schedule

Double elimination bracket
Best-of-three matches
First place teams will start in the Upper Bracket.
Runner-up teams will start in the Lower Bracket.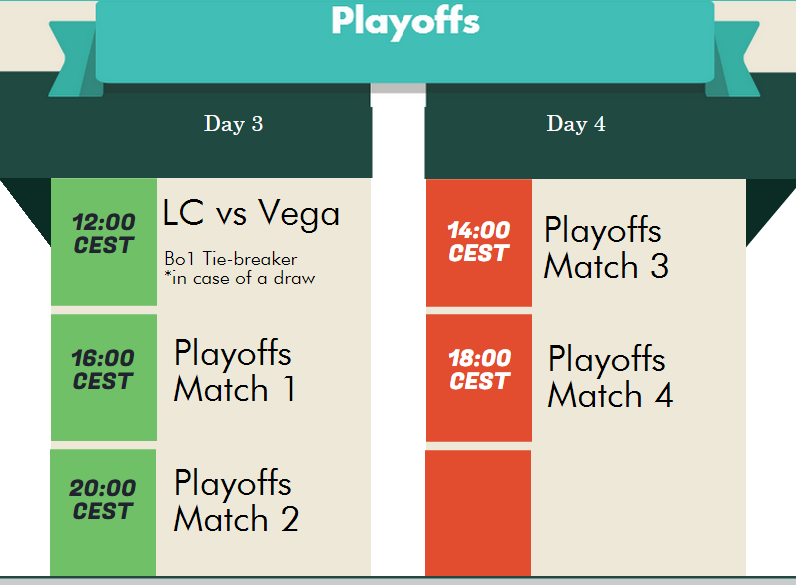 TI5 Europe Qualifiers streams
The TI5 Europe qualifiers are broadcast in English as part of the "Mega Hub" coverage provided by Twitch and the PGL studios. The Mega Hub coverage brings 35 Dota 2 personalities under the same roof.
The following Twitch channels provide 24/7 coverage of all the matches:
The TI5 Europe Qualifiers series will end on June 1.
TI5 Europe Qualifiers, day 2, Group A
Alliance vs. Ninjas in Pyjamas
NiP landed the first three kills before Alliance were able to start getting pick-offs and building momentum. Alliance won the game thanks to the Tiny-Io combo, even though Ninjas in Pyjamas dealt with it well for a while and managed to find their own picks-offs and end up on the favoring end of many engagements in the early and mid game. Towards the end, they couldn't keep their base together, as it crumbled around them.
Winner: Alliance
An interesting draft from NiP including an Axe-Omni Knight combo, which was executed really well, as they were able to stomp Alliance. NiP were able to use the combo both aggressively and passively to destroy heroes and survive the fights. Axe, one of Jonas "joanssomfan" Lindholm's best heroes, had a score of 11:1 before the end of the game, easily leading the team to victory.
Winner: Ninjas in Pyjamas
Match Points: Alliance 1, Ninjas in Pyjamas 1
Burden United vs. Power Rangers
This was not the best game coming out from Burden United, as their picks were not well suited for the heroes that Power Rangers picked. They lost every lane and they were not able to do much, even the dual lane mid was not able to put enough pressure on the Queen of Pain. With Power Rangers' over-fed Lycan, Brood Mother and Queen of Pain, Burden United became overwhelmed and ended up dropping the first game.
Winner: Power Rangers
The second time around it was Burden United's Queen of Pain that caused trouble for Power Rangers. The three core based lineup from BU versus the two core from PR gave them the edge on late game. As they got farmed, PR could not handle all of the damage from the heroes plus the non stop pressure from Furion's split push.
Winner: Burden United
Match Points: Power Rangers 1, Burden 1
Ninjas in Pyjamas vs. Power Rangers
Adrian "Era" Kryeziu and Linus "Limmp" Blomdin played out of their minds and snowballed right away starting early game, as Leshrac was 12:2 by the end. PR's lineup was not very well suited to play from behind. Ninjas in Pyjamas did not make many mistakes and took their objectives. They were cautious and did not allow PR any openings to turn the game.
Winner: Ninjas in Pyjamas
This was one of the games where Templar Assassin was a really good choice and Limmp played it really well, ending with a score of 15:1. After a couple of misplays, the advantage started to slip away from Power Rangers' hands. From that point on, Ninjas in Pyjamas were able to snowball right to the end.
Winner: Ninjas in Pyjamas
Match Points: Ninjas in Pyjamas 3, Power Rangers 0
Burden United vs. 4 Anchors and Sea Captain
4ASC played really well. The three cores coming out from BU were pretty underfarmed compared to 4ASC's. 4 Anchors and Sea Captain's support, Mikko "Vaalix" Ristimäki, was 0:0:12.
Winner: 4ASC
Depsite starting with a 6:0 lead, the game became even pretty quickly. However, as the game was progressing 4ASC had a troublesome lineup to deal with, as they had Phantom Lancer and Weaver, both really farmed. Even so, Burden United held themselves pretty well with some good plays but they were bound to get caught sooner or later and one great RP was the last nail in their coffin.
Winner: 4 Anchors and Sea Captain
Match Points: 4ASC 3, Burden 0
4ASC vs. NiP
4ASC had a better fighting lineup. Bloodseeker is one the strongest fighting heroes, especially when there is a lot of fighting going on and enemy heroes are low on HP. Both cores played really well and 4ASC executed their lineup perfectly, as they were able to abuse the strength of Bloodseeker's presence on the map and give vision on the low hp heroes to make dives much more secure.
Winner: 4 Anchors and Sea Captain
This time around, NiP were prepared for the fighting lineup from 4ASC, so they went for a five versus five fighting and pushing lineup. NiP had a very good game, with no struggles against 4ASC's lineup. At minute 40, the resistance was futile and the Finnish team call "GG".
Winner: NiP
Match Points: 4ASC 1, NiP 1
Alliance vs. Power Rangers
A surprising strategy coming out from PR to blindsided Alliance with a Level 1 Roshan, gave the Belorussian team the early advantage. PR definitely had the right heroes to deal with the Tiny-Io and Phoenix combo: a Weaver and an Alchemist, which are hard to kill after a certain point in the game. A little bit of minus armor mixed in the draft was the way to go against Alliance's lineup. In addition, PR's Alchemist had 11k gold in 13 minutes. Going into this match, PR had already been eliminated from the TI5 Europe qualifiers. That didn't stop them from going all in and they caught Alliance off guard.
Winner: Power Rangers
Both teams had rather strange drafts. The Huskar pick seemed to be extremely strong as most of Alliance's lineup was magic damage based. Alliance had at this point lost their hopes to move forward into the playoffs. The game ended in 25 minutes with PR in control the entire time.
Winner: Power Rangers
Match Points: Power Rangers 3, Alliance 0
TI5 Europe Qualifiers, day 2, Group B
Vega Squadron vs. Yellow Submarine
Even though Yellow Submarine's draft looked pretty decent on paper, this time around their famous Tide Hunter was not owning but feeding. The hero was 0:12 by the end of the game and wasn't even able to finish his Mekanism. Meanwhile, Vega's Queen of Pain was 19:0:10.
Winner: Vega Squadron
Again, Vega went with a Queen of Pain. YeS seemed to be counter-picked really well. Vega's Naix was the most farmed hero in the game (15:2).
Winner: Vega Squadron
Match Points: Vega Squadron 3, Yellow Submarine 0
HellRaisers vs. London Conspiracy
The Drow-Chen pick from HellRaisers against London Conspiracy's greedy pick was too much for the Greek team to handle. After feeding several kills early game and losing some towers, the Greek squad did not have much hope to turn anything around, as their heroes required much more farm than they had been able to get. The game was over in 13 minutes, with a 13:2 score.
Winner: HellRaisers
This time around, LC had extremely aggressive heroes that managed to do pretty well in the early game, slowing Juggernaut's farm by a large margin. LC's Shadow Fiend was doing especially well and was very farmed. The game was over in 43 minutes.
Winner: London Conspiracy
Match Points: HellRaisers 1, London Conspiracy 1
London Conspiracy vs. Vega Squadron*
*The game was rescheduled for Sunday, May 31, at 12:00 CEST
YeS vs. Na'Vi
Total domination coming out from Na'Vi on Queen of Pain. The game was utterly one-sided and the game lasted just under 17 minutes.
Winner: Na'Vi
The first blood went to YeS, when their Pudge hooked Daniil "Dendi" Ishutin at level one into the treelines where he then got Chain stunned. Na'Vi went with a similar lineup, with Queen of Pain and Shadow Demon but this time it took them 54 for minutes to prevail. Even though Yellow Submarine's Sven was pretty farmed, Na'Vi had the right heroes to kite him around.
Winner: Na'Vi
Match Points: Na'Vi 3, YeS 0