Esportal have revealed the brackets for their Dota 2 League finals, which will take place between June 25-July 5, seven months after HellRaisers won the first qualifiers, in November. Eight teams will compete in the online finals for a $64,000 prize pool.
The 64000 USD grand final is here, check out http://t.co/WcxKVFl3Bd for full schedule & info! @BeyondTheSummit #dota2 pic.twitter.com/ZomDaBDfRA

— Esportal (@esportalcom) June 18, 2015
Over the course of seven months, eight teams have qualified through either invitational qualifiers or open qualifiers. The finals were originally scheduled to be played in a LAN setting. The event was intended to take place offline, in April, but was delayed due to scheduling difficulties.
HellRaisers, who has recently been reduced to three players, secured the first open qualifier spot, while Vega Squadron grabbed the last open qualifier slot available. The finals will take place between June 25-July 5.
Esportal Dota 2 League qualified teams
HellRaisers (Open 1) November
Team Empire (Invite 1) December
mYinsanity (Open 2) January
Virtus.Pro (Invite 2) February
Ninjas in Pyjamas (Invite 3) March
4 Clovers & Lepricon (Open 3) April
4 Anchors and Sea Captain(Invite 4) May
Vega Squadron(Open 4) May
Esportal Dota 2 League group stage
The format will be a double elimination group stage. The top two teams of each group will advance to the double elimination finals.
Group A
Group A will begin on June 25th and conclude on June 30th.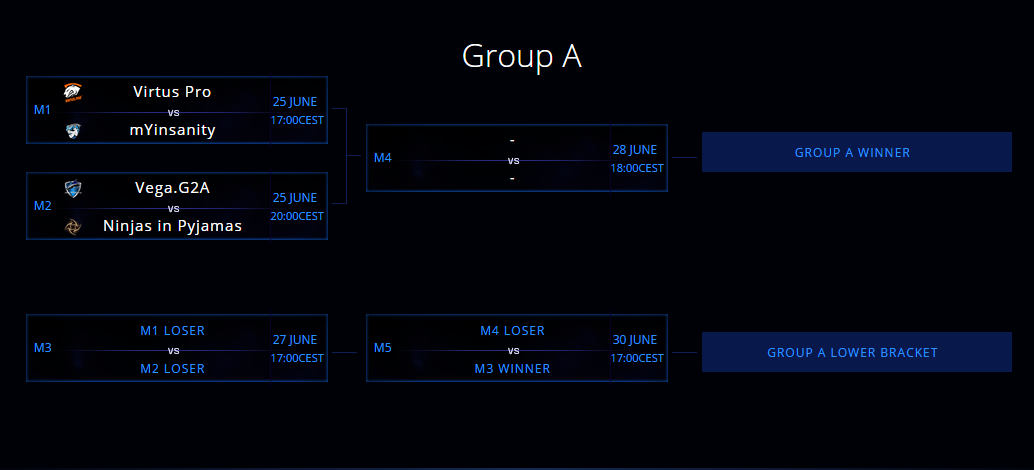 Group B
Group B will begin on June 26th and conclude on June 30th. Top two teams will advance into the playoffs.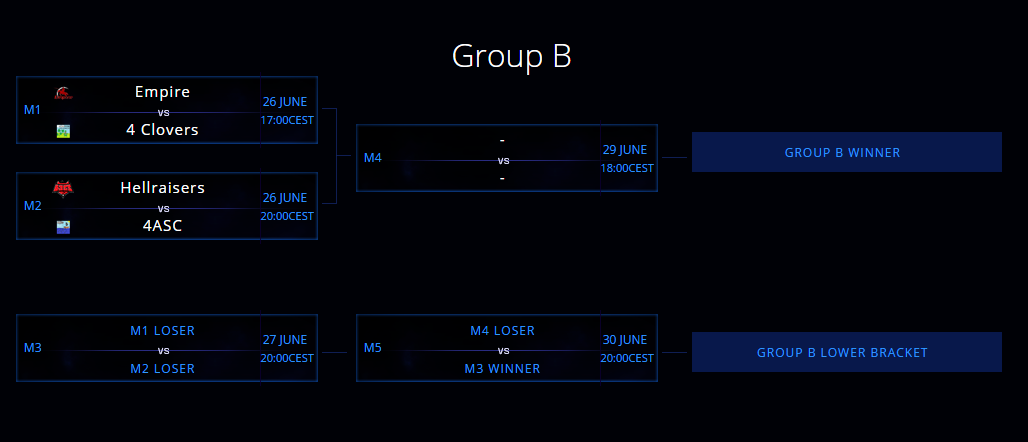 Esportal Dota 2 League playoffs
The last phase of the tournament will take place between July 2-5, featuring the top two teams from both groups. All matches will be best-of-three series, except for the Grand Finals, which will be best-of-five.

Esportal Dota 2 League prize pool
1st place: $32,000
2nd place: $16,000
3rd place: $4,800
4th place: $4,800
5th place: $1,600
6th place: $1,600
Esportal Dota 2 League casting team
David "GoDz" Parker, David "LD" Gorman and Ben "Merlini" Wu have been in charge of broadcasting the qualifiers and will continue to cast the group stage, playoffs and grand finals. The event will be casted on the Esportal dedicated channel on TwitchTV.