The seeding phase for ESL One Frankfurt has concluded. Virtus.Pro placed first, followed by Team Secret, IG and EG. The seeding for the main event has been drafted by the captains of the top three teams. Virtus.Pro, Team Secret, Invictus Gaming, Evil Geniuses, Alliance, Cloud 9, ViCi Gaming and Fnatic will compete in the ESL One Frankfurt main event this weekend, June 20-21. The total prize pool has reached $290,967.
After a full day of best-of-one games, Virtus.Pro came out on top undefeated, and took the first seeding placement. VP stormed through the seeding bracket, defeating Fnatic, then ViCi Gaming and, finally, Team Secret.
Team Secret placed second, falling only to Virtus.Pro, after defeating Alliance and Invictus Gaming earlier in the day.
Invictus Gaming took down Evil Geniuses in the first round of the seeding brackets. After falling to Team Secret in the second round, they defeated Fnatic and once again Evil Geniuses to grab the third place, pushing EG into the fourth position.
The captains of the top three teams were given the privilege to choose their first opponents in the main event:
Virtus.Pro chose to face Alliance
Team Secret chose to go up against Fnatic
Invictus Gaming picked Cloud9
Evil Geniuses were left to face ViCi Gaming




Photo Credits: ESL
ESL One Frankfurt main bracket
The main event will play out on the weekend of June 20-21 and feature a best-of-three single elimination bracket, with the grand finals being played as a best-of-five series.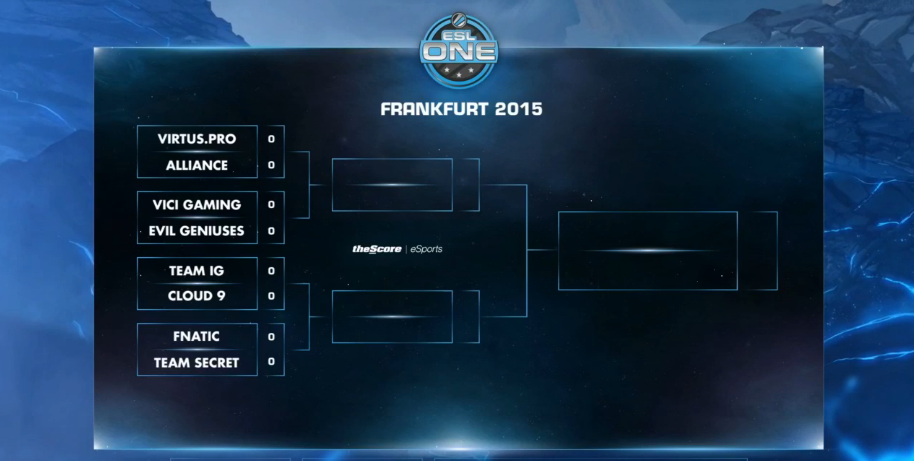 Saturday, June 20th
9:00 CEST: Admission
10:15 – 13:15 CEST: Quarterfinal #1 – Seed 1 vs. TBD
13:30 – 16:30 CEST: Quarterfinal #2 – Seed 2 vs. TBD
16:45 – 19:45 CEST: Quarterfinal #3 – Seed 3 vs. TBD
20:00 – 23:00 CEST: Quarterfinal #4 – Seed 4 vs. TBD



Photo Credits: Team Secret
ESL One hosts, casters and analysts
Hosting duties will be shared between Sean Charles and Salome "Soe" Gschwind-Penski.

William "Chobra" Cho will host his first ever Dota 2 event in Frankfurt with the help of Ben "Merlini" Wu, Jacob "Maelk" Toft-Andersen and Kai "H4nn1″ Hanbückers, who will be providing the in-depth insight and game knowledge before and after the matches.
Toby "TobiWan" Dawson and Austin "Capitalist" Welsh will be the commentators, while with Troels "Synderen" Nielsen and William "Blitz" Lee will provide live analysis of the games.

ESL One streams
All the Main Event matches will be viewable with the DotaTV ESL One Event ticket, which is available from the in-game store for $1.99.
ESL One Frankfurt tickets
ESL One Frankfurt tickets are still on sale, at prices ranging from 19.90 EUR to 2,999 EUR.
Featured Image: Kelly Milkies