The DreamLeague LAN finals held at Dreamhack Summer, Jönköping, Sweden, between June 13-16, face the second withdrawal prompted by visa issues, in less than a week. Vega Squadron were supposed to replace Team Empire, but were left with too little time to secure their visas and will be unable to attend the event.
Last month, Vega Squadron were forced to withdraw from the MLG Pro League X-Games LAN finals, for the same reason. This unfortunate conclusion in the endless battle for visas is yet another episode that calls for solutions. Enough time between qualifiers or invitations and LAN events, compelling legal support from tournament organizers and government recognition for esports are only a few of the steps that stand to reason.
Recently disbanded team Basically Unknown, placed last in the competition's League playoffs, will make the trip to Sweden and take Team Empire's place at Dreamhack Summer. Basically Unknown's lineup is comprised of Bulgarian, Romanian and Greek players who can travel passport-free within the European Union.
The announcement was made on Dreamhack's website:
First in line to replace Team Empire was Vega Squadron but in the short period of time they was not able to attend Playoffs and therefore we are happy to welcome Basically Unknown to the Playoffs of ASUS ROG DreamLeague Season 3.
Team Empire's DreamLeague Season 3 run
Team Empire were one of the four teams (Alliance, Ninjas in Pyjamas, Team Empire and Natus Vincere) invited directly to the online League phase. They qualified for the Dreamhack Summer LAN finals from the first place in the League, with the exact same record as Virtus.Pro: 9 wins, 5 losses and 9 points. On June 2, they announced their withdrawal from the LAN finals:
We won't attend @DHDreamLeague because we were late to get visas #visasarestillkillingesports

— Team Empire (@team_empire) June 4, 2015
Vega Squadron's DreamLeague Season 3 run
After two months of qualifiers, Vega Squadron was the last team to join DreamLeague Season 3. With a brand new lineup, Vega Squadron defeated Mousesports (back then known as Team Tinker), 2:1, earning the right to compete in the league for the chance to be one of the six teams to battle for the $146,159 prize pool at the DreamLeague LAN finals, in June.
DreamLeague Season 3 was the team's first online league with Alexey "Solo" Berezin and Andrey "Mag~" Chipenko on the squad.
They placed 7th in the online League playoffs, but were asked to make the trip to the LAN finals after Team Empire announced their withdrawal.
Basically Unknown's DreamLeague Season 3 run
Basically Unknown qualified for DreamLeague's League phase after winning the Third Main Qualifier, on April 23. Although the finals had many issues with what seemed to be DDoS attacks, long pauses, and player replacements, the series finally concluded well into the night with Basically Unknown emerging as victors over 4 Clovers & Lepricon. They placed last in the League phase, with 3 wins, 11 losses and 3 points.
The squad had announced their disbandment a week ago. However, they have decided to make the trip to Sweden, to take Team Empire's spot in the DreamLeague LAN finals.
Hi everyone, we are sad to say that Basically unknown is no longer. It has been a great time, thank you to everyone involved with us!

— Basically Unknown (@BU_Dota) June 2, 2015
DreamLeague Season 3 League standings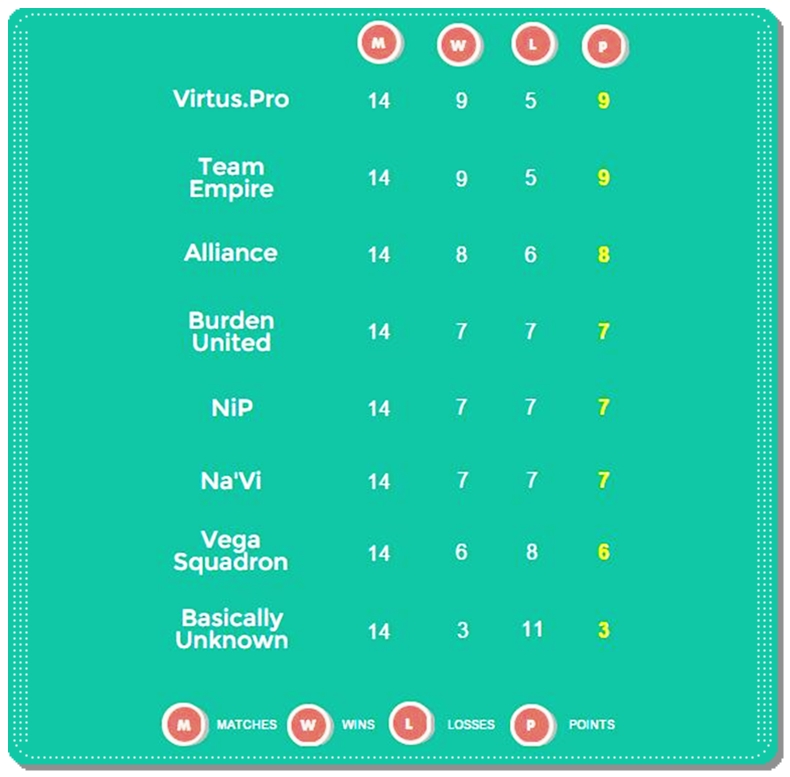 DreamLeague LAN finals attending teams
Virtus.Pro

Basically Unknown

Alliance

Burden United

Ninjas in Pyjamas

Natus Vincere
DreamLeague LAN playoffs brackets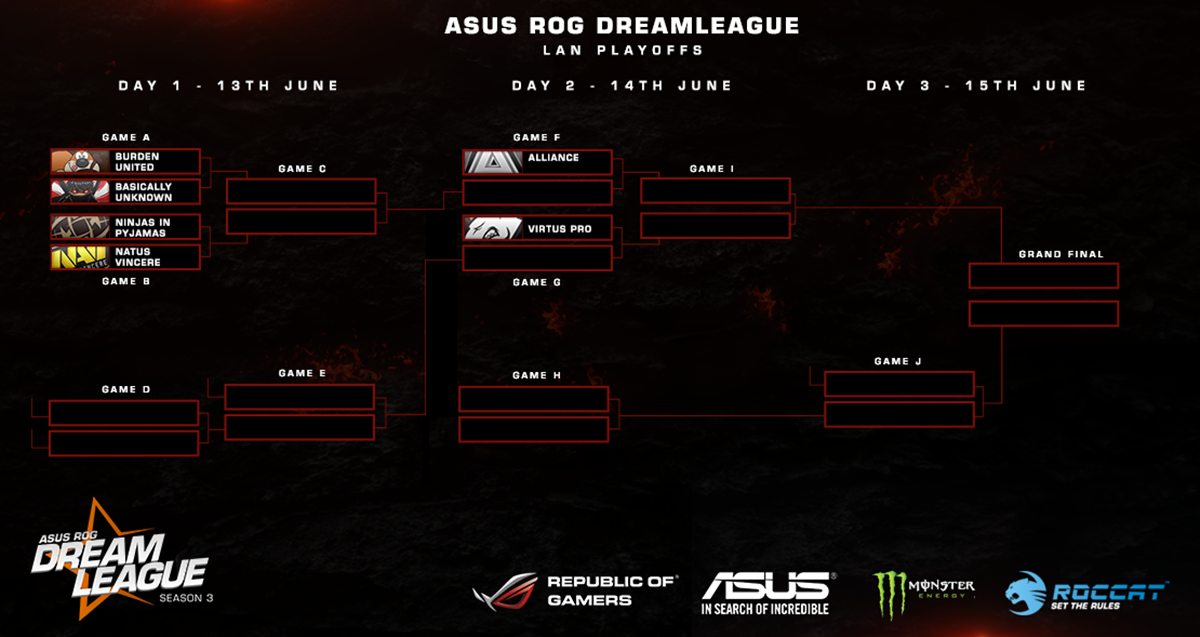 Dreamhack Summer DreamLeague LAN finals schedule
June 13
13:30 – Preshow
14:00 – Match A – Burden United vs. Basically Unknown – BO1
15:15 – Match B – Ninjas in Pyjamas vs. Natus Vincere – BO1
16:30 – Match C – Winner of Match A&B – BO3
19:00 – Match D – Loser of Match A&B – BO3
21:30 – Match E – Loser of Match C vs Winner of Match D – BO3
June 14
13:30 – Preshow
14:00 – Match F – Alliance vs. Winner of Match E – BO3
16:30 – Match G – Virtus.Pro vs. Winner of Match C – BO3
19:00 – Match H – Loser of Match F&G – BO3
21:30 – Match I – Winner of Match F&G – BO3
June 15
13:30 – Preshow
14:00 – Match J – Winner of Match H vs Loser of Match I – BO3
18:30 – Grand Final – Winner of Match I&J – BO3
DreamLeague LAN finals talent
Jorien "Sheever" van der Heijden – Host

Shane "Shaneomad" Clarke – Co-host

Andy "Draskyl" Stiles – Commentator

Owen "ODpixel" Davies – Commentator

Troels "SyndereN" Nielsen – Commentator

David "Luminous" Zhang – Commentator

Jess Brohard – Reporter
DreamLeague LAN finals at Dreamhack Summer
The DreamLeague Season 3 LAN playoffs and finals will take place between June 13-16, at Dreamhack Summer, in Jönköping, Sweden. In-game tickets are available for $2.99. The in-game ticket comes with a Treasure of the Dreamer's Flame, containing Sizzling Charge, Vindictive Protector and Splintering Awe. 25.0% of the proceeds of each sale contributes to the tournament prize pool. As of June 8, the total prize pool has reached $146,159. LAN tickets are available for prices ranging from $119 to $143.