With the TI5 prize pool reaching $13 million, a new stretch goal – the Bristleback announcer pack, has been unlocked. Compendium owners will now have the option to select Rigwarl the Bristleback as an announcer.
$13,000,000+. Bristleback Announcer Pack unlocked. http://t.co/Msyv4PjGzi

— Matthew Bailey (@Cyborgmatt) June 10, 2015
Let the rough-and-tumble wit of Bristleback lead you to your next victory with the Bristleback Announcer and Bristleback Mega-Kills items.
Bristleback announcer pack, Kaboom ad
713.78% base prize pool increase
According to the real-time prize pool tracker provided by Cyborgmatt, the current prize pool is now at over $13,000,000, a 713.78% increase from the base prize pool of $1.6 million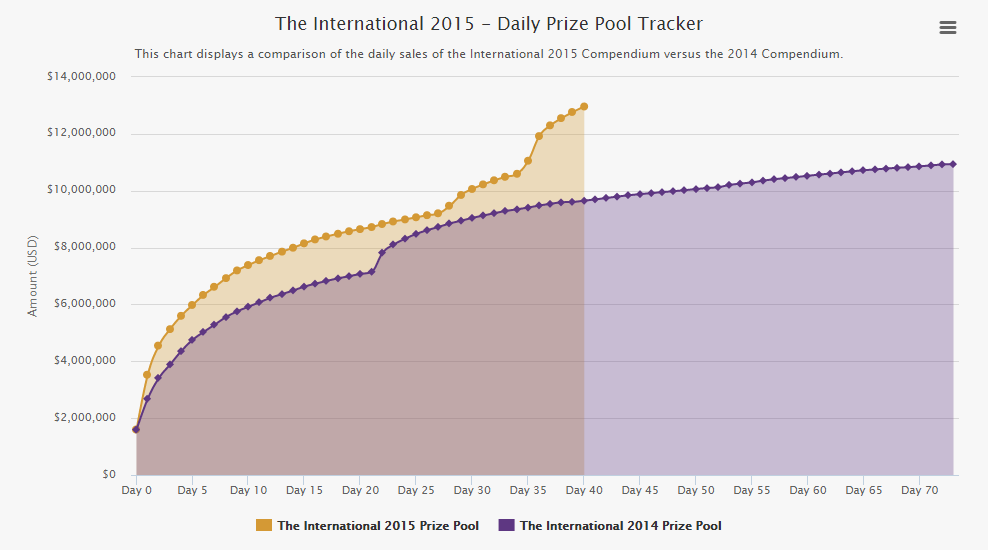 In terms of prize pool boosted by percentage, DAC leads with 1129%. To beat that TI5 needs to hit $19.6M. Hmm. #bignumbers

— Wykrhm Reddy (@wykrhm) June 10, 2015
Sudden spike in sales
The sudden spike seems to be attributed to the Collector's Cache, released on June 4.
Available for purchase only to Compendium owners, the International 2015 Collector's Cache costs $1.99. The purchase of a Cache will release one of the eleven community-created Mythical sets and also a 1 in 250 chance to unlock the Faceless Rex courier.
Opening a Collector's Cache also gives several ways to increase Compendium level. The first time opening a Cache will earn you 2 levels, when you open 5 Caches you'll earn 5 levels, and you'll earn 11 levels when you open 11 Caches. There's also a chance that a Cache will contain an item that grants 11 Compendium levels. Additionally, each set from the Collector's Cache can be recycled for two levels.











The treasure contains one of the following items:
Fires of Vashundol
Armor of the Unyielding Mask
Serpent of the Emerald Sea
Flowing Entropy
Echoes of the Eyrie
Brawler of the Glacier Sea
Knight of the Burning Scale
Garb of the Cunning Augur
Apostle of Decay
Flowersong Tempest
Beacon of Cerulean Light
In addition, there is a chance lucky owners will receive:
The International 2015 – 11 Compendium Levels – very rare value
Faceless Rex – extremely rare value – 1 in 250 chance of reciving
The treasure is only available to Compendium owners with a share of the treasure's proceeds going towards the prize pool for The International 2015. The sets are not marketable/tradeable but are still able to be gifted one time. The Faceless Rex courier, however, is fully tradeable and marketable.
The next stretch goal is set at $14 million and will release new weather effects.
Featured image credits: Spectre