Fans across the CIS region and the world witnessed the "Rise of an Empire" during the D2CL Season 5 LAN finals. Team Empire overtook ViCi Gaming in a clean 3:0 sweep, claiming their second championship title in less than one month.
Amazing ! #D2CL Season 5 Grand Final: @team_empire 3-0 @vicigaming @TobiWanDOTA @joinDOTA pic.twitter.com/XC1dgjdRaL

— D2CL (@d2cleague) May 10, 2015
After defeating ViCi Gaming, 2:1 in yesterday's D2CL Season 5 Upper Bracket finals, Team Empire would cruise to the Grand Finals proving they are indeed a force to be reckoned with.
In the D2CL Season 5 Lower Bracket finals, earlier today, ViCi Gaming convincingly defeated Burden United, 2:0, gaining the opportunity to advance into the Grand Finals and try to redeem themselves as the tournament favorites.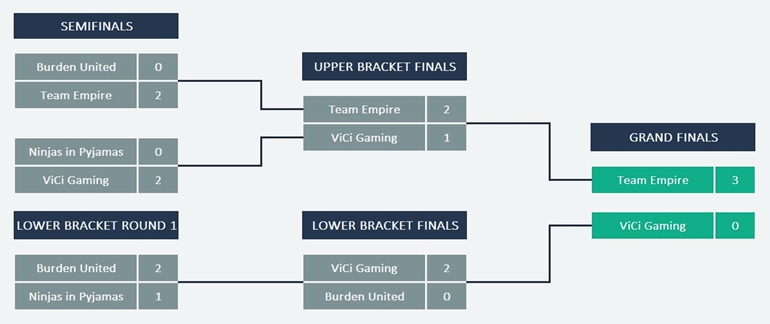 Team Empire had a one game advantage coming into the Grand Finals. The Team Empire versus ViCi Gaming rematch turned out to be an incredibly exciting best-of-five series filled with action, close calls, amazing plays, big fights, and an impressive game turning Roshan fight. The Russians would sweep through their way to victory, marking another notch in their championship belt.
Team Empire have proven worthy of their TI5 direct invite, having bested both NA giants Evil Geniuses at MLG Pro League Championships, and now Chinese Powerhouse ViCi Gaming.
Age of Empire: With their @d2cleague win, @team_empire has now won 3 major #Dota2 LAN events in 2015. No other team has won more than one!

— Nahaz (@NahazDota) May 10, 2015
Holy crap! @team_empire has now beaten @EvilGeniuses and @ViCi_Gaming in back to back tournament finals. Scary.

— David Gorman (@LDdota) May 10, 2015
Team Empire's 2015 performances
Tournaments
First Place – StarLadder Season XI
Third-Fourth Place – Alienware Area 51 Dota 2 Cup
First Place – JoinDOTA Masters XV
Second Place – Major All Stars Dota 2 Tournament
First Place – MLG Pro League Season 1
First Place – Dota 2 Champions League Season 5
Team Empire roster

Airat "Silent" Gaziev


Roman "Resolut1on" Fominok


Maxim "yoky" Kim


Ilya "ALOHADANCE" Korobkin


Andrey "ALWAYSWANNAFLY" Bondarenko
ViCi Gaming roster

Chen "Hao" Zhihao


Xie "Super" Junhao


Daryl "iceiceice" Koh


Lu "Fenrir" Chao


Xu "fy" Linsen
Photo credits: JoinDota