With incredibly impressive plays, Team Secret stormed their way through ESL One Frankfurt and claimed the championship title, after destroying Evil Geniuses, 3:1, in the Grand Finals. Evil Geniuses rose from the fourth place in the seeding bracket and took the second place at the main event.
Team Secret have secured their fourth consecutive LAN title since last month. The star studded team has been in the spotlight since their very inception, placing high in numerous major and premier tournaments in their relatively short period of time together. Prior to the ESL One Frankfurt championship title, Team Secret has taken three consecutive LAN wins, starting with Red Bull Battle Grounds, then The Summit 3 and, most recently, the MarsTV Dota 2 League.
CHAMPIONS! https://t.co/G2cBPgoUZm

— Matthew Bailey (@Cyborgmatt) June 21, 2015
Team Secret roster:

Artour "Arteezy" Babaev,

Gustav "s4" Magnusson,

Ludwig "zai" Wåhlberg,

Clement "Puppey" Ivanov,

Kuro "KuroKy" Salehi Takhasomi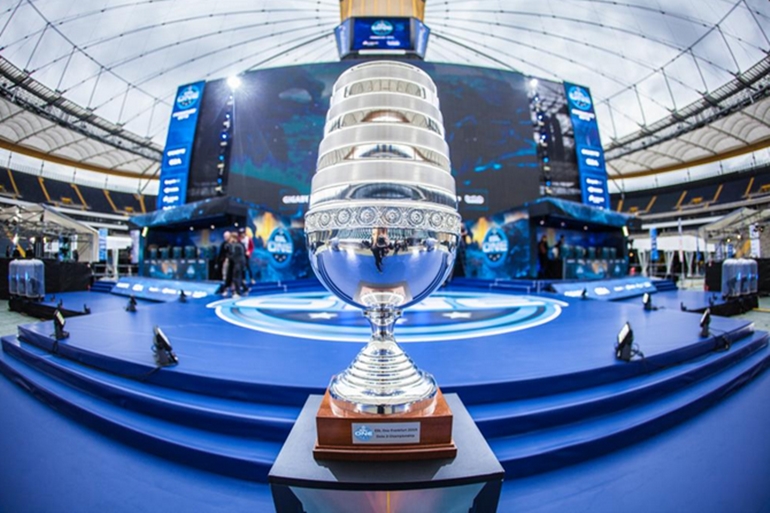 ESL One Frankfurt Grand Finals
Team Secret 3:1 Evil Geniuses
The first game of the best-of-five series was an incredibly intense one that lasted over an hour. Secret were able to draw first blood on Suma1L. At minute 30, the game was relatively even, with a slight advantage in Team Secret's favor. Slowly, Secret started to pull ahead. However, at minute 37, a 3:0 trade in favor of EG – featuring many amazing clutch plays, helped even the game out once again. Three minutes later, a 4:1 trade in favor of EG would start to open up the lead for the North American team. They forced a quadruple buyback from Team Secret to defend their base at minute 55. Team Secret called "GG" 10 minutes later.
Evil Geniuses appeared to be building up the momentum from their first game. Suma1L was able to draw first blood and took three kills in under seven minutes on his signature Storm Spirit. A really intense standoff between Arteezy and Kurtis "Aui_2000″ Ling occurred after a team fight. Arteezy was left with only 8HP before he was able to kill Aui_2000 and return to base. Team Secret had been able to stop the Storm Spirit from snowballing. KuroKy had some perfectly timed and executed songs on his Naga Siren and the overall item build choices were enough for Secret to grab the game after a team wipe on Evil Geniuses at minute 32.
The third game started relatively even. Team Secret were able to apply constant pressure and create space for Arteezy to get ahead. His mana voids were a huge benefit for Team Secret. A few misplays from EG and the lack of early kills made things very difficult for the North Americans. The game was over in 32 minutes.
The early game seemed to favor Team Secret in networth, but the back and forth trades and eventually a four-man wipe in Evil Geniuses' favor allowed the North Americans to take the tier 2 tower and pull slightly ahead during the mid game. However, after an aggressive push mid tier 2 tower by EG, Team Secret managed to take down four of their heroes and take the Aegis. The fifth EG hero also fell, moments later. Secret then started to push mid, forcing the buyback from Antimage. Evil Geniuses called "GG" moments later at minute. Team Secret claimed the ESL One Frankfurt championship title.







ESL One Frankfurt semifinals
Virtus.Pro 0:2 Evil Geniuses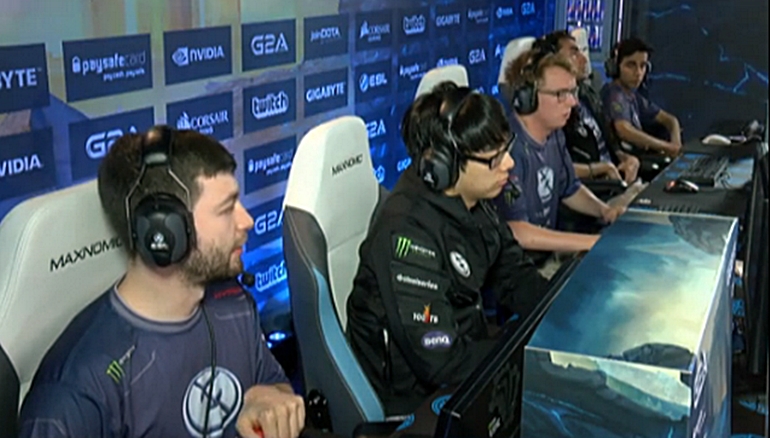 In the first game, Virtus.Pro's Sergey "God" Bragin drew the first blood after a great rotation by Ilya "Lil" Ilyuk. The Russians were in the lead until about minute 27, when Evil Geniuses were able to gain control after a few favorable fights. Suma1L had a great game (16:1:10) and the Omni Knight pick was successful for EG, as it helped support Suma1L Evil Geniuses took the first game of the best-of-three series.
In the second game, Virtus.Pro's Artem "fng" Barshak managed to draw the first blood, helped by a successful rotation executed by Alexander "DkPhobos" Kucheria. After the mid, game the match became rather one-sided, especially due to Saahil "UNiVeRsE" Arora's track kills. Virtus.Pro were essentially outdrafted and although Suma1L had a rough start, he was able to snowball, while VP didn't have a strategy to counter him and the Razer. Evil Geniuses took the second game of the semifinals and advanced into the ESL One Frankfurt Grand Finals
Team Secret 2:0 Invictus Gaming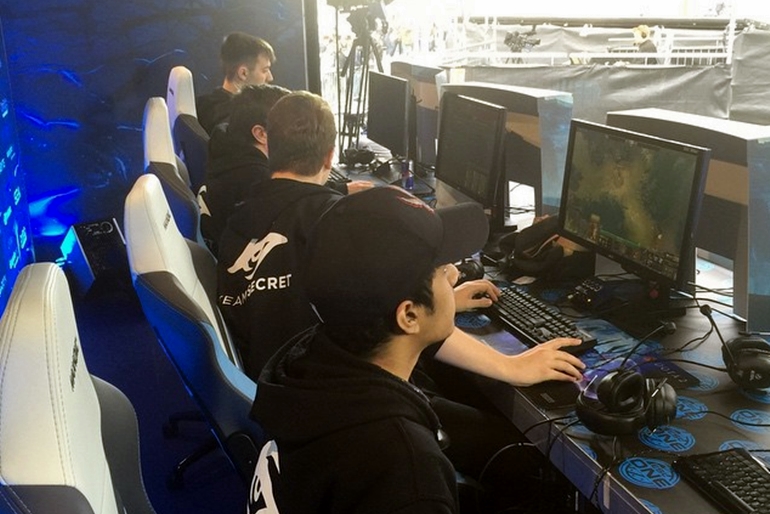 Invictus Gaming were able to draw first blood in the first game before the creeps even spawned. However, a few early solo kills, a good laning phase by Ludwig "zai" Wåhlberg and a great mid lane with a 3:0 Viper in the first four minutes pushed Team Secret ahead of the last Chinese team playing. It was too difficult for IG to keep up with Artour "Arteezy" Babaev outfarming them at a 818 gold per minute rate. Incredible plays by Kuro "KuroKy" Salehi Takhasomi would seal the deal for Secret. KuroKy managed to steal the nether swap and bring Luo Feichi "Ferrari_430" out of base, only to follow up with a quick Requim of Souls steal. Team Secret won the first game of the best-of-three semifinals series in 41 minutes.
The second game was closer than the first one. Team Secret had the slight advantage until about minute 18. They were able to start to pull ahead when they landed three kills and took a tier 2 tower. The lead gave them the ability to come out ahead in fights. At minute 28, IG list three of their heroes, as they tried to contest the Roshan, and allowed Team Secret to start breaking high ground. A team wipe at minute 33 was the last nail in IG's coffin. "zai" had an incredible game on Tusk, with a 12:2:9 score.
ESL One Frankfurt prize pool distribution
1st place: ~$114,218 (40%) – Team Secret
2nd place: ~$57,109 (20%) – Evil Geniuses
3rd place: ~$28,555 (10%) – Invictus Gaming
4th place: ~$28,555 (10%) – Virtus.Pro
5th place: ~$14,277 (5%) – Fnatic
6th place: ~$14,277 (5%) – Cloud 9
7th place: ~$14,277 (5%) – ViCi Gaming
8th place: ~$14,277 (5%) – Alliance
Photo Credits: ESL (Facebook and Twitter), Team Secret