In the first day of the ESL One Frankfurt main event, the top seeds from the tournament's seeding phase have prevailed over the bottom four teams. Virtus.Pro, Evil Geniuses, Invictus Gaming and Team Secret have advanced into the semifinals, while Alliance, ViCi Gaming, Cloud 9 and Fnatic have been eliminated.
The first four teams from the seeding phase, Virtus.Pro, Team Secret, Invictus Gaming and Evil Geniuses, appear to have chosen their opponents wisely. Each of them managed to defeat their selected adversary. The four teams will face each other in the ESL One Frankfurt semifinals, starting with 10:00 CEST. The Grand Finals are scheduled for 16:00 CEST.
ESL One Frankfurt day 1 matches
Virtus.Pro 2:0 Alliance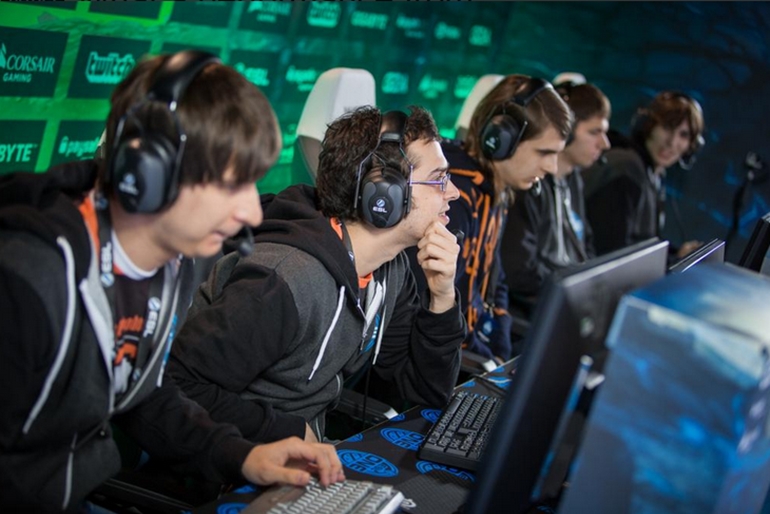 Virtus.Pro had placed first in the seeding phase and chose to face Alliance as their first opponents in the playoff phase of the main event.
In the first game, Per Anders "Pajkatt" Olsson was able to secure first blood – a significant gain for him, especially since he was losing his lane. Virtus.Pro then stole his stack, setting him back a bit in his farm. Alliance struggled with a few failed smoke ganks. By mid game, Virtus.Pro were beginning to take the lead. After a fight where Ilya "Lil" Ilyuk used his Winter's Curse and Sergey "God" Bragin sacrificed himself, Virtus.Pro continued to snowball. Alliance tried to even out the game with a decent team fight, at minute 18. Despite their efforts, VP were still able to dominate thanks to Alexander "DKPhobos" Kucheria's Tusk, who was consistently disrupting Alliance's team fights. After a team wipe at Alliance's base at minute 39, the Swedes called "GG".
In the second game, first blood went in the way of Alliance again, being secured by Joakim "Akke" Akterhall. A team wipe on Alliance at minute 15, followed by another one at minute 28 would start to increase Virtus.Pro's advantage. Although Alliance had some decent team fights, Virtus.Pro were able to come out on top. Pajkatt made some questionable item choices. In addition to that, Alliance set up their black holes a bit late. "GG" was called at minute 37. Virtus.Pro defeated Alliance, 2:0, and eliminated the Swedish team from the competition.
Evil Geniuses 2:0 ViCi Gaming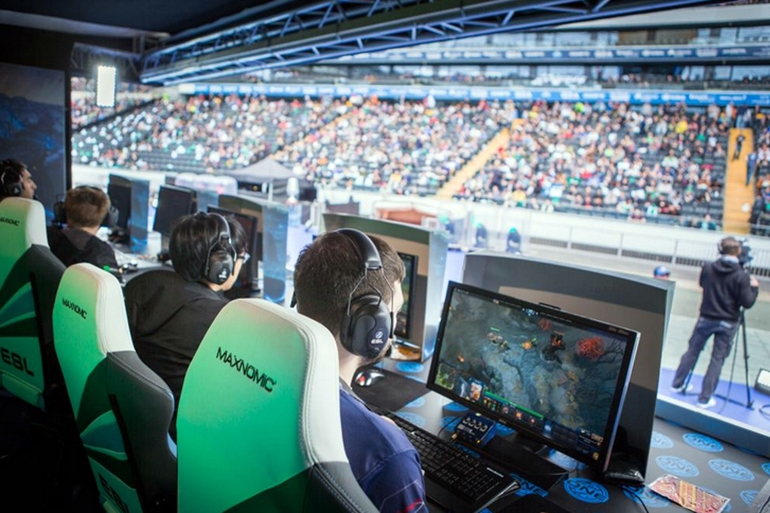 Evil Geniuses were seeded in the fourth place and were left with no choice but to face ViCi Gaming as their first opponent.
During the first game of the best-of-three series, the picks seemed to favor Evil Geniuses. Clinton "Fear" Loomis applied a lot of pressure on ViCi Gaming's lineup, especially on their supports, forcing them to become under-farmed. Kurtis "Aui_2000″ Ling took lots of farm on Naga Siren and managed to complete his Radiance by 30 minutes into the game. Merely 20 minutes later, he had already out-farmed everyone. ViCi Gaming started to crumble, as they couldn't effectively deal with Naga's illusions. Evil Geniuses claimed the first game.
In the second game, first blood was drawn by Evil Genuises, who managed to take the next four kills under their belt, as well. At 8 minutes into the game, the score was 5:0 in Evil Geniuses' favor. At minute 9, EG were already dominating the entire map and taking objectives. Fear had an amazing performance on Clinkz, with a 14:2:10 score, and managed to pick up his Desolator in only 14 minutes. The game was over in 26 minutes, with a score of 37:9. Evil Geniuses swept ViCi Gaming, 2:0, and eliminated the Chinese team from the ESL One Frankfurt main event.
Invictus Gaming 2:1 Cloud 9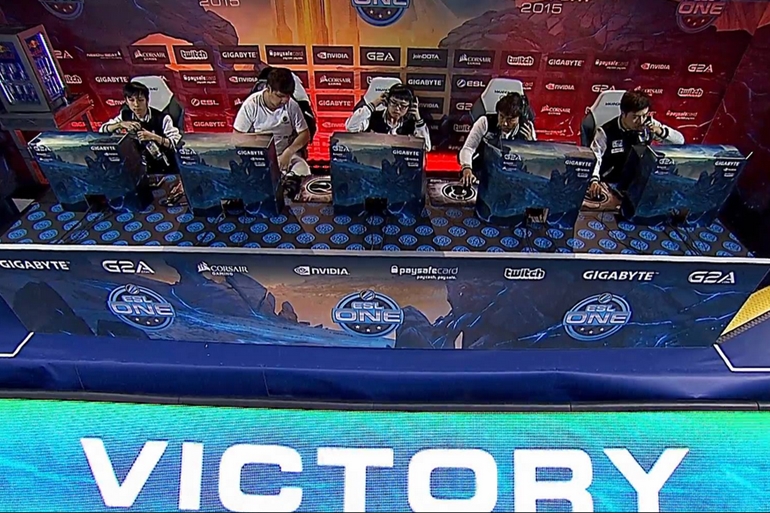 Invictus Gaming were seeded into the third place and chose to face Cloud 9 in the first round of the ESL One Frankfurt main event.
The first game started quietly, with both teams farming away. Invictus Gaming had a slight lead since the very beginning and they were able to maintain it throughout the entire game. Most of Zhilei "burning" Xu's farm had come from the ancient stacks, giving him a good lead and advantage. Despite an amazing clutch Supernova by Armand"bOne7″ Pittner, Cloud 9 were not able to even out IG's advantage. The game was over in 54 minutes.
Invictus Gaming grabbed first blood on Johan "BigDaddy" Sundstein, but Cloud 9 were able to apply pressure all over the map and managed to take an unquestionable lead around minute 34, when they took a full lane of barracks, winning 7.5K gold and 5K experience. Cloud 9 took the game in 42 minutes and evened out the series, forcing the first deciding game of the ESL One Frankfurt main event.
The third game was back and forth and relatively even during the early and mid game, with no clear indication of dominance. A bad laning phase for Luo Feichi "Ferrari_430" would be compensated later with the huge amount of stacks he was able to take. IG started to take the lead in the late game, but Cloud 9 were able to continuously repel them and split push. IG finally forced Cloud 9's "GG" from Cloud 9 at minute 64. Invictus Gaming bested Cloud 9, 2:1, and eliminated the European squad from the tournament.
Team Secret 2:0 Fnatic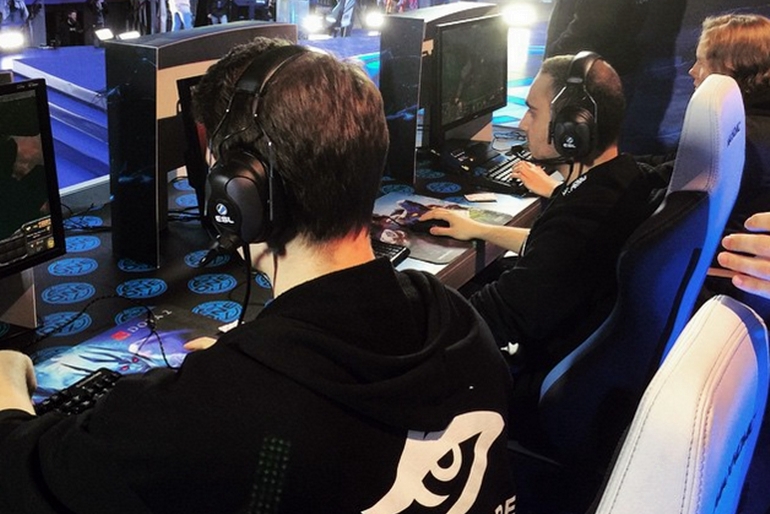 Team Secret was the second place team in the seeding phase and chose to face Fnatic as their first opponents in the ESL One Frankfurt main event.
The first game was relatively even. Both sides showcased some amazing plays. "Mushi" Chai Yee Fung was able to create a lot of space for "Ohaiyo" Chong Xin Khoo to farm. There were good team fights for both sides. However, Team Secret were more versatile, with their Queen of Pain and Keeper of the Light recalls, so they were able to split push and get the barracks, finally forcing Fnatic to crumble. The game lasted 52 minutes.
The second game saw a Techies pick by Team Secret. Needless to say, the crowd at the Commerzbank-Arena went wild. Team Secret applied a lot of pressure starting quite early in the game and had a significant lead in the last hit scores. After a four-man wipe at minute 11 – with the last kill going to the Techies mines in the trees, and a team wipe, four minutes later, Team Secret took the lead, with a 10K gold and experience advantage and total map control. The game was over in 30 minutes. The Tuskar-Techies combo was too much to handle and Fnatic were unable to turn in the game. Team Secret swept through Fnatic, 2:0, and eliminated them from the tournament.
ESL One Frankfurt schedule
Sunday, June 21st
10:00 CEST: Semifinals #1 – Virtus.Pro vs. Evil Geniuses
13:00 CEST: Semifinals #2 – Invictus Gaming vs. Team Secret
16:00 CEST: Grand Finals
ESL One Frankfurt streams
ESL One Frankfurt tickets
All main event matches are also viewable through the DotaTV ESL One Event ticket, available for $1.99. The Treasure of the Endless Gaze, the Treasure of the Distinguished Conqueror, and the Relics of Glorious Inspiration are also available for purchase.
ESL One Frankfurt tickets are still on sale, at prices ranging from 19.90 EUR to 2,999 EUR.
ESL One Frankfurt prize pool distribution
1st place: ~$114,218 (40%)
2nd place: ~$57,109 (20%)
3rd place: ~$28,555 (10%)
4th place: ~$28,555 (10%)
5th place: ~$14,277 (5%) – Fnatic
6th place: ~$14,277 (5%) – Cloud 9
7th place: ~$14,277 (5%) – ViCi Gaming
8th place: ~$14,277 (5%) – Alliance
ESL One Frankfurt 2015 venue

The Commerzbank-Arena, commonly known by its original name, Waldstadion, is a sports stadium in Frankfurt, Hesse, Germany. The stadium with a total capacity of almost 52,000 opened in 1925 and has been upgraded several times since then, most recently for the 2006 FIFA World Cup.
The ESL One Frankfurt LAN playoffs and finals will be held in open-air, due to a roof tear at the Commerzbank Arena.
Photo Credits: ESL (Facebook and Twitter), Invictus Gaming, Team Secret