From a spectator's stand-point, ESL One Frankfurt seems to have been an absolute success so far. Hundreds of people were lined up in front of the Commerzbank-Arena from the very early morning, the crowd has been ecstatic all throughout the first day and most of the reactions coming from the community have been positive. Unfortunately, players have had a different experience.
Complaints have been flooding in around the clock. Players are dissatisfied with the lack of soundproofing during the seeding matches, lousy hotel conditions, Internet issues and low temperatures at the venue.
Seeding brackets, standby flight tickets, lack of privacy
Jacky "Eternal Envy" Mao is infamous for voicing his complaints via social media. Although the manner in which he chooses to articulate his thoughts and feelings is considered to be rather unorthodox, he certainly does paint a clear picture of the issues that players face at various events.
Days before ESL One Frankfurt 2015, Eternal Envy tweeted that professional players were dissatisfied with the seeding brackets and wanted to boycott them. He later deleted the tweets.
Eternal Envy also complained about being booked a standby flight ticket. When a flight is boarding, passengers on the standby list must wait at the gate to be called. In case there aren't any unclaimed or available seats, standby ticket owners are rolled into the standby list for the next flight. ESL staff blamed the entire situation on the airline.
ESL booked me a standby ticket. Didn't know they hired Marco. XD? More like FUckers !_! pic.twitter.com/wtLqWstm3U

— EternaLEnVy (@EternaLEnVy1991) June 16, 2015
How does ESL just go into my room the hella your problem. What if I had a dead body In there fuck you

— EternaLEnVy (@EternaLEnVy1991) June 20, 2015
Internet issues
Numerous reports of high Internet pings and terrible lags have been circulating since yesterday. It seems that when Armand "bOne7" Pittner attempted to address the issue, he was told by admins to ignore the ping numbers he was receiving in-game:
High Ping? ignore the numbers see how it feels xxaxaxaxaxaxa admins xdxdxd

— Pittner Armand (@bOne7DotA) June 20, 2015
Lack of soundproof during the seeding matches, "terrible lack of professionalism"
Ilya "Illidan" Pivcaevhad took to Twitter and VK to discuss his frustrations:
To be honest, ESL One is a complete failure, so far: hotel WiFi is sh*t, the Internet in the practice area is lagging, not to mention the fact that we are playing outside, at +10-15 temperatures. So many talks about what should be done, but we can't even do the elementary things. During the seeding tournament, teams heard EVERY word said by their opponents, despite the fact that the ESL studios have two rooms, so they could have put the teams into different rooms. They wake us up at 7, bring us to practice at 8, and then we have to wait until 10 for them to fix something they should have fixed in advance, the day before the tournament. Terrible lack of professionalism. They only good thing here is the food.
Low temperatures
Virtus.Pro PR manager Olga Dunaeva tweeted a photo of Artem "Fng" Barshak practicing outside, along with the text: "We are the only team to practice outside". She later removed the tweet.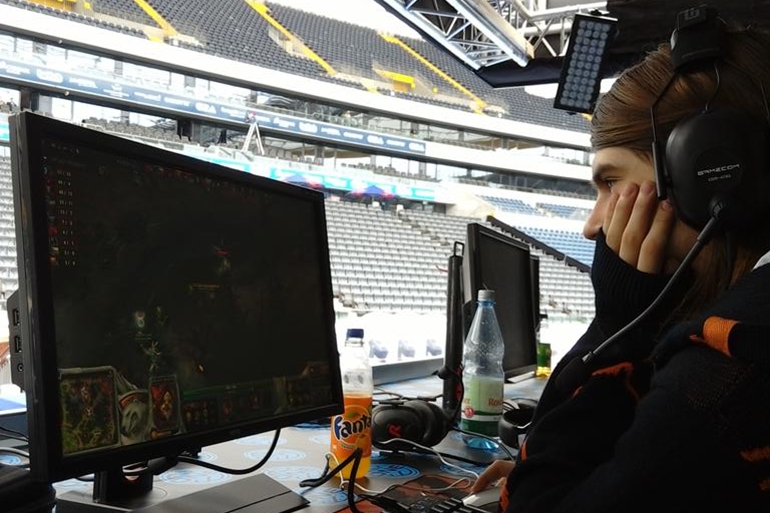 Artem "Fng" Barshak chimed in as well about the conditions on his Twitter page:
There are cold, lags, rain. how can we practice ?

— Artsiom Barshak (@Fnggshka) June 19, 2015
In response to some of the complaints that made their way to a Reddit thread, ESL One staff member James "Kennigit" Lampkin stated:

Lack of attention to details
Another player otherwise rarely seen venting on social media, Saahil "Universe" Arora has also started to document his less than satisfying ESL One Frankfurt experience on Twitter. His name was misspelled on the "welcome" swag goodie bag:
— Saahil Arora (@UniverseDota) June 19, 2015

Hotel conditions
Peter "ppd" Dager posted about the sleeping arrangements for the teams, after the numerous reports from players about the hotel conditions had been flooding in on social media accounts.
Sharing a bed with my co-worker tonight! Thanks esl! https://t.co/YfitTrQtPI

— Peter Dager (@ppdDota) June 17, 2015
He also complained about the lack of soundproofing during the seeding matches:
Wish the Chinese weren't so loud we could hear our own teamspeak. O well haha ggs!!

— Peter Dager (@ppdDota) June 18, 2015
Redemption time
ESL One Frankfurt is halfway through. The organizers still have the chance to make the necessary adjustments.
Well I usually never talk about tournaments during the tournament but srsly though. It`s not over yet, ESL still can redeem themselves

— EternaLEnVy (@EternaLEnVy1991) June 20, 2015
Virtus.Pro's problems were addressed for the time being:
BTW all problems were solved ESL <3

— Artsiom Barshak (@Fnggshka) June 20, 2015
Featured Image: D2RO