The first day of the TI5 Open Qualifiers is over with a total of 192 teams in three regions left standing. Remaining teams will continue today for the chance to compete in the main Regional Qualifiers.
UPDATE (August 9):
Evil Geniuses are your TI5 champions! Grand Finals VODS, summaries, pictures and highlights: here.
The European region seems to be the only one that suffered some upsets during the TI5 Open Qualifiers. For some more well known teams such as 4 Clovers & Lepricon, Moscow 5, EE's Disciples, Spin2Win, Fiskestanga and Goomba Gaming the journey to TI5 ended early. For some, as in the case of Jorien "Sheever" van der Heijden and friends at the GD studios, it ended in the very first round.
Other teams from the three regions such as Basically Unknown, scareyfacezzz, Balkan Bears Corleone, Turtle, HeHe United, Lemondogs, Zero Respect, nextkz, Elysium, Taco (Apemother's team), Game Online, Yellow Submarine, Dota All Stars (sQreen Squad), mYinsanity, Chappa, Aspera, Summer's Rift, TongFu.NA, paiN Gaming (Brazil), Stay Free (TralF and Yawar's team), Boreal (Canada), Isurus Gaming (Argentina), Team Invasion (Malaysia), Rex Regum Qeon (Indonesia), AcesVN (Vietnam), and Kingdom (Singapore) will continue to chase their dream today, in the second and last day of the TI5 Open Qualifiers.
Only one team in each region will have the opportunity to compete in the main TI5 Regional Qualifiers.
May 25-28 in China and NA region
May 28-June 1 for SEA and EU regions
TI5 Open Qualifiers, day 1: European upsets
Saaadfaces now! We got knocked out, bo1 is harsh! Our run ended against Drow Dusa Beast Venge Phoenix, GG wp!

— WagaGaming (@WagaGaming) May 16, 2015
top 1000 team TI 5 not bad

— shane (@shaneomad) May 16, 2015
4 Clovers & Lepricon were able to advance until Round of 128, before they were defeated by a team called HLB.
GD Studios were matched up against Yellow Submarines – a fairly well known team that has had a strong presence in the EU Tier 2 scene lately, and defeated in their first round of play.YeS has continued on and will play again tomorrow, hoping for the chance to compete in the main qualifiers.
Moscow 5 were also knocked out of the TI5 Open Qualifiers by YeS, in Round of 256.
EE's Disciples were defeated in Round of 128 by Lemondogs.
Spin2Win were eliminated by a team called AxeAxe, in Round of 512.
Goomba Gaming were defeated in Round of 256 by a team called 1G1D.
Stanga were defeated in Round of 256 by a team called n1p.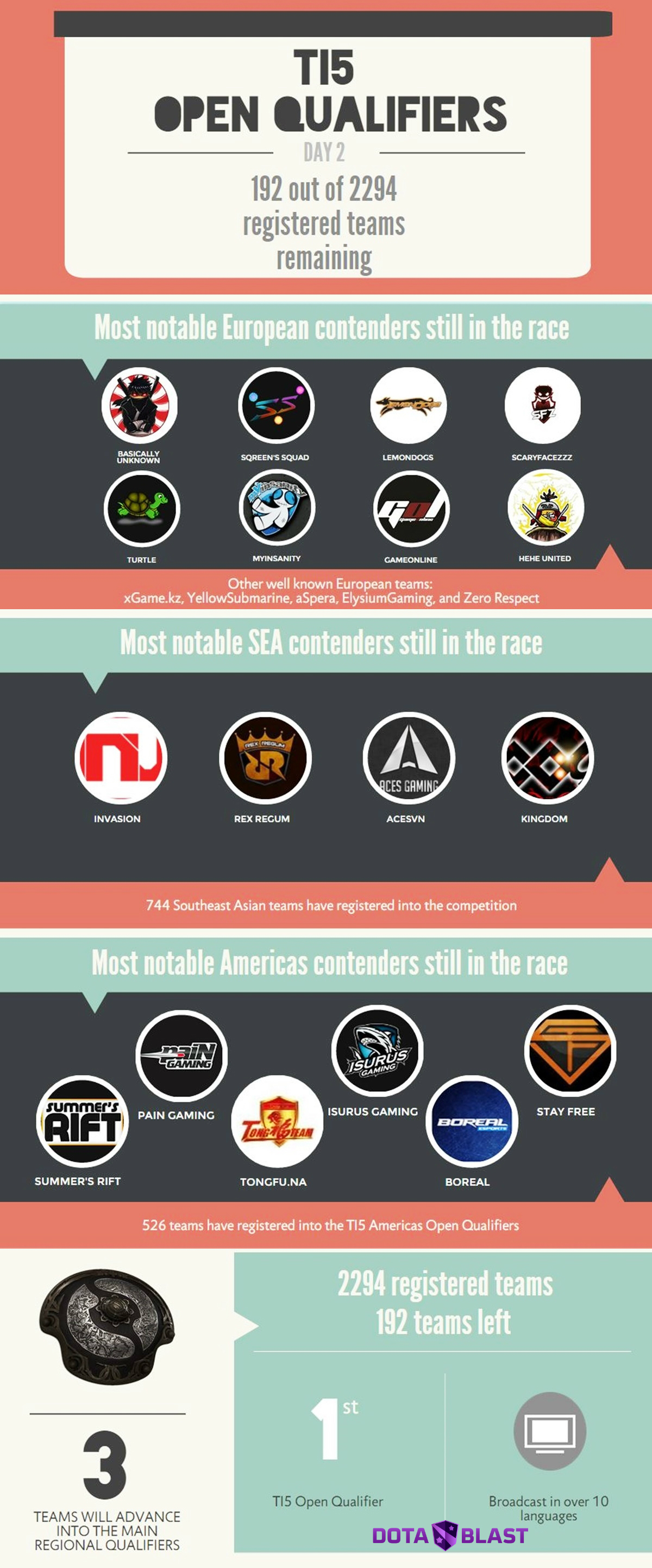 Notable TI5 Open Qualifiers EU contenders still in the race
finished our 1st day at ti5 quals, gonna make it win tomorrow aswell

— Khaled Al Khabbash (@sqreendota2) May 16, 2015
Round of 64 tomorrow, maximum amounts of games, 10!

— Niclas Westergård (@NiquaDota) May 16, 2015
Basically Unknown
Basically Unknown have had no less than five reshuffles in the last five months. The most recent change occurred 10 days ago, when the team announced they parted ways with their captain, Ivan "MinD_ContRoL" Borislavov, and that former Power Rangers member, Maxim "Shachlo" Abramovskikh, would stand-in for them.
Basically Unknown is currently competing in the DreamLeague Season 3 League stage, after having won the third Main Qualifier finals over 4 Clovers & Lepricon.
The team was invited to take part in The Mountain Trail Challenge, but failed to advance to the playoffs, after placing second to last in their group.
Since the beginning of 2015, Basically Unknown managed to win several minor tournaments, including Bridon Open Cup, GIGABYTE Challenge #13, and MSI Dragon Battle #4 and #5. The team has recently played the Yard G2A Fest semifinals. They are scheduled to face NEXT.kz in the Game Show Invitational Lower Bracket finals.
Basically Unknown TI5 Open Qualifiers roster:

Nikolay "Stomanen1" Kalchev,

Petur "Pure Evil!" Petrov,

Nikolay "Nikobaby" Nikolov,

Ionuț "Ar1sE" Turtoi,

Maxim "Shachlo" Abramovskikh (stand-in)
sQreen Squad/Dota All Stars
In the last few days leading to the TI5 Open Qualifiers, Arthur "Goblak" Kostenko, Vladislav "Blowyourbrain" Morozyuk (former Team Empire, Virtus.Pro and Moscow 5 player) and Vadim "Sedoy" Musorin (former Virtus.Pro and RoX.KIS player) find a new home with sQreen Squad, in a final attempt to reach Seattle for The International 5.
sQreen Squad TI5 Open Qualifiers roster:

Khaled "sQreen" Al Kabbashi,

Arthur "Goblak" Kostenko,

Vladislav "Blowyourbrain" Morozyuk,

Victor "General" Nigrini,

Vadim "Sedoy" Musorin
Lemondogs
Formerly known as 4 Friends + Chrillee (4FC), the squad was picked up by Lemondogs on April 13, 2015. Since then, they managed to place 3rd-4th in the ESL ASUS Play It Cool LAN event. Lemondogs have set long term goals to make the move from fun games to becoming serious contenders in the Dota 2 scene.
Lemondogs TI5 Open Qualifiers roster:

Tobias "eresloco" Everhorn,

Staffan "Steffstyle" Solin,

Eskil "eskillz" Sundblad,

Mathis "Jabbz" Friesel,

Christopher "Chrillee" Wåhlin
ScaryFaceZZZ
The Ukrainian team has had steady performances since the beginning of the year, despite having parted ways with ArtStyle, on March 30. ScaryFaceZZZ broke the record for the longest competitive Dota 2 match against Cloud 9, and scrubbed out numerous other records.
ScaryFaceZZZ active roster:

Mikhail "QwisTa" Ilyashenko,

Vladislav "State21" Kosmos,

Andrew "KaHT" Shulgin,

Sergei "Ecnart" Nikolaev,

Eugeniy "Sh4dowehhh" Alekseev
mYinsanity
mYinsanity, a Swiss organization, has recently broken into two Dota 2 squads. The new squad has familiar faces from the original one: Viktor "Buktop" Knezevic, Nenad "grizzine" Lukic and Konstantin "Kole" Jancetovic. We were able talk with Buktop, who shed some light on the recent changes: "The organization hasn't been satisfied with the recent results of the current roster and has made a second squad as a form of 'test' and trial."
According to Nenad "grizzine" Lukic, the Swiss organization has already decided to drop the second squad. grizzine, part of mYinsanity's original squad, was kept on the team.
mYinstanity TI5 Open Qualifiers roster:

Gordan "g0g1" Prosic,

Damir "Zamj/Mitch" Skaricic,

Admir "lizZard" Salkanovic,

Milan "MiLAN" Kozomara,

Nenad "grizine" Lukic
HeHe United
Team HeHe United, also known as "Bhutanized" or simply "hehe", consists of a mix of German, Icelander, and Finish players. The team made its first appearance in the Electronic Sports World Cup 2013 qualifiers. In the past two years, HeHe United won several minor tournaments. The team entered the spotlight when they received a TI4 qualifiers invite and decided to swap one player for Ar1sE (initially, they intended to swap two players), aiming to strengthen their squad a day after the official announcement by Valve.
HeHe United active roster:

Mathias "hwa" Seefluth,

Jan "Qupe" Tinnemeier,

Neta "TheCoon" Shapira,

Atte "nihis" Patja
GameOnline
GameOnline is a well-known Gothenburg based organization, famous for their achievements in the early days of Counter Strike 1.6. In early 2015, the organization picked up team House of Gamers, a Dota 2 team consisting of a mix of Swedish players. Steve "Excalibur" Ye (former MeePwn'd player and Fnatic stand-in) is part of the team.
GameOnline TI5 Open Qualifiers roster:

Steve "Excalibur" Ye,

Filip "Zeroji" Erlandsson,

Erik "zIInTz" Andersson,

Tobias "Vroksnak" Axelsson,

Fredrik "Pellikan" Häggström
Turtle
Former TI3 champion Jerry "EGM" Lundkvist has reinstated the same Turtle Masters squad from two years ago and registered it into the TI5 Open Qualifiers.
Turtle roster:

Jerry "EGM",

Lundkvist Niclas "Niqua",

Westergård Johan "smulgullig" Gidmark,

William "Blitz" Lee,

Axel "Pablo" Källman
Other notable teams from the EU region
xGame.kz YellowSubmarine, aSpera, ElysiumGaming, and Zero Respect have advanced into the final leg.
Notable TI5 Open Qualifiers SEA contenders still in the race
Invasion e-Sports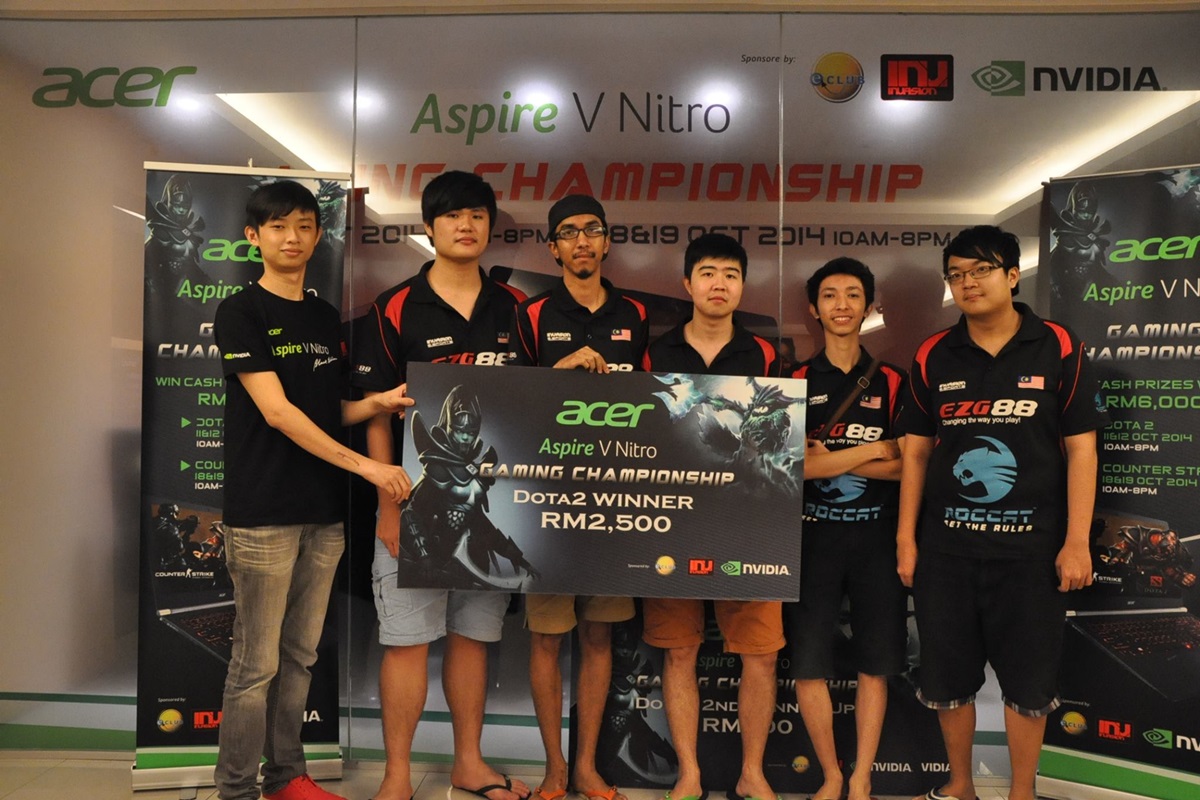 Invasion e-Sports is a Malaysian multigaming organization. Their Dota 2 squad placed 5th-6th in this year's Major All Stars tournament.
Invasion active roster:

Jun "dabeliuteef" Liong Loh,

Trent "sLiCKz" Tucker,

Chee "Ghost" Chong Wong,

Ahmad "ADTR" Syazwan bin Anuar,

Joel "XtiNcT" Chan Zhan Leong
Rex Regum
Rex Regum Qeon is an Indonesian team, established in 2013, prior to the Asian Cyber Games. Following the breakup of their team after failing to qualify for TI4, Qeon Interactive has decided to re-enter the Southeast Asian Dota 2 scene by picking up the Rex Regum squad.
Most recently, the team has qualified for the MPGL Season 7 main event, where they lost in the first round of the Lower Brackets to Signature.Trust.
Rex Regum active roster:

Farand "KoaLa" Kowara,

Yusuf "yabyoo" Kurniawan,

Ega "Nivis" Tanzil,

Henry "Xing" Tan,

Egi "Indigo" Tanzil,

Agustian "PhoeniX" Hwang
Other notable teams from the SEA region
AcesVN (Vietnam) and Kingdom (Singapore) have made it through to the final leg.
Notable TI5 Open Qualifiers Americas contenders still in the race
Round of 64

— Jimmy Ho (@DotaDeMoN) May 16, 2015
Summer's Rift
Summer's Rift have been dropped from the TI5 Americas qualifiers due to last minute roster changes and will have to play in the Open Qualifiers, in order to secure a chance to go to Seattle, for The International 5. The North-American team was one of the nine teams in the Americas region to receive a direct invite to TI5 qualifiers.
They had most recently qualified and participated in Red Bull Battle Grounds, where they were the first team to be eliminated.
North-American team eHug will replace Summer's Rift in The International 5 Americas regional qualifiers.
Summer's Rift were invited to Canada Cup Season 5, where they ended up losing in the Second Round of the Lower Brackets to team eHug.
Summer's Rift TI5 Open Qualifiers roster:

Brian "BananaSlamJamma" Canavan,

Braxton "Brax" Paulson,

"DragonFist",

Jimmy "DeMoN" Ho,

Bryant "whiteBeard" Lehwald
paiN Gaming
paiN Gaming is a Brazilian multi gaming organization. Their Dota 2 squad was founded by Arthur "PAADA" Zarzur. In 2012, paiN Gaming became a part of Team Razer Pro.
paiN Gaming TI5 Open Qualifiers roster:

Adriano "4dr" Machado,

Danylo "KINGRD" Nascimento,

Otavio "Tavo" Gabriel,

Thárcio "Baga" Medeiros,

Lucas "Vestius" Takano
Other notable teams from the Americas region
Isurus Gaming, Boreal, TongFu.NA, Stay Free have survived the first day and will continue to compete in the last day.
TI5 Open Qualifiers held on Faceit
Staff at Faceit were busy around the clock with the TI5 Open Qualifiers starting in the SEA region first, then Europe and lastly ending after midnight CEST in the Americas region. With 2294 registered teams, mistakes were bound to be made. Despite some complaints from users on Reddit and Twitter, all issues were resolved in a timely manner and with acceptable results.
Welp, we had a good a good run! Thanks @FACEIT for an amazing client and responsive tickets! I'm sure we'll get it working next time!!

— Mark 'Tralf' Seidl (@TraLFDota) May 16, 2015
this faceit gave free wins to my oponents 2 times in a row, i have to waste 3 hours to fix it

— Turtoi (@Ar1sE_3012) May 16, 2015
http://t.co/uJxgUahZFl So it begins. I was never sold on outsourcing the qualifiers to a not yet established platform

— Skim (@SkimGaming) May 16, 2015
TI5 Open Qualifiers schedule

TI5 Open Qualifiers livestreams
All semifinals and finals for the European, Southeast Asian and American regions will be available on DotaTV, in the Dota 2 client.
Official English stream:
Casters who wish to cover the TI5 Open Qualifiers in a language that is not listed above can send an email to ti5@faceit.com.