North American team eHug will replace Summer's Rift in The International 5 Americas regional qualifiers. Due to last minute roster changes, Summer's Rift got their qualifiers invite revoked and are now forced to compete in the TI5 Open Qualifiers instead.
Despite thinking they should have just gone with 2 open qualifier slots I am really happy to see @team_eHug in the #TI5 NA Qualis! GL boys.

— Nahaz (@NahazDota) May 15, 2015
After the news broke yesterday that Summer's Rift was dropped from TI5 qualifiers and would be playing in the Open Qualifiers later today, the International announcement page has officially replaced Summer's Rift with Team eHug.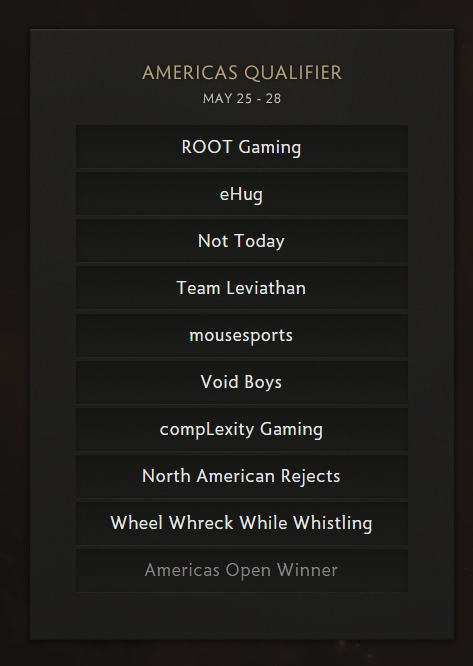 Team eHug is an eSports organization founded in 2013 with a strong presence in the region's professional scene.
The organization was privately founded by a group of anonymous Dota 2 fans who wanted to create their own team because of their passion for the game.
Team eHug was originally scheduled to participate in the TI5 Open Qualifiers. Most recently, they were invited to compete in Canada Cup Season 5, where they lost to Wheel Whreck While Whistling, 0:1 ,in the Lower Bracket Round 3. They are currently tied in fourth place for JDL Division 2.1, with four wins and two losses for the season thus far.
Team eHug 2015 achievements
Second Place in CEVO Season 6
Second Place in Dota Regions Season #2
Team eHug roster

Frankie "Inphinity" Pravo


Michael "mjw"Nguyen


Justin "justin" Rosselle


Matthew "jaH" Penaroza


Daniel "Bloody Nine" Foster