Summer's Rift have been dropped from the TI5 Americas qualifiers and will have to play in the Open Qualifiers this upcoming weekend, in order to secure a chance to go to Seattle, for The International 5.
UPDATE (July 31):
Check out the TI5 main event brackets and final group stage standings: TI5 brackets come together, top teams face elimination in merciless Lower Bracket first round
Summer's Rift was one of the nine teams in the Americas region to receive a direct invite to TI5 qualifiers. They had most recently qualified and participated in Red Bull Battle Grounds, where they were the first team to be eliminated.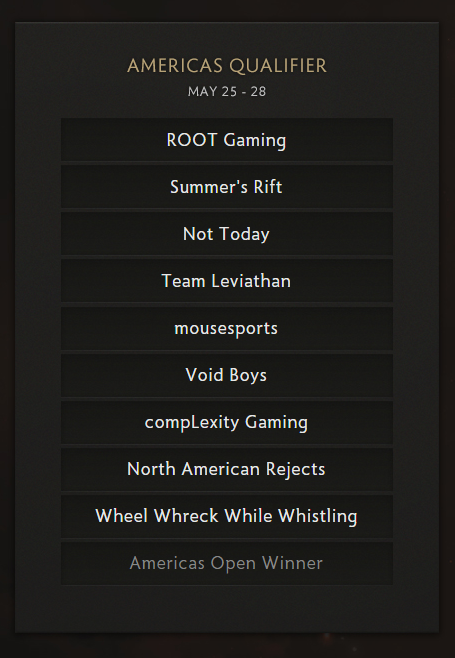 UPDATE: Less than 24 hours after Brian "BananaSlamJamma" Canavan broke the news on his stream, Valve has replaced Summer's Rift with the North American team E-Hug in The International 5 NA Regional qualifiers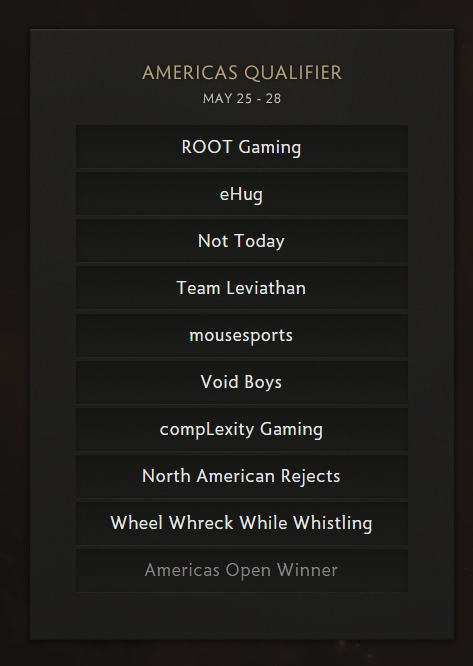 Brian "BananaSlamJamma" Canavan opened up about the situation on his stream, a few hours ago.
Main Points
BSJ talked about how James "Miraclechipmunk" Poguireitchik was unable to attend Red Bull Battle Grounds due to some family issues and the team played with Michael "ixmike88" Ghannam as a replacement.
He revealed that there had been issues between Miraclechipmunk, Jimmy "DeMoN" Ho and Bryant "whiteBeard" Lehwald, due to differences in play-style:


when people are not willing to bend (…) it creates serious issues, a real split in the team during the game

At the Red Bull LAN, DeMoN and whiteBeard suggested changing the offlaner with ixmike88, as he had disclosed he was not satisfied with his own current team (Wheel Whreck While Whistling). The squad believed that their situation would be the same as London Conspiracy's roster change, and that they could easily add ixmike88 to the team without losing their TI5 qualifiers spot, as they would have already played together in a competitive event, at a LAN.
When the team approached Valve, the company came back and said not only would Summer's Rift not be allowed to play in the TI5 Americas Qualifiers with ixmike88, but they would also not be allowed to make him a part of the team for the Open Qualifiers either, since ixmike88 was invited to the qualifiers with Wheel Whreck While Whistling.
By this point, Braxton "Brax" Paulson had already notified Miraclechipmunk that he was no longer on the team. Miraclechipmunk refused to return to the team to play in the TI5 Americas Qualifiers.
Summer's Rift moving forward
The team has now switched Brax to offlane and picked up Canadian player Dragonfist to play midlane. The team will participate in the TI5 Open Qualifiers, this weekend.
Summer's Rift new roster

Brian "BananaSlamJamma" Canavan


Braxton "Brax" Paulson


"DragonFist"


Jimmy "DeMoN" Ho


Bryant "whiteBeard" Lehwald
Photo: Red Bull eSports