After 121 games played over the course of four days, The International 5 group stage has drawn to an end and the TI5 brackets for the main event scheduled to start on August 3rd have taken shape. The final TI5 group stage standings have certainly gone against all odds. Underdogs compLexity Gaming and CDEC have placed in the top four of their groups, thus being seeded into the Upper Bracket of the main event, while legendary teams Natus Vincere, Invictus Gaming, and ViCi Gaming will be forced to start in the Lower Brackets.
UPDATE (August 9):
Evil Geniuses are your TI5 champions! Grand Finals VODS, summaries, pictures and highlights: here.
Group B ended up being more balanced than Group A. Virtus.Pro and Team Empire were forced into a best-of-three series tiebreaker to determine their Upper and Lower TI5 Brackets placement for the main event.
In Group A, LGD would not only lead the group with 17 points, but all of the teams in points. Their last win against Fnatic gave them the top position in the group, over Team Secret.
Team Secret tied with MVP.Phoenix in their last series of the TI5 group stage and finished second in Group A, with 15 points.
compLexity is one of the group stage revelations. They managed to sweep Cloud 9, 2:0, and advanced into the third position in their group, sending Cloud 9 to the fourth place.
LGD, Team Secret, compLexity and Cloud 9 have advanced into the upper part of the TI5 brackets for the main event.
Champions and two-time runners-up at The International, Natus Vincere, would turn into the biggest disappointment of the TI5 group stage. The Ukrainians finished last in Group A, with only 3 points after 7 two-game series.
Evil Geniuses bested CDEC, 2:0, and moved into the first position in Group A, with 13 points – four less than Group A's leader, LGD.
EG are tied for their group's lead with Wild Card winners CDEC, while EHOME came in the third place.
Team Empire and Virtus.Pro would end up tied for fourth place, after Empire won against MVP.Hot6ix and Virtus.Pro lost to EHOME. A deciding best-of-three series served as a tiebreaker to determine the CIS teams' positioning in the main event. Team Empire ended up besting Virtus.Pro, 2:1, securing their Upper Bracket slot.
Evil Geniuses, CDEC, EHOME and Team Empire have advanced into the upper leg of the TI5 Brackets for the main event.
Korean team MVP.Hot6ix finished the group stage at the bottom of Group B.
TI5 group stage standings, day 4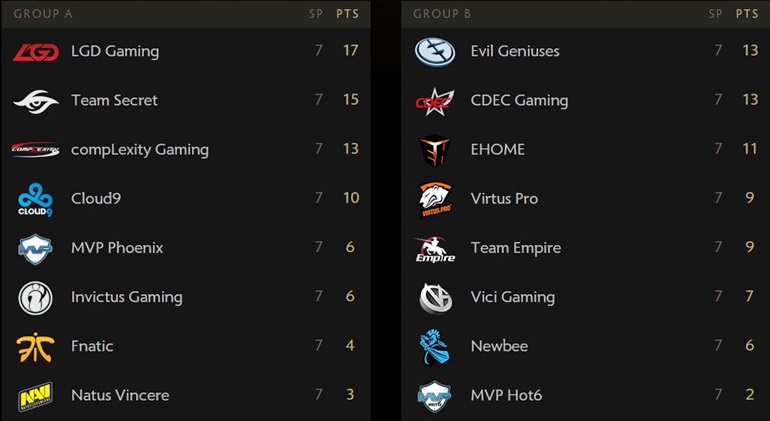 TI5 brackets and fixtures for August 3rd
After the conclusion of the group stage, the 1st and 5th place teams were given the opportunity to choose their opponents.
The 1st place in each group of group stage picks their opponent from either the 3rd or 4th place finish in the opposite group.
The 5th place in each group of the group stage picks their opponent from either the 7th or 8th place finish in the opposite group.
In the Upper Bracket, LGD chose Empire, leaving Team Secret to face EHOME, while Evil Geniuses chose compLexity, leaving CDEC to face Cloud 9.
In the Lower Bracket, MVP.Phoenix chose Newbee, leaving IG with MVP.HOT6ix. Virtus.Pro selected Fnatic, leaving ViCi Gaming to compete with Na'Vi.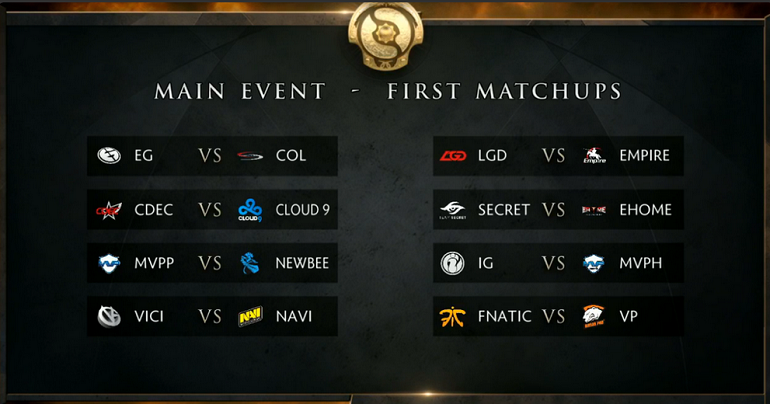 TI5 brackets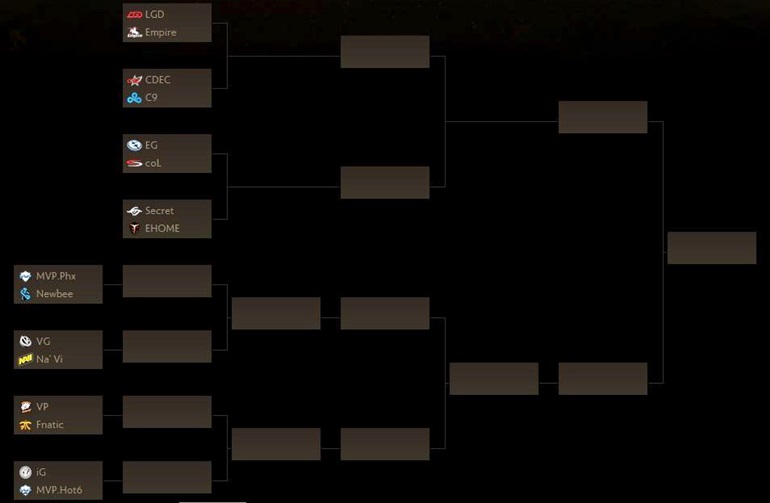 TI5 group stage day 4 recap
Group A: Fnatic 0:2 LGD
LGD grabbed the first blood against Fnatic and it would be far from their last kill. They dominated with a 29:6 score, ending the game in under 30 minutes. Lu "Maybe" Yao had a flawless game on his Storm Spirit and the power of LGD's Gyrocopter was too much for the Malaysians to manage.
LGD would once again score first blood, but the game was fairly even game. Fnatic kept finding openings, but that wouldn't be enough for them to be able to claim the victory against Liu "Sylar" Jiajun's Anti Mage and Maybe's Puck.
VOD: Fnatic vs. LGD
LGD will face Team Empire in the upper part of the TI5 brackets, while Fnatic will fight against Virtus.Pro, in a best-of-one elimination match.
Group A: compLexity 2:0 Cloud 9
Cloud 9 had a very aggressive draft, but it would not work out well for them overall, as compLexity seemed prepared for it. With great mid rotations, the North American team was able to outfarm and outplay C9. compLexity would take control of the game fairly quickly and end with the victory.
In the second game of the series, Cloud 9 were far behind through most of the game, but a crucial smoke coming out from compLexity caught Jacky "Eternal Envy" Mao and Johan "BigDaddy" Sundstein off-guard. EE's Gyrocopter had no buyback and, as soon as he re-spawned, compLexity killed him again instantly.
Cloud 9 will face CDEC in the upper part of the TI5 brackets, starting with August 3rd.
Group A: Team Secret 1:1 MVP.Phoenix
The first game of the series turned into a blood bath, with blow for blow kills back and forth and a 10:10 score in 14 minutes. With a rough start for the Phantom Lancer, a huge team fight at about 23 minutes into the game would take out all the cores on Team Secret and give PL the much needed farm and momentum needed to get back on track. At minute 26, a team wipe with Aegis would give MPV.Phoenix a 4500 gold – 4000 experience swing, making them virtually unstoppable in the following team fights.
Team Secret took control of the game, despite some well executed team fights coming out from MVP.Phoenix. With Gyrocopter going mid and Anti Mage as a carry, it worked out well for Team Secret, and they managed counter MVP.Phoenix's aggressive heroes.
VOD: Team Secret vs. MVP.Phoenix
Team Secret will meet EHOME in the upper part of the TI5 brackets, while MVP.Phoenix face elimination against defending champions Newbee, in the first round of the Lower Brackets.
Group A: Invictus Gaming 2:0 Natus Vincere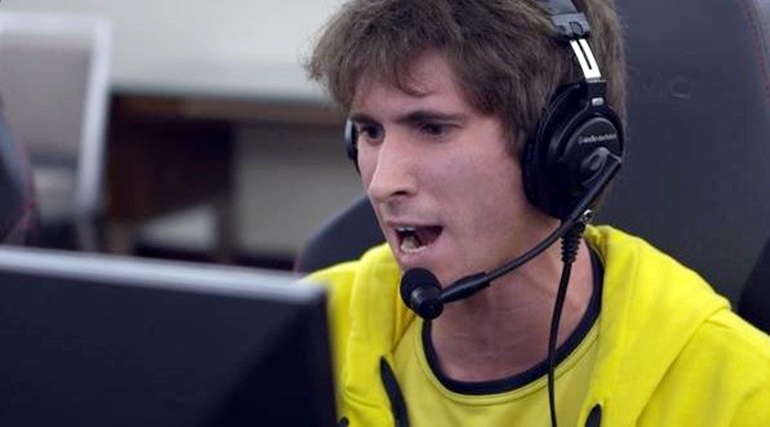 The Chinese team utterly dominated the Ukrainians. The game was over in 28 minutes, with a crushing 28:5 final score. Luo "Ferrari_430" Feichi had an amazing game on his Storm Spirit.
The second game of the series seemed to go much better for Na'Vi. However, everything fell apart when Invictus Gaming picked up their BKBs, as their lineup was based heavily on magic damage. With Xu "BurNIng" Zhilei going 10:1:2 on Clinkz, Invictus Gaming would easily cruise into victory.
VOD: Na'Vi vs. IG
Invictus Gaming and Natus Vincere are both facing elimination. They will meet MVP.Hot6ix and respectively ViCi Gaming in best-of-one elimination games, in the lower part of the TI5 brackets' first round.
Group A: compLexity 2:0 Fnatic
compLexity were in control for the entire game. Chai "Mushi" Yee Fung's item build on Zeus was questionable and the Malaysians ended up losing a lot of the team fights by the end of the game.
In another strong performance by compLexity Gaming, the North American team took control for the majority of the game. With an Enigma picked up for Zakari "Zfreek" Freedman, he would end up being a significant factor in their win, with a score of 11:5:10. Once again, compLexity showcased great plays and cohesion, as they were able to take the second game in the series.
compLexity Gaming will fight against Evil Geniuses in the upper leg of the TI5 brackets, while Fnatic are facing elimination against Virtus.Pro, in the Lower Brackets.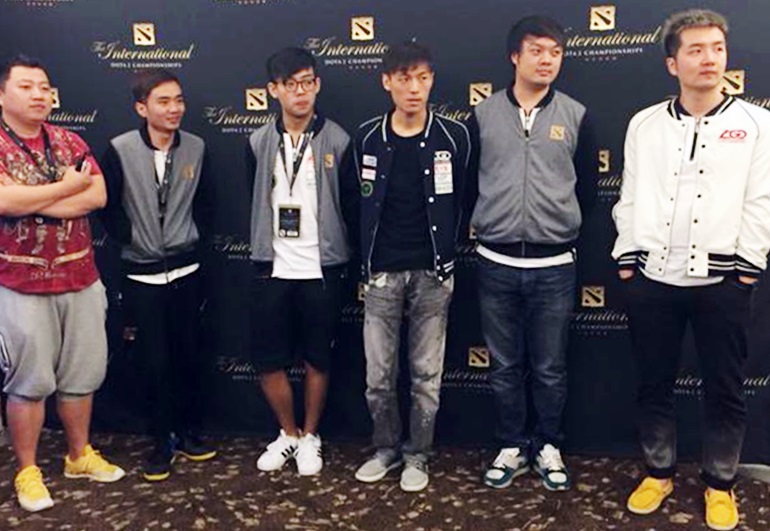 Group B: ViCi Gaming 1:1 Newbee
Team Newbee drafted a Silencer support pick and gave Zhang "Mu" Pan Queen of Pain, which would end up going 15:1:16 by the end and become the leader in net-worth. Newbee's dominance over ViCi Gaming was apparent and they would easily take the first game.
The second game of the series was much more heavily one-sided in favor of ViCi Gaming. Although Newbee picked up an Ember Spirit, it wouldn't be enough against Chen "Hao" Zhihao's Queen of Pain with a flawless game and a 11:0:12 score topping the net-worth charts.
ViCi Gaming and Newbee will both start out the main event into the lower part of the TI5 brackets.
Group B: EHOME 2:0 Virtus.Pro
EHOME picked up one of Chen "Cty" Tianyu's signature heroes – Storm Spirit. He would end up having a fantastic game, going 10:2:5 by the end. EHOME made sure that they shut down the Anti Mage and that their Storm Spirit and Razer were well farmed. Even though Virtus.Pro tried to play Gyrocopter mid, it didn't work out as well as they had hoped.
VOD: EHOME vs. Virtus.Pro
Virtus.Pro was dominating in the early game and Sergey "God" Alexandrovich Bragin had a really great game on Queen of Pain, going 19:4:9. During mid game, however, EHOME would turn everything around. A couple of pick offs went wrong and, with the Bounty Hunter tracks, a lot of gold was lost.
Group B: Evil Geniuses 2:0 CDEC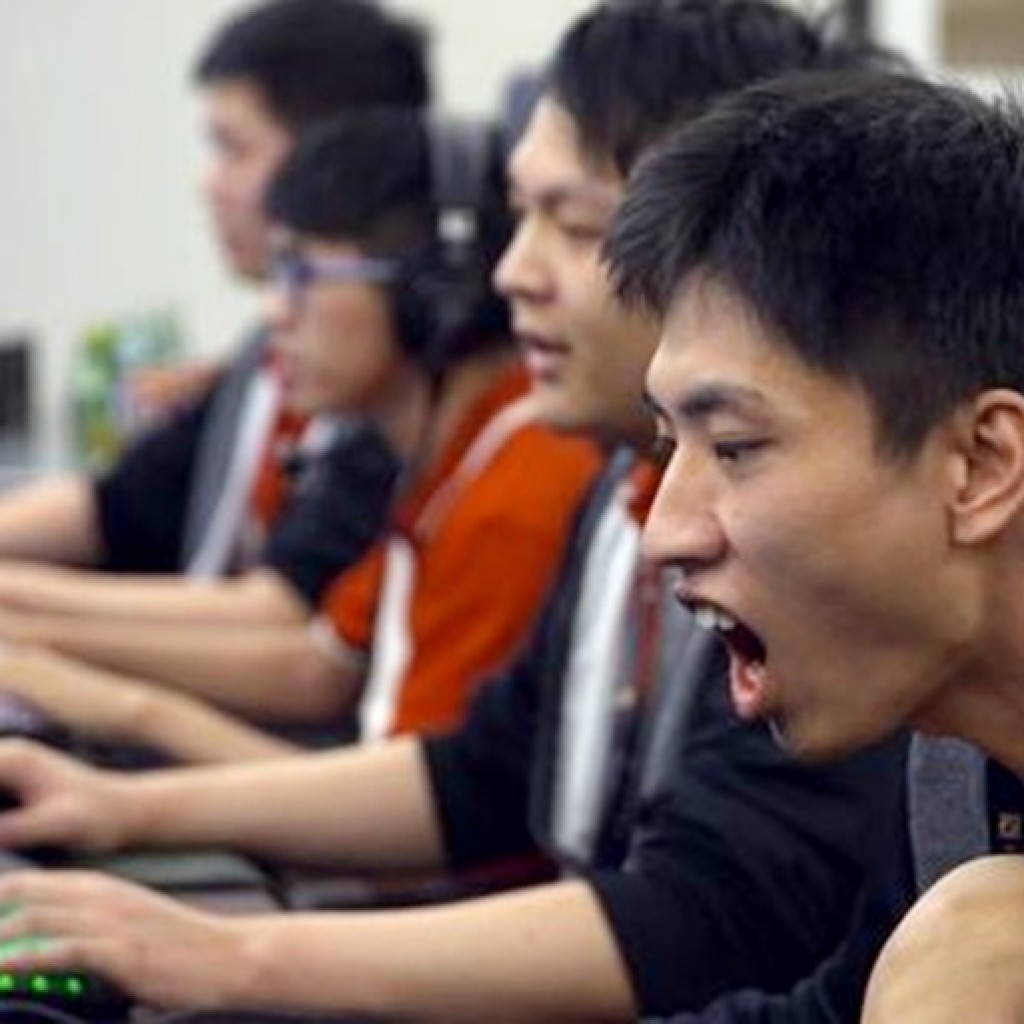 Evil Geniuses picked up Techies- Tuskar in the first game and the combo proved to be successful. The way that EG play the duo allows for all of their cores to farm safely. EG made sure they kept Sun "Agressif" Zheng subdued, by ganking him early in the game.
Evil Geniuses once again chose Techies in and ran the same strategy, making sure their cores were well farmed. Both Clinton "Fear" Loomis and Syed Sumail "SumaiL" Hassan had great games. Even though CDEC played well, it was inevitable they would struggle against EG's well executed strategy.
VOD: EG vs. CDEC
Evil Geniuses will face compLexity Gaming in the upper part of the TI5 brackets.
Group B: MVP.Hot6ix 1:1 Newbee
Newbee's lineup wasn't very well suited to play against Templar Assassin which had a really good game mid. That paired up with a flawless game for Lee "FoREV" Sang-donon's Bloodseeker was too much for the Chinese team to handle, and MVP.Hot6ix were able to crush them in 30 minutes.
For the second game of the series, Newbee would pick up Techies. This game had at least two big swings, with Newbee dominating in early and mid game stages, only to drop their advantage to MVP.Hot6ix. However, the Koreans' comeback wasn't enough for them to win the game. Newbee managed to capitalize on MVP's individual mistakes.
VOD: MVP.Hot6 vs. Newbee
Newbee will face MVP.Phoenix in the lower part of the TI5 brackets. Both teams will fight to remain in the competition, in a best-of-one elimination series.
Group B: EHOME 1:1 CDEC
EHOME drafted Cty a Storm Spirit again. Even though CDEC's carry and mid were pretty farmed, it was not enough for them to kill EHOME's cores. EHOME's supports played a really big role in the team's victory, as well.
In the second game of the series, CDEC would dominate from the very start. With another great game by Agressif on Gyrocopter, CDEC easily took the victory.
VOD: EHOME vs. CDEC
EHOME will meet Team Secret in the upper part of the TI5 brackets, while CDEC will face Cloud 9, in the Upper Brackets, as well.
Group B: MVP.Hot6ix 0:2 Team Empire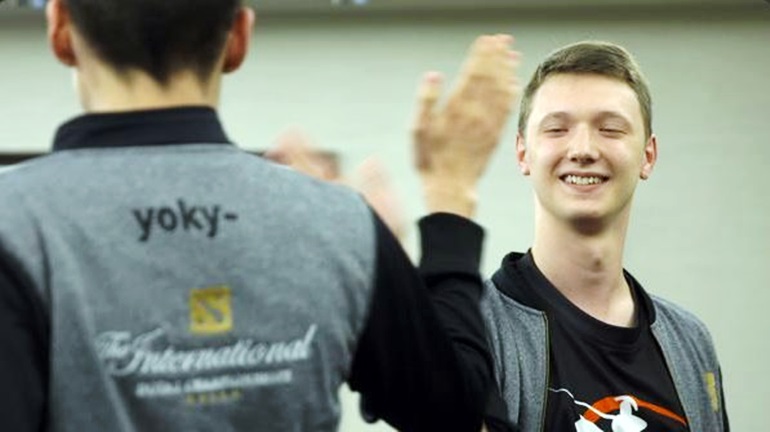 Roman "Resolut1on" Fominok had a really first great game mid. On top of that, the Bounty Hunter track kills allowed Team Empire to snowball.
MVP.Hot6ix picked up a Broodmother for the second game, but Team Empire countered it with an Axe for Maxim "yoky" Kim, who would end up having an amazing, with a final score of 9:1:1. Overall, MVP.Hot6ix were outpicked and outplayed.
MVP.Hot6ix finished at the bottom of Group B and were seeded into the lower part of the TI5 brackets for the main event.
Group B tiebreaker: Team Empire 2:1 Virtus.Pro
Virtus.Pro chose to put God's Silencer on mid-lane, which would prove to be a great strategy for them. God had an outstanding game, going 13:2:4 by the end. With a flawless game by Ilya "Illidan" Pivcaev on Gyrocopter, Virtus.Pro were able to easily take the first victory.
Although Virtus.Pro started Game 2 looking strong, they quickly fell behind early game, giving Team Empire the advantage they needed to start gaining farm on Anti Mage. With an amazing game from Resolut1on on mid-lane with Queen of Pain, and Silent's Anti Mage being the most farmed hero in the game – with 20K gold more than Virtus.Pro's leading hero in net-worth – there was little that Virtus.Pro could have done. An outstanding clutch snowball at the Roshan pitwouldn't be enough to make a turn around in the game. The Aegis deny by God barely had an impact on the game and would ultimately end up being a mistake. Team Empire managed to tie up the series, forcing a deciding third game.
Game 3 started with VP drawing first blood. Both teams farmed away and focused on building their net-worth and getting their items lined up. VP started to initiate and look for fights, and the game turned into a more aggressive one. Team Empire was ready for the counter and came up on top in the fights. Team Empire was able to out-farm VP and took advantage of their lineup, grabbing all of the Roshans.
Team Empire will face LGD in the upper part of the TI5 brackets, while Virtus.Pro were seeded into the Lower Brackets, where they will fight Fnatic to stay in the competition.








TI5 Main Event
The International 5 main event will take place between August 3-8, at the KeyArena, in Seattle
Broadcast begins at 19:00 CEST every day; each match will begin after the previous one concludes
Sixteen teams will play in a double elimination format, over the course of six days
Eight teams will start in the Upper Brackets
The remaining eight teams will start in the Lower Brackets
The first round of the Lower Brackets will be played as a best-of-one elimination series
All the other games will be best-of-three series
The International 5 Grand Finals will be best-of-five series
TI5 Streams
Featured Image: Adela Sznajer/ ESL