The last Red Bull Battle Grounds 2015 qualifiers have come to a close in the North-American region. Summer's Rift have emerged victorious, defeating Root Gaming, 2:1, and securing their participation in the LAN playoffs in Santa Monica, California, in May.
Congrats to @DotaDeMoN & the rest of Summer's Rift on their win in the #BattleGrounds America Qualifiers! See you in Santa Monica next week!

— Red Bull ESPORTS (@redbullESPORTS) April 29, 2015
Summer's Rift, Team Tinker, Not Today and Root Gaming were invited to battle it out for the opportunity to be the one representative of the NA region in the Red Bull Battle Grounds 2015 event in May. Root Gaming were a recent addition, having taken the place of Monib Baray, Ben "Merlini" Wu's team which disbanded after the initial invite. Root Gaming had recently added Brian "FLUFFNSTUFF" Lee, on March 30.
Summer's Rift defeated Not Today, while Root Gaming knocked Team Tinker to the Lower Brackets in the first round. Root then defeated Rift in the second round of the Upper Brackets, sending Rift to play versus Not Today who had just previously eliminated Team Tinker in the Lower Brackets. After defeating the Peruvian team, Rift resurfaced to the Upper Bracket to face Root once again, in a best of three grand finals. This time, Jimmy "DeMoN" Ho and his team were able to best their opponent 2:1 and claim the rights to the LAN.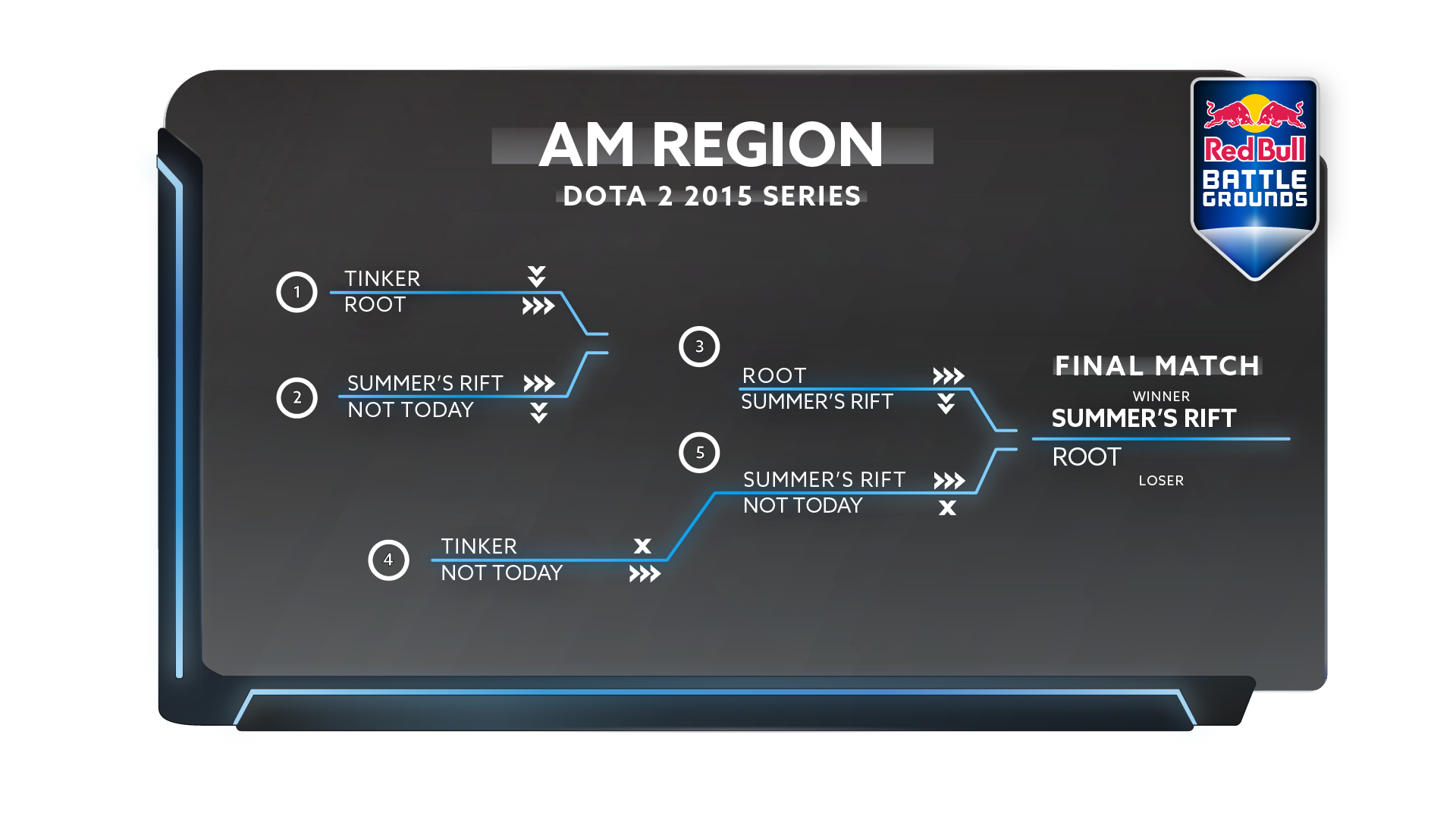 Summer's Rift Roster

Brian "BananaSlamJamma" Canavan


Braxton "Brax" Paulson


"BugaTTi_420"


Jimmy "DeMoN" Ho


Bryant "whiteBeard" Lehwald
The Red Bull Battle Grounds 2015 LAN event
Summer's Rift will now join Team Malaysia, Invictus Gaming, HellRaisers and Team Secret in the offline playoffs in Santa Monica, California, between May 5-7, and the finals will be held in San Francisco, on May 10. The base prize pool is $75,000.