Recent EternaLEnVy video blog in regards to the Dota 2 Majors and his experience at the StarLadder StarSeries 12 LAN finals has sparked reactions from Vitalli "V1lat" Volochai and others in the community. UPDATE: EnVy has decided to take down the YouTube video and replace it with a written blog post.
Cloud 9's captain EternaLEnVy is well-known for his rather polarizing personality. The player has a history of writing blogs and venting on stream. His "love him or hate him" character usually ignites heated public interactions.
Following Cloud 9's performance at the StarLadder StarSeries 12 LAN finals, where the team placed 3rd, Envy has taken to YouTube to complain about the tournament. His main grievances include: sound cancellation, casters, translators, lack of care for the players' needs and desires, hotel and bathrooms' state. He attributes many of these issues to the administrators' "lack of respect" towards players. The aforementioned EternaLEnVy video blog has been taken down from YouTube and replaced with a written blog post.
EternaLEnVy's complaints:
frail sound cancellation: "The problem with sound cancelling headsets which is a tournament go to is that players are forced to use a program like skype/teamspeak to communicate which has a 1-2 second delay. (…) Of course the best solution to this problem is to pay half a million or more for proper booths, but many tournaments can't afford that."
the tournament area for games that were not up on the main stage: "During StarLadder there were two games happening at once, one game is played on the main stage and the other one is played on the secondary stage. Bulba told me there was a little girl screaming near him as they are playing their elimination matches. This is actually insane."
lack of a proper translator for the Chinese teams
lack of private bathrooms for players: "It really sucks for the fans and myself when I'm trying to focus on the next game and I ignore/reject fans that talk to me while I'm heading to the washroom and back. Every day I would reject like 50 people and I don't want to do that."
Dota 2 StarLadder personnel and caster/personality V1lat immediately jumped in on Twitter to refute some of the claims and clear some possible misconceptions:
If you want to be respected, you should AT LEAST try to show some respect to admins for their work. Or explain urself in ur blog

— Vitalii Volochai (@v1lat) April 29, 2015
V1lat has implied that Envy has stirred up some commotion during the StarLadder 12 LAN finals:
Imagine there is a player who is playing a LAN even. There are 200,000 Western fans and 1 million worldwide fans waiting for his games to start. Casters are starting filling the mid-game pause with info. Second game of the best-of-three series is starting, and the player jumps out from the lobby. He is being told by the admin that the 10 minute pause has ended and the game should start. But the player literally RUNS away with a smile on his face. (…) Casters, admins, audience, fans are waiting for him. We are OKAY with such a situation. But WE ARE NOT OKAY, if the player runs a blog about something called RESPECT afterwards. If you want to be respected, you should AT LEAST try to show some respect to admins for their work.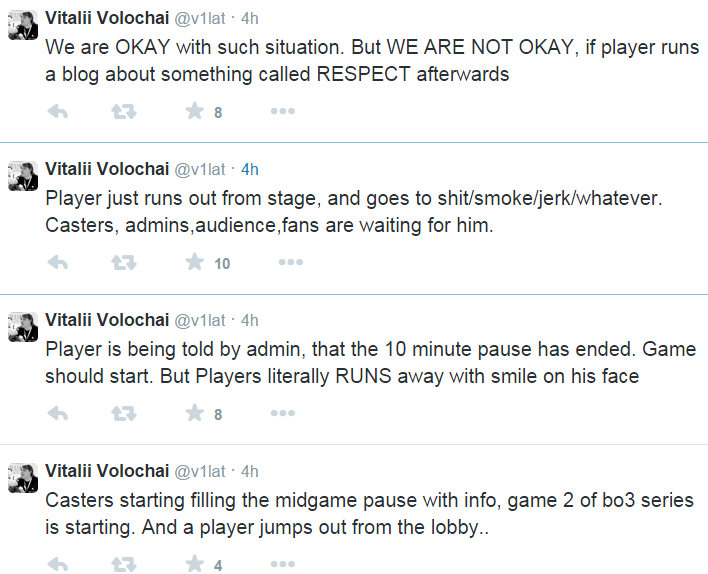 As in most cases, there are two sides to every story and middle ground within an incident. Cloud 9's team manager, Conrad "QuantumPope" Janzen, as well as his teammates, MiSeRy and bOne7, spoke up and stated that they didn't agree with EternaLEnVy's perception and comments:
I don't agree with @EternaLEnVy1991's comments about the travel situation at SL. He doesn't have a proper understanding of the situation.

— Conrad Janzen (@QuantumPope) April 28, 2015
Ya, everyone should calm down, first starladder in bucharest, theres room for improvement but overall it was a great event, ty @dotasltv

— Rasmus Filipsen (@MiSeRyDOTA) April 29, 2015
I'd say @dotasltv Last event was great, but It's kinda unfair to say cuz It's in my home town Xd. Enjoyed the afterparty location aswell xd

— Pittner Armand (@bOne7DotA) April 29, 2015
Rave member Jio "Jeyo" Madayag said these discussions should be kept private, as they bring negativity to the scene. The overall Dota 2 scene's negativity and unprofessional behaviors by managers, pro players and organizations has been under scrutiny and fire lately.
@v1lat @EternaLEnVy1991 all of this should just be discussed in private IMO between players and organizers. Negativity stops scene to grow.

— Jio Madayag (@Jeyostyle) April 29, 2015
The recent EternaLEnVy video blog has been taken down from YouTube. The player promised he would write an explanatory blog to clarify the situation, and delivered, a couple of hours later.
I'm actually just gonna remove the video. I left things I want to talk about and details. I'm gonna write something.

— EternaLEnVy (@EternaLEnVy1991) April 29, 2015
With varying degrees of perception and unique personalities, there will always be disagreements and divergent opinions and experiences. Whether the Dota 2 Majors will alleviate some of the issues and disputes, only time will tell.