Second day of The Summit 3 proved to be another incredibly short and one sided day. All three series resulted in total domination 2:0 scores, as Team Secret reminded Invictus Gaming they were the Red Bull Battle Ground Champions, LGD said "Not Today" to the Peruvians and Team Secret wiped out LGD, securing themselves a playoff spot and a day off.
The Summit 3, Day 2, Group B
Vitalii "V1lat" Volochai blogged about his predictions and insight onto the upcoming games in Group B.
Today we have three matches in group B, which looks pretty similar to group A: we have 3 favorites and 1 certain outsider. Well, we'll see if results are surprising today.
Team Secret vs. Invictus Gaming
V1lat's prognosis: "Very promising match. During the past 3 days, IG have been sitting in hotel's Practice Room and I'm sure, they've improved their understanding of the new patch. I don't think we'll be seeing Weavers or other not so useful heroes. Of course, Secret didn't sunbathe under the Californian sun, they are actively preparing for matches. Firstly, it's better to pass the group with 2 wins, secondly, everybody wants a day-off tomorrow, but you have to win 2 games today to get it. It's hard to make a prognosis. Secret have won last Bo5 with a 3-2 score, but IG have been training for the last few days and are now ready for revenge."
The Team Secret-Invictus Gaming encounter was expected to be the highlight of the first two days and bring excitement back to The Summit 3, after yesterday's stomps. With both teams having just traveled directly from Northern California after a long and intense best-of-five Grand Final at Red Bull Battle Grounds, the stage was set for a rematch of the newly formed rivalry. The first game started with seven kills in favor of Secret before IG was able to land a single one. The Chinese were not able to recover in enough time to turn the game.
Although IG seemed to take the lead in the first twenty minutes of the second game, their early game was not strong enough to shut down Team Secret before their late game draft power would come online. About 18 minutes into the game, following a duel that went in favor of IG, Secret got team wiped and IG's net-worth increased to a 7.5K gold difference between the two teams. However, after about 25 minutes into the game and a bad Roshan fight for IG, the game evened out and Team Secret was able to manage to delay the game long enough to capitalize on their late game push. In just over 30 minutes, the second game had also come to an end.
Not Today vs. LGD
V1lat's prognosis: "Yes, we all love stories about e-Sports Cinderellas, but this is not that kind of situation. For the second time Not Today fought their way to The Summit and for the second time they have to prove themselves."
This was Not Today's second appearance at The Summit events, having won only one game during their last visit. Things would not go much better for the Peruvians this time around, as they were destroyed by their Chinese opponents LGD2:0 in two less than twenty-minute games. The score was 10-2 in LGD's favor by the 10-minute mark. After another five minutes, the score had turned into 20-4. LGD finished the game in only 24 minutes, with a 38:8 score.
Not Today got a much improved start to the second game, killing Rubick and Morphling before the creep spawn. This unfortunately would be the extent of the Peruvians' improvement, as poor laning and wasted gold resources would prove to be their downfall and definitely no match for the Chinese team. A successful Roshan 22 minutes into the game was the beginning of the end for the Peruvians, as LGD went top then mid and into barracks, ending the game three minutes later.
Team Secret vs. LGD
V1lat's insight: "I'm fine having a Chinese team win the finals – these guys have been showing very lively Dota for the past weeks; LGD vs. Secret will be fun as well."
Team Secret continued to dominate the Chinese teams, this time the victims being LGD. An aggressive start and unsuccessful gank attempts by LGD lead to a 14,000 gold deficit. Despite trying hard to fight gallantly, there was little the team could accomplish. In a last effort, LGD completed a successful Roshan, but at the cost of four heroes in the fight that followed. It was all that Team Secret needed to push bottom and then middle lane to win the game.
The second game was a complete disaster for LGD and by six minutes in, the score was 8:2 in favor of Team Secret. A 25,000 gold lead 20 minutes into the game was too great of a deficiency to stage a comeback in the new patch. In just over 20 minutes, the game ended with a score of 25:4.
The Summit Day 3 schedule
ViCi Gaming and Team Secret are both now undefeated and set to have the day off, having already been placed into the Upper Bracket. The other six teams will battle it out to stay in the tournament.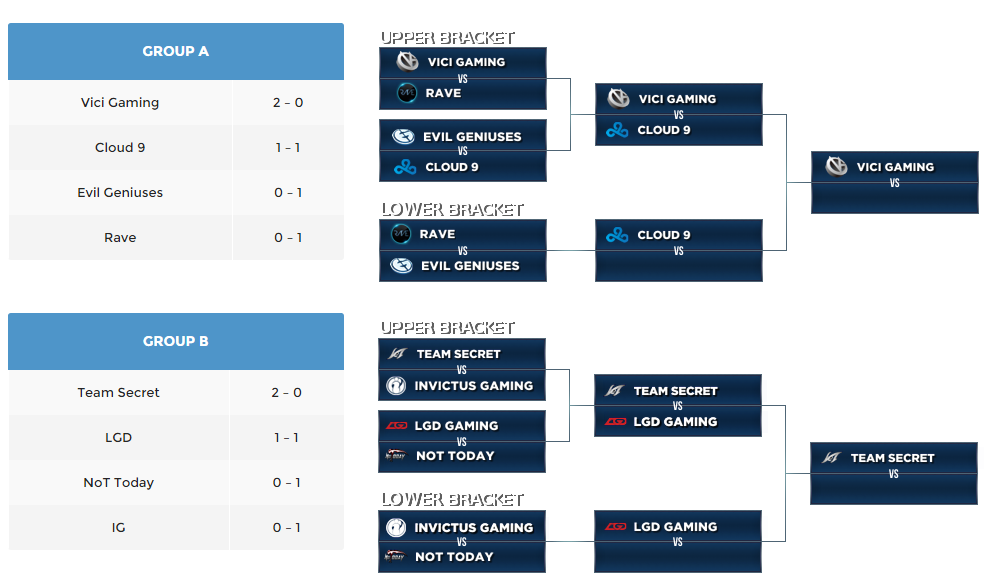 Teams
18:30-21:00 CEST: EG vs. Rave
21:00-23:30 CEST: C9 vs. EG/Rave
00:00-02:30 CEST: IG vs. NoT
02:30-05:00 CEST: LGD vs. IG/NoT
Upcoming
Fans can look forward to the "Bathtub Interview" tradition. This year, the popular segment will feature Cloud 9's captain Jacky "Eternal Envy" Mao.
Get hype for the tub interview. @BeyondTheSummit #Summit3 pic.twitter.com/3k3FVfQ7mt

— Conrad Janzen (@QuantumPope) May 14, 2015
The Summit 3 coverage
Second day of the Summit 3 brought about the first so-called "couch casting" session with members of Cloud 9. Certainly a highlight and fan favorite, more can be expected as we move into Day 3 of the Summit 3.
On the couch for @TeamSecretDOTA2 vs @LGDgaming we have @EternaLEnVy1991, @Dota2FATA, and @BigDaddyN0tail! #summit3 pic.twitter.com/OgYfpRMK8O

— BeyondTheSummit (@BeyondTheSummit) May 14, 2015
Full coverage and broadcast: Beyond the Summit