Sixteen of the best Dota 2 teams in the world – Team Secret, Evil Geniuses, Vici Gaming, Team Empire, Virtus.Pro, LGD Gaming, Fnatic, Invictus Gaming, Newbee, Cloud 9, Natus Vincere (TI5 European Qualifiers), MVP.Hot6ix (TI5 SEA Qualifiers), compLexity Gaming (TI5 Americas Qualifiers), EHOME (TI5 Chinese Qualifiers), CDEC and MVP.Phoenix (TI5 Wild Card winners) – will play 120 games over the course of four days, July 27-30, in the TI5 Group Stage. Unlike last year, all 16 teams will advance to the main event, after having established their seeding through the group phase.
UPDATE (August 9):
Evil Geniuses are your TI5 champions! Grand Finals VODS, summaries, pictures and highlights: here.
TI5 Streams
TI5 Group Stage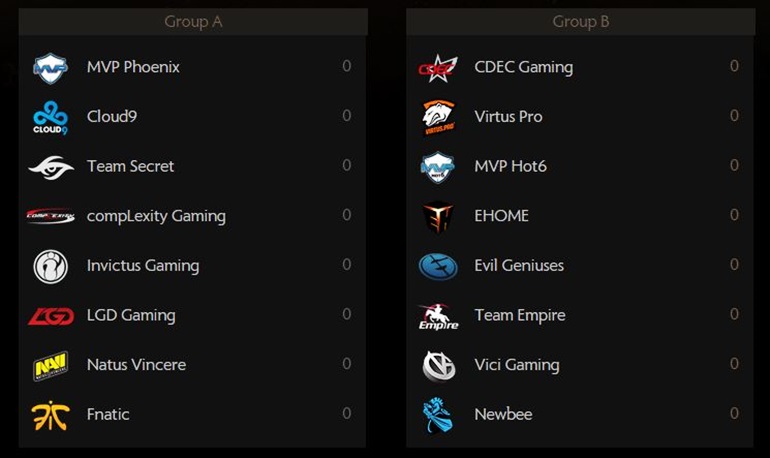 TI5 Group Stage Format
Ten invited teams: Team Secret, Evil Geniuses, Vici Gaming, Team Empire, Virtus.Pro, LGD Gaming, Fnatic, Invictus Gaming, Newbee, Cloud 9
Four qualified teams: Natus Vincere (TI5 European Qualifiers), MVP.Hot6ix (TI5 SEA Qualifiers), compLexity Gaming (TI5 Americas Qualifiers), EHOME (TI5 Chinese Qualifiers)
Two Wild Card teams: CDEC and MVP.Phoenix
Teams are placed into two groups of eight.
Each team faces all the other teams in their group in a best-of-two series, over the course of four days, July 27-30.
The winner of a best-of-two series takes 3 points. If the series is tied, both teams receive 1 point.
Potential tiebreakers are played on the fourth day of the TI5 Group Stage, on July 30.
Bottom four teams in each group will be placed into Lower Bracket of the Main Event.
Top four teams in each group will advance into the Upper Brackets of the Main Event.
The TI5 Group Stage establishes the seeding for the main event. All 16 teams will advance to the TI5 Main Event.
TI5 schedule
TI5 group stage, day 1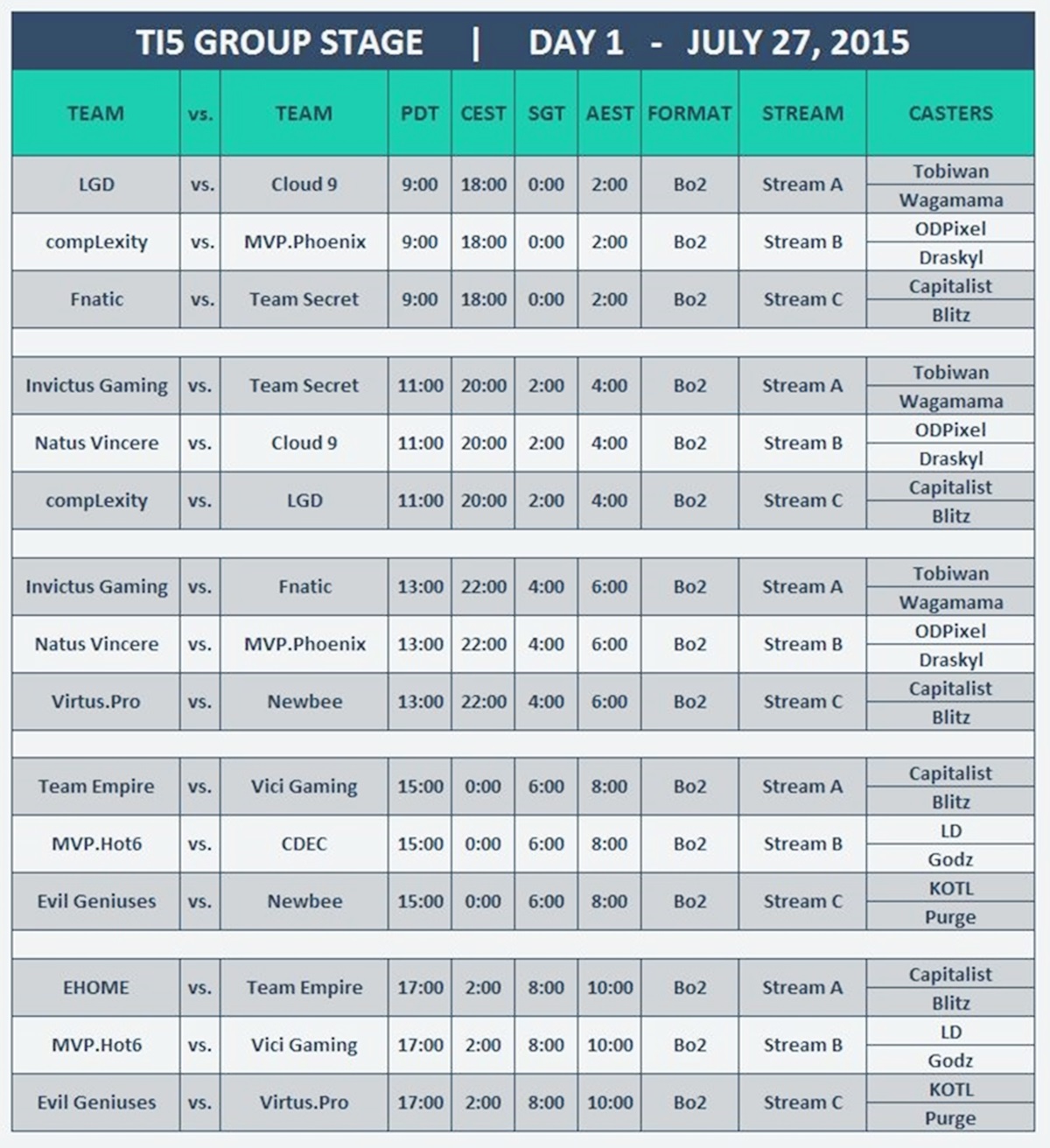 TI5 group stage, day 2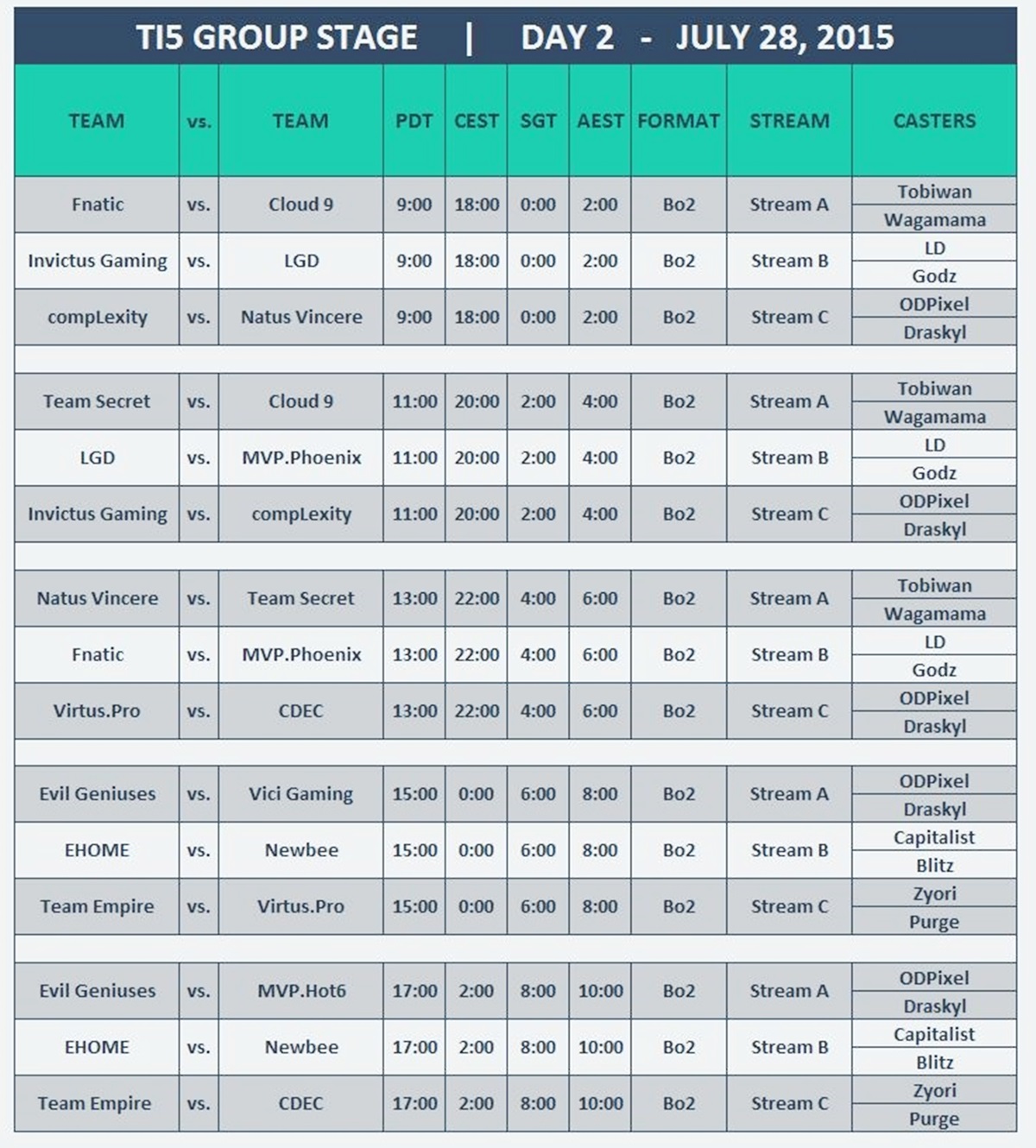 TI5 group stage, day 3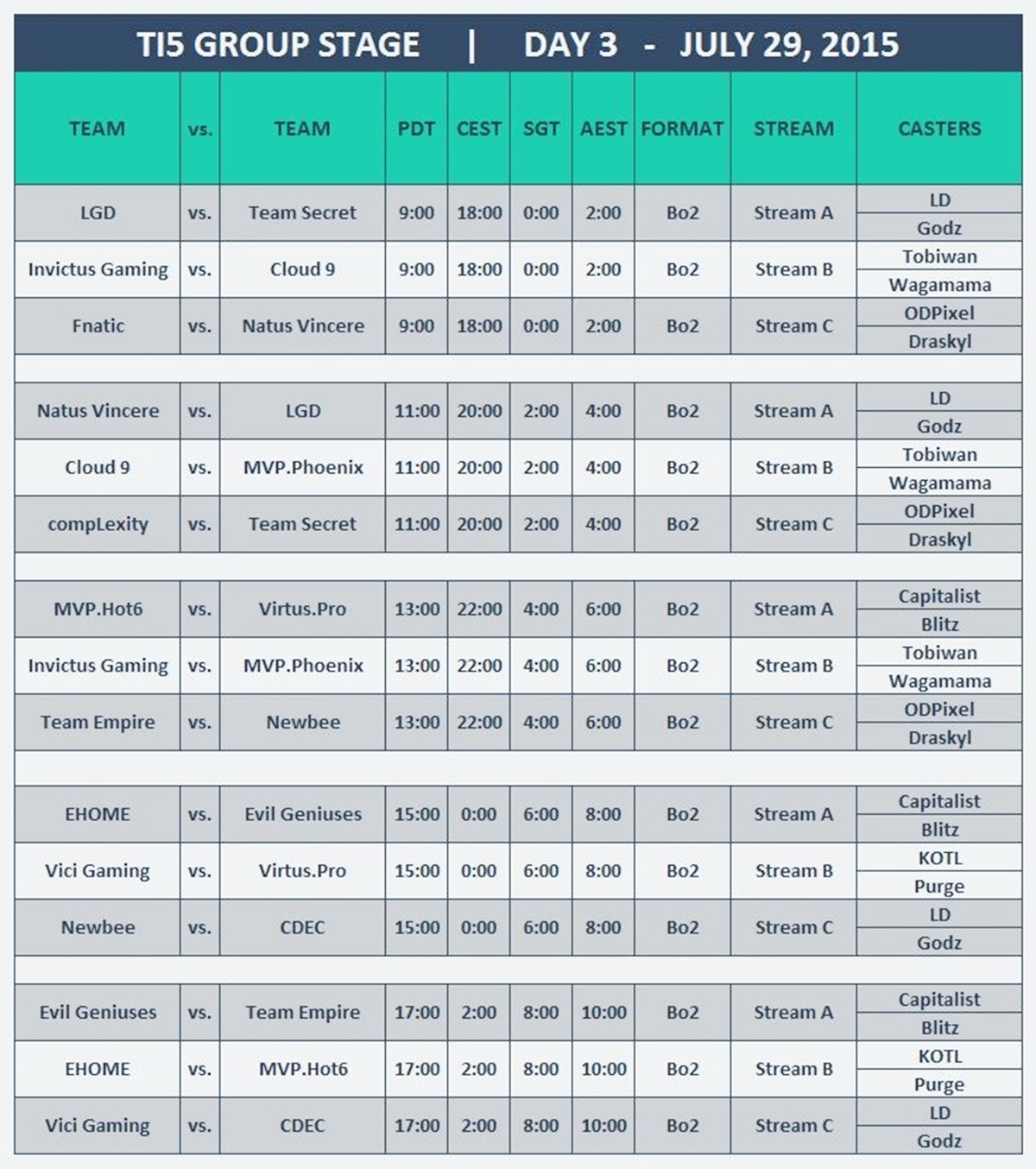 TI5 group stage, day 4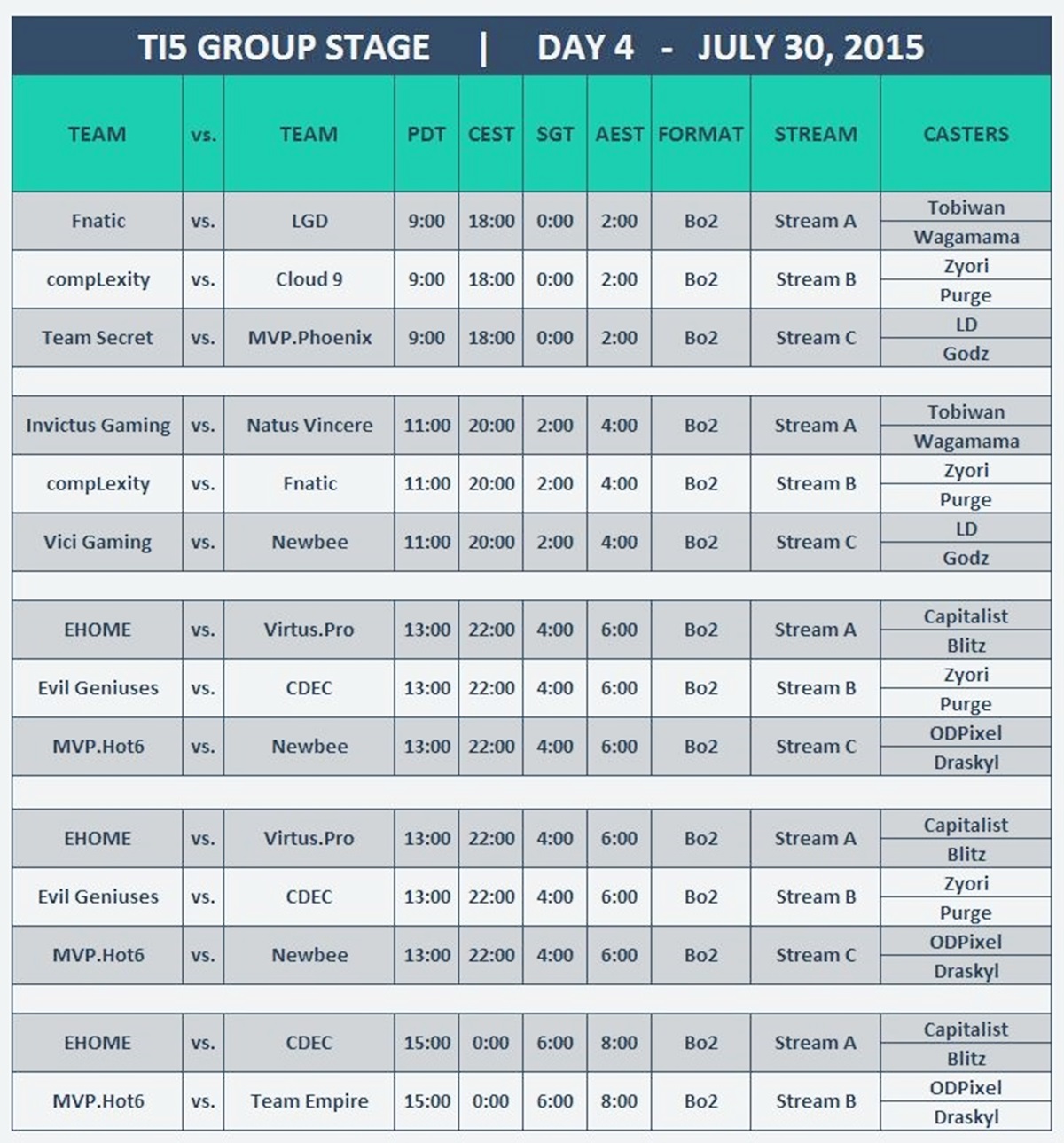 TI5 prize pool
Currently, the total prize pool has reached $17,512,943.
TI5 prize pool distribution: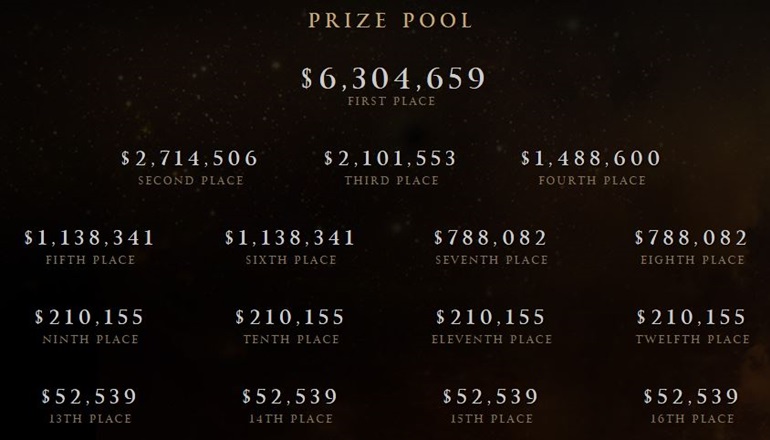 TI5 Teams
Team Secret
Most of the people who love Dota have had, over the past few months, what could be called "Team Secret moments". You don't have to be a Team Secret fan to appreciate their greatness. Team Secret brings together five spectacular players, the aristocracy of Dota 2. In point of fact, not many teams have as much individual star potential as Team Secret.
Read our in-depth profile – Team Secret: Short history of TI5 utter favorites
Starting out during the summer months of August 2014 as an intriguing presence on the horizon, it gathered force as it progressed through the year, gaining incredible momentum and shattering everything in its path. The odds on betting sites across the web favor Team Secret to win TI5 by a large margin.
As odds favorites, fan favorites, and every analyst's sweetheart, Team Secret is mandated to deliver and take home the Aegis this year. Nothing short of the championship would be a good result for them.
Team Secret roster:

Artour "Arteezy" Babaev,

Gustav "s4" Magnusson,

Ludwig "zai" Wåhlberg,

Clement "Puppey" Ivanov,

Kuro "KuroKy" Salehi Takhasomi
Evil Geniuses
Evil Geniuses are in a league of their own in the Americas region. Their individual talent stands out and their unparalleled results are setting them apart from their peers in the region. Moving into TI5, Evil Geniuses are one of the favorites to lift this year's coveted Aegis trophy.
Check out the team's full history: Evil Geniuses, America's beacon of light at TI5
Comprised of five individually talented stars including one "prodigy" and two of the game's most seasoned veterans, the team is a beacon of light for the North American region. With such an outstanding presence and great tenacity as they overcome various hurdles, their TI5 direct invite was never uncertain.
Evil Geniuses roster:

Clinton "Fear" Loomis,

Syed Sumail "Suma1L" Hassan,

Saahil "UNiVeRsE" Arora,

Kurtis "Aui_2000" Ling,

Peter "ppd" Dager
Vici Gaming
Vici Gaming appears to have taken on the role of the antagonist in this year's story-line, seizing first and second placements in many of the major and premier events during the last six months. A Chinese organization with a touch of nontraditional flavor, the team has been rising to the top of the rankings, both locally and internationally, and has established itself as being a first-rate TI5 competitor.
With some of the most exceptionally talented players, Vici Gaming's recipe for success has been set. After The International 4 second place achievement, and a steady run throughout the year, a TI5 direct invite was never in question for the team.
Vici Gaming roster:

Chen "Hao" Zhihao,

Xie "Super" Junhao,

Daryl "iceiceice" Koh,

Lu "Fenrir" Chao,

Xu "fy" Linsen
Team Empire
The Russian organization has demonstrated time and again that they are a force to be reckoned with. Team Empire is considered the leading authority in Russia and the CIS. Building upon their roots of stability, aggression and imposing presence, the team has established a period of dominance leading up to TI5.
Armed with five superior individually skilled players, it's often difficult for any opponents to pinpoint and exploit mistakes and openings. Empire's direct invite to TI5 was inevitable.
Team Empire roster:

Airat "Silent" Gaziev,

Roman "Resolut1on" Fominok,

Maxim "yoky" Kim,

Ilya "ALOHADANCE" Korobkin,

Andrey "ALWAYSWANNAFLY" Bondarenko
Cloud 9
Cloud 9 is one of the most inspiring examples of hard work, determination, courage, and the sheer will to succeed. Often the subject of controversial headlines, with a reputation for "always placing second", Cloud 9's journey to the top has been brimming with both struggles and rewards. They are widely regarded as top-five contenders at TI5, but might just have what it takes to make their long-percolating dream of finally lifting the Aegis trophy a brick-and-mortar reality.
Read Cloud 9's in-depth profile – Cloud 9 go into TI5 with outside chance of winning title: "We are confident!"
The eclectic mix of player personalities could be the recipe for Cloud 9's endurance and determination. Their direct invite to TI5 didn't take anyone by surprise. After all, Cloud 9 have been on the radar for long enough and, although their consistence could still use some improvement, they have proven they can take over the Dota 2 scene, when they set their minds to it.
Cloud 9 roster:

Jacky "Eternal Envy" Mao,

Adrian "FATA-" Trinks,

Pittner "bOne7" Armand,

Johan "BigDaddy" Sundstein,

Rasmus "MiSeRy" Filipsen
Virtus.Pro
A team that has had struggles with consistent achievements due to frequent roster and structural changes, Virtus.Pro has broken free of the ill-fated pattern and has soared to great heights with their stable roster and tenacious connection. Virtus.Pro is quickly ascending to the top of a short list of TI5 fan favorites and threatening to rival even the best of contenders.
For the majority of the roster, TI5 will be their debut in the most esteemed tournament of the year. However, Virtus.Pro has Artem "fng" Barshak, one of the best drafters, on the lineup, together with four other skilled players. Their direct invite to TI5 was of little surprise, considering their recent streak of success.
Virtus.Pro roster:

Ilya "Illidan" Pivcaev,

Sergey "God" Bragin,

Alexander "DkPhobos" Kucheria,

Artem "fng" Barshak,

Ilya "Lil" Ilyuk
LGD Gaming
A permanent fixture at The International and an iconic part of Chinese Dota through the years, LGD has maintained a remarkable presence in the regional and international Dota 2 scene. Regardless of roster changes or any extenuating circumstances, the team has always risen up to the occasion and are expected to keep up with tradition during the TI5 main event.
LGD's TI5 TI5 direct invite was debatable for many, due to their lack of achievements leading up to the invite period and roster instability weighing against their individual skill and history.
LGD's detailed history: LGD, expected to rise up to the occasion at TI5
However, a star-studded team, with deep rooted experience, LGD is bursting with talent, skill and previous International fame. The current captain is former Newbee captain Zhang Ning "xiao8", who lead his team towards a championship title last year, at TI4. No strangers to top three placements at The International, Liu "Sylar" Jiajun and Yao "Yao" Zhengzheng participated in TI2, TI3 and TI4, while "MMY!" Zengrong has enjoyed a second place finish in TI1, with E-Home, and has participated now in all four previous International tournaments.
Without any shadow of a doubt, LGD's lineup is a serious TI5 contender.
LGD roster:

Liu "Sylar" Jiajun,

Lu "Maybe" Yao,

Yao "Yao" Zhengzheng,

Zhang "xiao8" Ning,

Lei "MMY!" Zengrong
Fnatic
Fnatic's new roster sprung into life at the first signs of early spring. Since then, the Mushi-fronted Malaysian squad has participated in some of the biggest tournaments in the world. Reminiscent of the legendary TI3 Orange Esports, Fnatic's lineup may have had a bit of a Cinderella run leading up to TI5, but they definitely have what it takes to surprise a lot of teams and delight the Dota 2 audience.
The Malaysian squad's full history: Fnatic brings back a taste of Orange Esports at TI5
Star-studded with previous TI attendees, the new Fnatic roster has a certain sense of "pedigree" to it. Lee "kYxY" Kang Yang, Chong "Ohaiyo" Xin Khoo and Chai "Mushi" Yee Fun were a part of legendary Team Orange, which fought to a commendable third place at The International 3. Ohaiyo and kYxY also competed in TI4, where they finished 9th-10th with Team Titan, while Mushi attended last year's event, with Team DK, securing 4th place.
Fnatic roster:

Lee "kYxY" Kang Yang,

Fadil "Kecik Imba" bin Mohd Raziff,

Chong "Ohaiyo" Xin Khoo,

Siong "JoHnNy" Tait,

Chai "Mushi" Yee Fung
Invictus Gaming
Invictus Gaming is a Goliath on the landscape of Chinese Dota 2 teams. Towering above their counterparts with an indisputable presence, Invictus Gaming has been a part of virtually every premier and major tournament in the past year. TI5 will be their fifth International attendance.
Five highly respected players have joined together in the latest incarnation of Invictus Gaming. A direct invite to TI5 was certain for the organization which has competed in every International event since its inception and even took a championship title at The International 2.
Read a detailed profile of IG: Invictus Gaming tackle their fifth International
Equally impressive is that all of Invictus Gaming's players have their own record of multiple appearances at the most esteemed Dota 2 tournament in the world. Luo "Ferrari_430″ Feichi has participated in all four previous International events with IG exclusively.
The International 5 will be the perfect battlegrounds to measure IG's robust growth.
Newbee
Team Newbee erupted onto the Dota 2 scene in 2014, having emerged from nowhere to claim the most sought after glory of being crowned the Champions of The International. The Chinese "Dream Team 2″ shocked the world with their victory and then disappeared from the scene.
In the past, Valve has been perfectly clear about inviting the previous year's winners, as Defending Champions. Three of Newbee's TI4 members are still on the team: Mu Zhang Pan, Banana Wang Jiao and SanSheng Wang Zhaohui. They were joined by Rabbit Wang Zhang, who placed fifth at TI4 with LGD, and rising talent June Lin Shiyang. There is little doubt that the squad will fight valiantly to defend their title.
Newbee roster:

Wang Rabbit Zhang,

Zhang Mu Pan,

Lin June Shiyang,

Wang Banana Jiao,

Wang SanSheng Zhaohui
compLexity Gaming
Perhaps the most shocking development from the TI5 qualifiers across all of the regions, compLexity Gaming secured their position to attend The International 5 and represent the Americas region alongside Evil Geniuses, after sweeping through Team Archon (then known as North American Rejects), 3:0, in the grand finals.
Read a detailed history of the team: With an unproven track record, compLexity hopes to catch teams off-guard at TI5
compLexity's participation in the TI5 American qualifiers almost seemed as an afterthought to many, with the team adding the last three remaining members for their official roster in May. With no experience together as a team, the North American wonders sent a jolt through the scene, leaving everyone in awe when the qualifiers were over.
Comprised of one veteran professional Dota 2 player and several well decorated ex-professional Heroes of Newerth players, compLexity has shown potential that can not be ignored and gives hope to reviving the North American Dota 2 scene.
Complexity Gaming roster:

Luis "Zyzzy" Perez,

Kyle "swindlemelonzz" Freedman,

David "MoonMeander" Tan,

Tal "Simbaaa" Aizik,

Zakari "freek" Freedman
EHOME
Possibly the most well-known team in the TI5 Chinese qualifiers, EHOME is one of the oldest Dota 2 organizations in China. With their inconsistent formation and rosters, the team had to battle their way through the qualifiers in order to obtain their place at TI5. EHOME defeated CDEC, 3:1, and become the first team to qualify for The International 5 in Seattle.
Comprised of some top notch stars, veterans with extensive experience, EHOME is aiming to resurface as one of the greatest Chinese teams in the world and recreate their stunning performance at The International 1, where they rose up to glory in the grand finals. Not to be kept down for long, EHOME's potential is one to be taken seriously.
EHOME roster:

Yang "Yang" Pu,

Chen "Cty" Tianyu,

Bai "rOtK" Fan,

Zhang "LaNm" Zhicheng,

Liang "DDC" Faming
Natus Vincere
Natus Vincere did not receive a TI5 direct invite this year, due to their numerous recent roster changes and inconsistent performances. The Ukrainian team had always been an ever present fixture at the event, seizing first place at The International 1, second place at TI2 and TI3 and eighth place at TI4. Determined to not miss a year and break tradition, Na'Vi gave it their all to gain access for the fifth time. Recent TI5 European Qualifier winners, El Clásico legends Natus Vincere bested Vega Squadron, 3:1, in the grand finals, and earned their TI5 spot.
Read our in-depth profile: Natus Vincere in better shape, look to make comeback at TI5
Na'Vi's recent disappointing performances could easily be washed away by their performance in the upcoming TI5 Main Event. After all, nothing is impossible: Natus Vincere have staged exceptional comebacks during the qualifier games and have been in a good shape ever since.
Natus Vincere roster:

Ivan "ArtStyle" Antonov,

Gleb "Funn1k" Lipatnikov,

Daniil "Dendi" Ishutin,

Alexander "XBOCT" Dashkevich,

Akbar "SoNNeikO" Butaev
MVP.Hot6
MVP.Hot6 surprised everyone when they secured the first place win during the TI5 SEA Qualifiers, after besting MVP.Phoenix, 3:1, in the grand finals. They topped their group in the first phase, defeated MVP.Phoenix in the Upper Bracket finals, and advanced directly to the grand finals.
Read a detailed profile of MVP.Hot6: Korea's wonder kids set course for TI5 main event
MVP.Hot6 is comprised of four newer Korean talents and one seasoned Finish player. The team has found success together, marking a powerful moment in national and individual history – a debut at The Internationals main event for both the Korea and the five players.
With some of the fewest games played as a team, only a handful of achievements, and the fewest years of experience combined, MVP.Hot6 looks like a Cinderella story in the making. Their limited amount of competitive play compared to other TI5 teams could make it difficult for them to anticipate moves and develop strategies.
MVP.Hot6 roster:
"Forev" Sang-don,

Pyo
"MP"
No-a,

Lee
"SunBhie"
Jeong-jae,

Lee
"Heen"
Seung-gon,

Jesse
"JerAx"
Vainikka
CDEC Gaming
The CDEC Dota 2 squad may be young, but they have served their apprenticeship under LGD Gaming's tutelage. That alone makes them a force to be reckoned with. Leading up to TI5, CDEC have faced off against all the top tier Chinese and even managed to pose a threat every now and then. They earned their TI5 spot through the Wild Card series and this will be their first International.
CDEC in-depth profile – CDEC: Out of LGD's tutelage, in the cards for TI5 spot
Starting as a youth squad under the iconic Chinese team LGD, CDEC enjoyed a helping hand to acclimate into the professional Dota 2 scene. When they left LGD to create their own club, they acquired the assistance of retired veteran Tong "Mikasa" Junjie (former Tyloo and ViCi Gaming player), as a temporary stand-in and coach. Mikasa went back to LGD Gaming in March 2015 and rejoined the staff as a coach, while CDEC moved forward and managed to have a steady run leading up to TI5.
CDEC roster:

Sun "Agressif" Zheng,

Huang "Shiki" Jiwei,

Chen "Xz" Zezhi,

Liu "Garder" Xinzhou,

Fu "Q" Bin
MVP.Phoenix
In the Southeast Asian region, which is typically given only one spot to represent a series of small countries, Korean team MVP.Phoenix has to compete heavily in order to keep themselves in the spotlight and gain international experience. During the past year, with the emergence of teams such as Rave and Fnatic (formerly known as Team Malaysia), as well as their sister-team MVP.Hot6ix, MVP.Phoenix has had limited exposure in major and premier international events.
Read a full history of the Korean team: MVP.Phoenix, one of the two aces up Korea's sleeve at TI5
With top placements in all local Korean tournaments, as well as in Southeast Asian regional tournaments, such as the IeSF Asian Championships and Nexon Sponsorship Leagues, MVP.Phoenix work hard and strive to take their success to a global level.
While both Kim "QO" Seon-yeob and Park "March" Tae-won had an opportunity to play in the Wild Card series at TI4, the other three members will be giving it their all for the first time.
MVP.Phoenix roster:

Kim "Febby" Yong-min,

Kim "QO" Seon-yeob,

Damien "kphoenii" Chok,

Park "March" Tae-won,

Wong "NutZ" Jeng Yih