Fnatic's new roster sprung into life at the first signs of early spring. Since then, the Mushi-fronted Malaysian squad has participated in some of the biggest tournaments in the world. Reminiscent of the legendary TI3 Orange Esports, Fnatic's lineup may have had a bit of a Cinderella run leading up to TI5, but they definitely have what it takes to surprise a lot of teams and delight the Dota 2 audience.
Star-studded with previous TI attendees, the new Fnatic roster has a certain sense of "pedigree" to it.
Lee "kYxY" Kang Yang, Chong "Ohaiyo" Xin Khoo and Chai "Mushi" Yee Fun were a part of legendary Team Orange, which fought to a commendable third place at The International 3.
Ohaiyo and kYxY also competed in TI4, where they finished 9th-10th with Team Titan, while Mushi attended last year's event, with Team DK, securing 4th place.
The team's TI5 direct invite caused some commotion.
While they unquestionably had good results since their formation, and impressive individual backgrounds scattered throughout the team, many spoke against their TI5 invite.
The team had just been formed in March 2015 – two months before invites were sent – and they had yet to claim any titles together.
Many believed that Valve's main criteria for handing them a TI5 direct invites was the players' level of status and fame.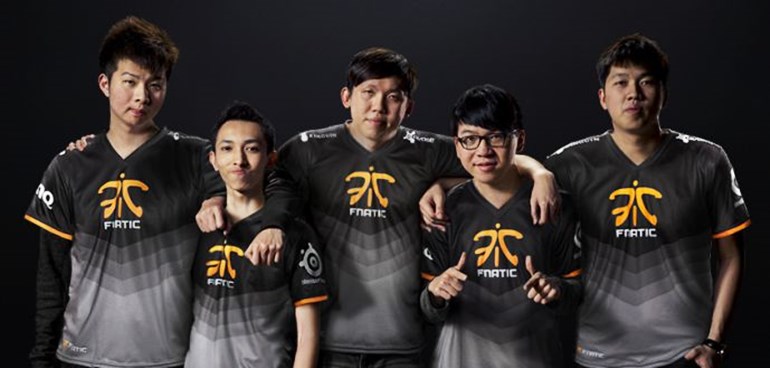 A Mushi-fronted squad, reminiscing of Orange Esports
Fnatic's Malaysian squad consists of members of the same lineup that represented Orange Esports at The International 3 – Chai "Mushi" Yee Fung, Lee "kYxY" Kang Yang and Chong "Ohaiyo" Xin Khoo. After TI3, Mushi would move to China to play for Team DK, while the other members transferred to Titan – the SEA powerhouse formed in 2013.
Team DK announced their disbandment shortly after TI4, leaving Mushi looking for a home with team Titan, alongside his former (and current) teammates.
In December of 2014, it was revealed in an interview that the EHOME Dota 2 division would be reformed with Malaysian stars Mushi, Ohaiyo, and kYxY. The agreement was made official in January 2015.
Sprouting new life: EHOME.my and Team Malaysia
Two months later, after a disappointing run at DAC, Mushi announced that he and Ohaiyo were returning to Malaysia to create an EHOME Malaysian division with Lee "kYxY" Kang Yang, Fadil Kecik Imba bin Mohd Raziff and Siong JoHnNy Tait. By March 26, it was announced that the Malaysians had separated from the EHOME organization. The squad continued to play together under the name of Team Malaysia, without any sponsoring organization.
By early May, Team Malaysia had been dominating the SEA region, qualifying for five LAN championships in five weeks. The team had been on a winning streak, securing themselves placements in Red Bull Battle Grounds 2015, China's i-League, ESL One Frankfurt and MLG Pro League – X-Games.
Fnatic reap at Malaysia's finest
Their results weren't spectacular, but they were enough to put Team Malaysia on the map as a newly founded Dota 2 team. After all, a Mushi-fronted Dota 2 squad doesn't need much validation.
They placed fifth at StarLadder Season XII and third at the Red Bull Battle Grounds and i-League Season 3.
It wasn't long until their potential and track record caught Fnatic's eye, especially since they had already received a TI5 direct invite. The Malaysian squad was signed by Fnatic on June 4th.
Later that month, the team placed third at the MLG Pro League Finals, at X-Games and eighth at ESL One Frankfurt 2015, where they were eliminated, 2:0, by Team Secret.
Whether Fnatic's invite was based on prestige and experience or their successful run in their short time as a team, there is no question that the Malaysians are a growing factor for teams to take note of. Fnatic's potential may reach full bloom in the TI5 spotlight.
Fnatic roster:

Lee "kYxY" Kang Yang,

Fadil "Kecik Imba" bin Mohd Raziff,

Chong "Ohaiyo" Xin Khoo,

Siong "JoHnNy" Tait,

Chai "Mushi" Yee Fung
Lee "kYxY" Kang Yang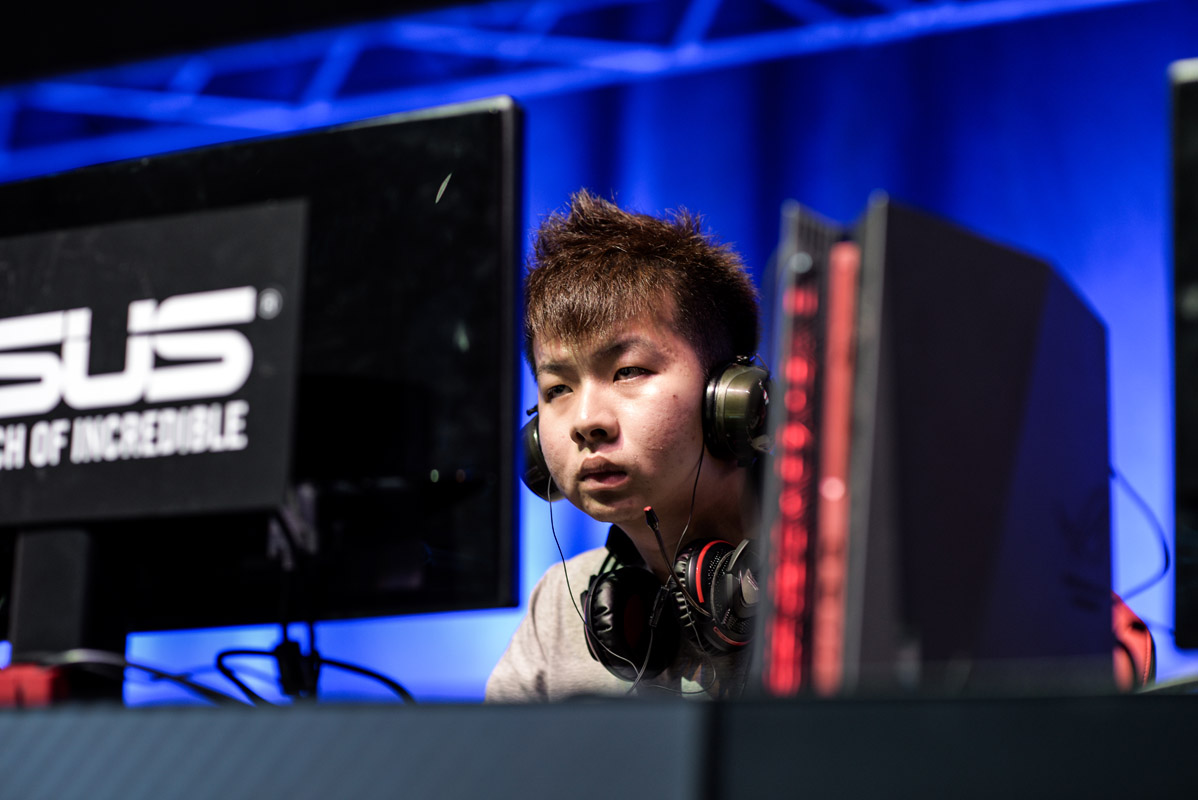 kYxY started his Dota 2 career in 2011, playing for MUFC. He had the chance to compete in The International 1 with the team, but went 0:3 and finished last in their group stage. He later resurfaced in 2013, as a part of Orange Esports.
kYxY attended The International 3 together with Orange teammates Mushi and Ohaiyo, taking third place. After The International 2013 and Mushi's departure, kYxY and the remaining players left the Orange Esports organization and moved to play for Titan. kYxY and Ohaiyo also competed in last year's TI4, placing 9th-10th, with Team Titan, before leaving to rejoin teammate Mushi on Team Malaysia – later picked up by Fnatic.
Unfortunately, kYxY is most well-known for his infamous Aegis deny, during The International 3 Lower Bracket finals against Na'Vi. However, his individual skills are incredible and should not be overshadowed.
Fadil "Kecik Imba" bin Mohd Raziff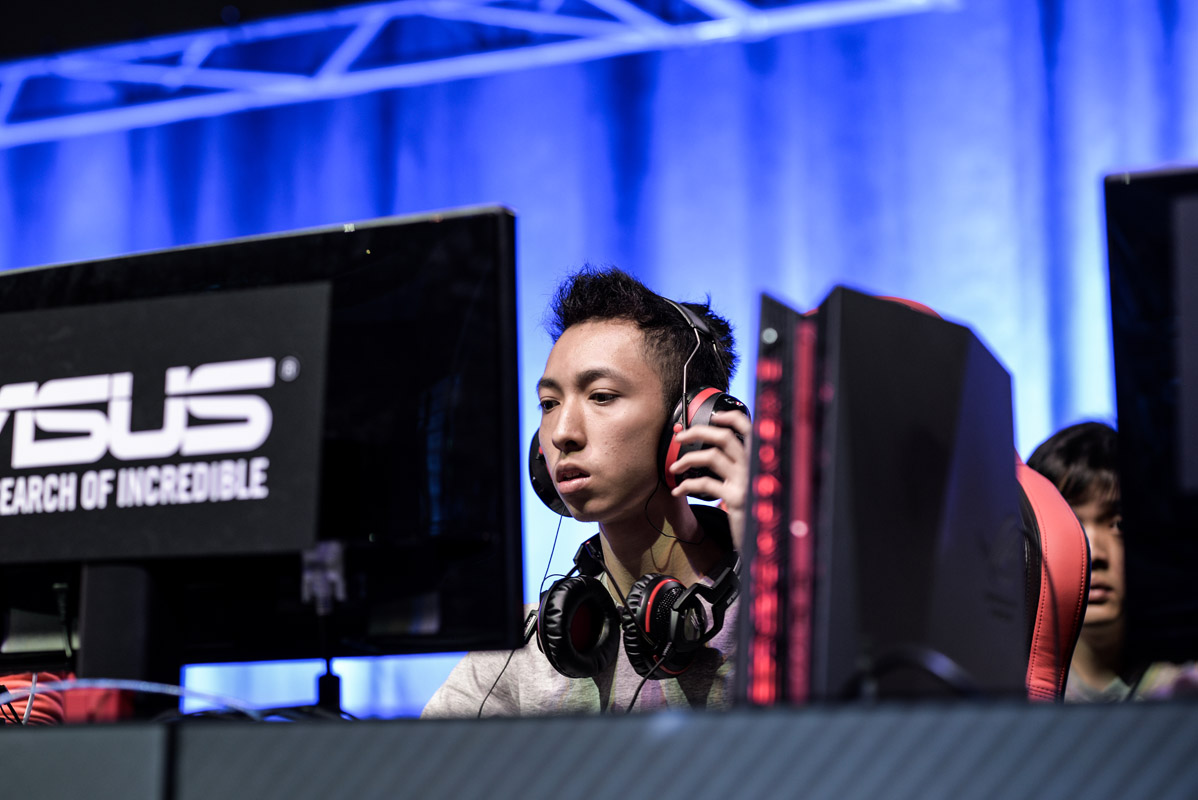 Kecik Imba made his first appearance in the professional Dota 2 scene when he joined team Orange, on February 14, 2013. He became the 6th player on the roster, as part of Orange's "player development program". Despite being a part of the organization during The International 3, he was not selected to play.
After Titan picked up most of Orange's roster following TI3, Kecik Imba was left teamless. He later joined Invasion e-Sports, March 2014, as the team's solo mid player. Kecik Imba stayed with Invasion for one year prior to rejoining his former teammates on EHOME.my.
On EHOME.my, Kecik Imba originally became the mid player, while Mushi switched to support. However, later in the Team Malaysia days and now, as Fnatic, the two players have switched roles again and Kecik Imba currently plays support.
TI5 will mark Kecik Imba's first participation in The Internationals.
Chong "Ohaiyo" Xin Khoo
Ohaiyo's history in Dota 2 has been rather short, but successful. He started playing competitive Dota 2 in 2012 with MUFC. In January 2013, Orange announced a new partnership with Neolution and Ohaiyo was signed to the Orange Academy as a part of this deal. He showed a lot of promise and was later brought in from the Orange Academy to fill in for Mushi, when Mushi decided to take a break from Dota 2. Upon Mushi's return, the team was compromised of six members. During The International 2013, Ohaiyo made the selection over Kecik Imba, and he ended up being widely regarded as one of the most impactful players of the entire tournament.
After TI3 and Mushi's departure, it was announced on the 21st of September that the four remaining active players were leaving Orange and moving to Titan. Alongside kYxY, Ohaiyo also competed in last year's TI4, placing 9th-10th with Team Titan, before leaving and rejoining his former Orange teammates in Team Malaysia.
Siong "JoHnNy" Tait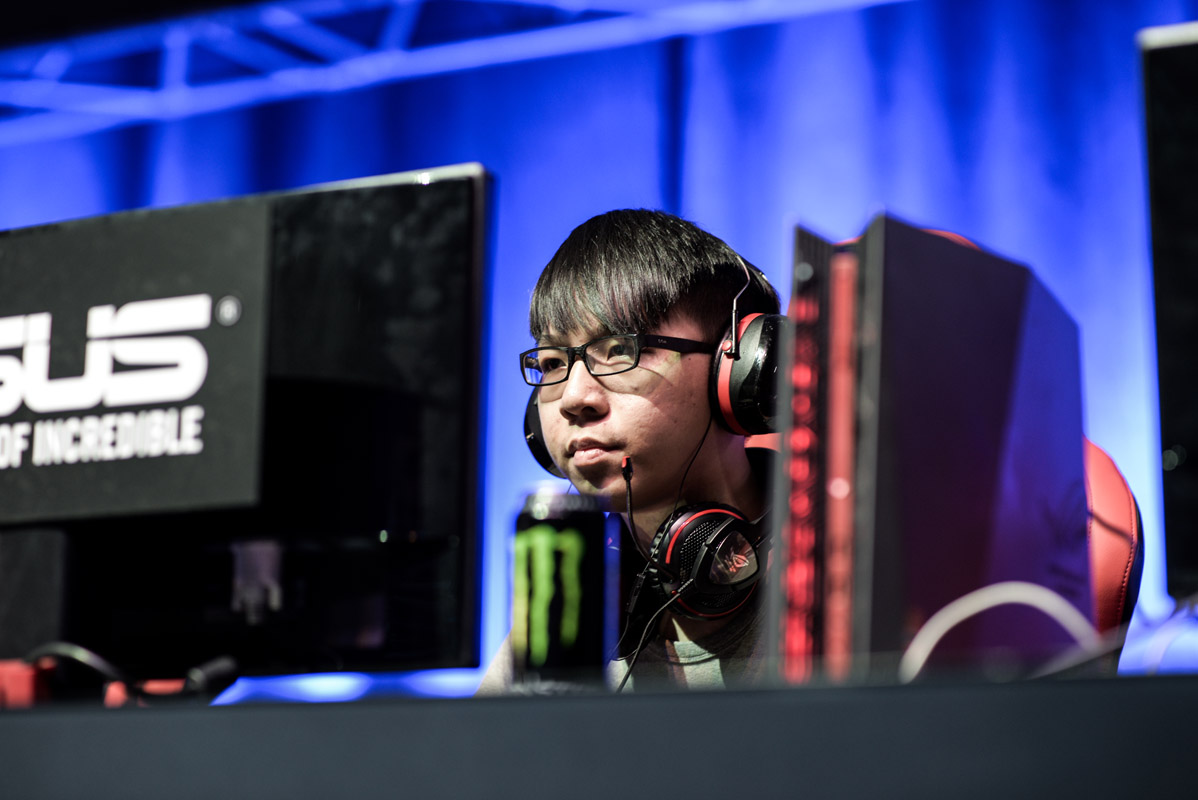 JoHnNy made his professional debut in Dota 2 in 2013, with Rattlesnake. After the team's disappointing performance at TI3 – where they were a wildcard contender – JoHnNy departed for Arrow Gaming, in March 2014.
As a part of team Arrow, he would earn a spot at TI4, through the SEA regional qualifiers. The momentum was short lived, however, as the team ended up being eliminated in the group stage.
JoHnNy then formed Johnny's Revenge, with a number of other notable Southeast Asian players who were teamless. However, the team disbanded two months later. Only one day after the disbandment, JoHnNy joined team Mineski, as their hard carry player. After two months, he parted ways with Mineski and joined EHOME.my as their support player.
Chai "Mushi" Yee Fung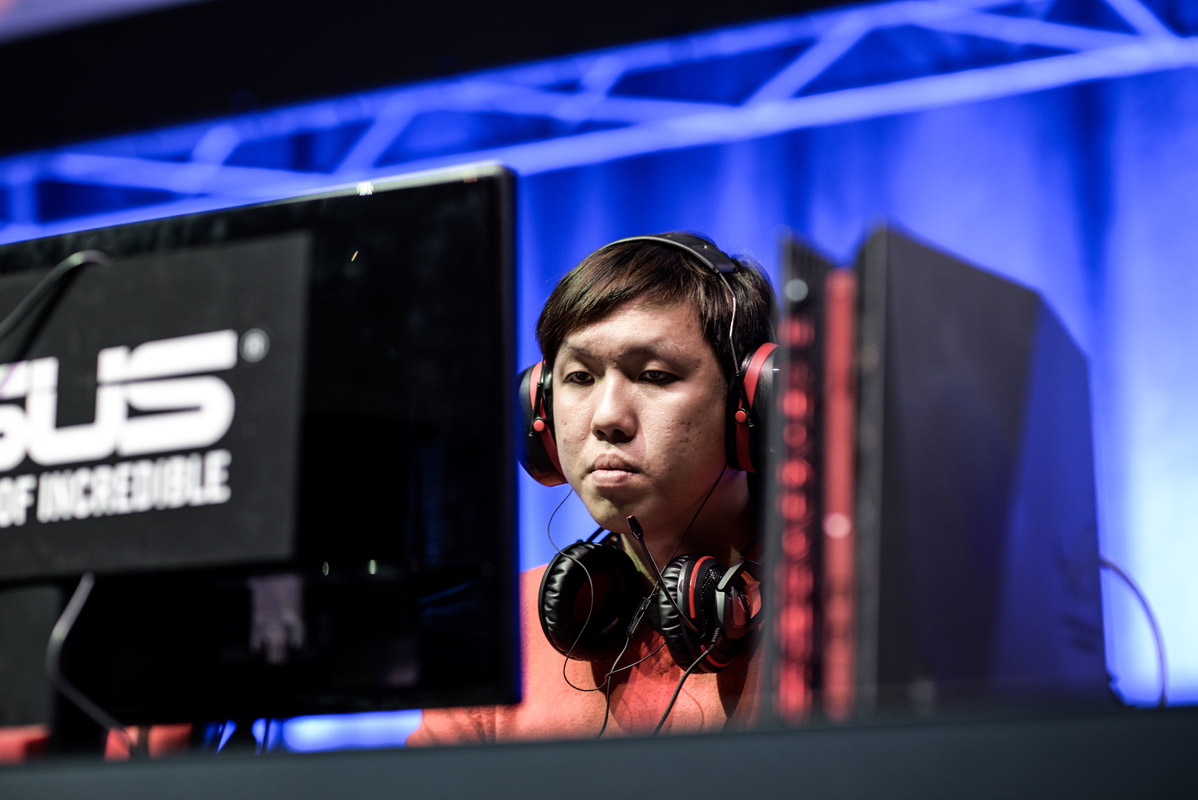 Regarded as one of the best players in the world, Chai "Mushi" Yee Fung has been a Dota player since 2009. In 2011, he joined Orange Esports. He temporarily retired from Dota in 2011, citing fatigue and poor results as the main reasons. Eventually, he slowly moved back to a managerial role and then finally rejoined Orange as a player once again. In 2012, the team was invited to participate in TI2, where they would end up taking 7th-8th place.
Mushi took some time off from Dota 2 but eventually came back to Orange when YamateH announced he was leaving the squad for Zenith. During this time, Kecik Imba had been brought in from the organization's academy to fill in, but with Mushi's return the young player would end up being benched for TI3. Although he led his team to a third place finish at TI3, Mushi walked away from Orange Esports, moved to China and joined Team DK during the post-TI3 roster shuffle.
When Mushi joined Team DK, the team's roster consisted of BurNIng, iceiceice, LaNm, MMY. Team DK finished 4th at The International 2014 and disbanded immediately after the event, when BurNIng and LaNm announced their retirement.
Mushi would return to the SEA Dota scene and join his former Orange teammates in team Titan. Together with Ohaiyo, Mushi returned to Malaysia to create an EHOME Malaysian division with kYxY, Kecik Imba and JoHnNy. By March 26, they had already separated from the organization. However, the team continued to play together under the name of Team Malaysia, without any sponsoring organization until they were picked up by Fnatic, in June 2015.
Mushi is well-known for being one of the most versatile Dota 2 players in the world, being able to convincingly play almost all heroes in all role capacities. He is famous for his mid lane role and is arguably one of the best mid players of all times.
For Mushi, it wasn't all plain sailing from the beginning. In an interview aired by TV channel NTV7 earlier this year, Mushi opened up about the struggles he had to cope with early on in his career, talked about his teammates and TI5 hopes, and confessed he has "never had any ideal other than to play Dota well".