LGD have successfully defended their championship title, sweeping ViCi Gaming, 3:0, in the i-League Season 3 Grand Finals.
After defeating Team Malaysia in the Lower Bracket finals, LGD advanced to the i-League Season 3 Grand Finals to defend their title in front of ViCi Gaming, who had not lost a series in the tournament and cruised through the Upper Brackets with ease.
[iLeague S3] LGD take the clean 3:0 over VG in the Grand Finals!! Thanks all for the support 😀 pic.twitter.com/T20cLR8APX

— LGD-Gaming (@LGDgaming) May 23, 2015
i-League Season 3 Lower Bracket Finals
LGD vs. Team Malaysia
The first game of the Lower Bracket finals started fairly even between the Malaysians and the Chinese. Team Malaysia had a slight early advantage with a few shifts and back and forth action between teams early mid and throughout the rest of the game. The Malaysians were able to regain control in the late game, but it was not enough, as LGD ended up claiming the victory.
The second game started with a skirmish on top lane in the first minute, with a close first blood going in the way of LGD. They applied early pressure with two kills and great laning phase resulting in 2000 gold early in the game. However, LGD appeared to have gotten a bit overconfident, when they continued to engage after a top rune fight with Storm Spirit, instead of backing off. Seven minutes into the game, another skirmish gave Team Malaysia 1000 gold gain and swapped the kill score into their favor. However, LGD were still able to complete their objectives and maintain control to secure their second win, sweeping Team Malaysia, 2:0, and heading to the Grand Finals to face ViCi Gaming.
i-League Season 3 Grand Finals
ViCi Gaming vs. LGD
The Grand Finals were best-of-five series with no game advantage for the Upper Bracket team, ViCi Gaming.
Game 1
First game gave LGD the first blood on iceiceice. Clashes kept happening and kills kept coming out: 29 kills in 25 mins. LGD had a 3000 gold advantage about 25 minutes into the game. Just one minute later, they lost their upper hand to ViCi Gaming. VG were able to take out Juggernaut and the Aegis, removing the damage from LGD in fights and gaining their gold back. At the 34-minute mark, LGD killed Roshan and, with Invoker not having buyback and Shadow Demon being dead, they were able to easily take the advantage along with the Aegis. After a couple of team wipes, VG called GG and gave the first win to LGD.
Game 2
LGD scored first blood, but it was ViCi Gaming that held the advantage through mid game. Once LGD was able to turn the game and gain control, ViCi Gaming was unable to recover and gave the second game to LGD, as well.
Game 3
Once again, LGD scored first blood but they traded it immediately afterwards, dropping a kill to ViCi Gaming. Twelve minutes into the game, everything was balanced, with seven kills for each team and even gold/xp. At the 16-minute mark, LGD started to pick off kills and move ahead. After a four-man wipe around minute 18, LGD continued to plow through ViCi Gaming and were eventually able to claim the last victory and retain their championship title, sweeping ViCi Gaming, 3:0.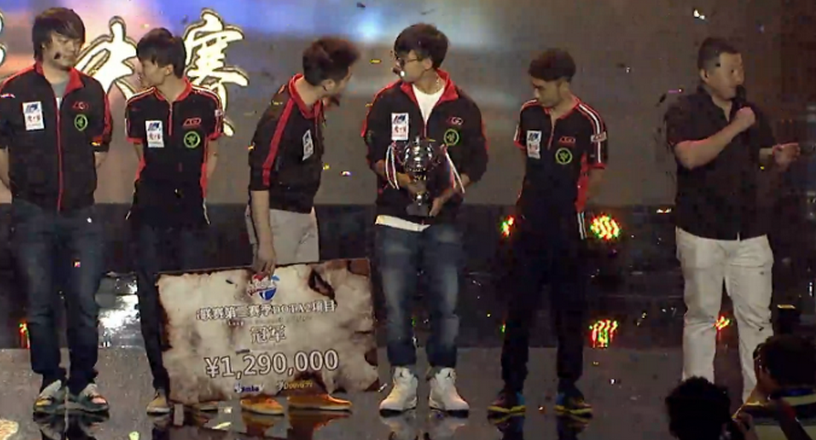 LGD Roster

Liu "Sylar" Jiajun


Lu "Maybe" Yao


Yao "Yao" Zhengzheng


Zhang "xiao8" Ning


Lei "MMY!" Zengrong
i-League Season 3 brackets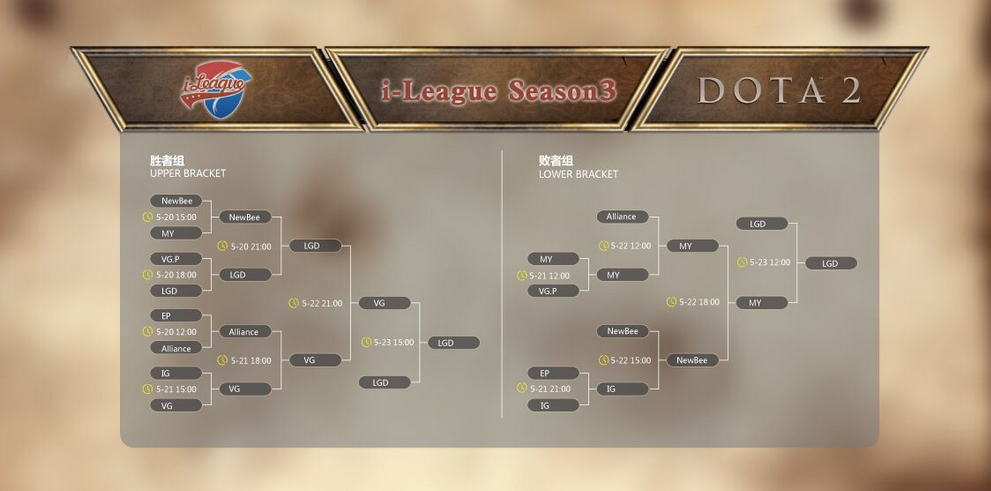 i-League Season 3 prize-pool distribution
1st place – $209,694LGD
2nd place – $83,877 ViCi Gaming
3rd place – $54,520 Team Malaysia
4th place – $29,357 Newbee
5th place – $14,679 Invictus Gaming
6th place – $14,679 Alliance
7th place – $6,291 ViCi Gaming Potential
8th place – $6,291 Energy Pacemakers