Chai "Mushi" Yee Fung has parted ways with Fnatic and longstanding teammate Chong Xin "Ohaiyo" Khoo. Most recently Mushi and Ohaiyo have been part of Fnatic since June 2015. Following a spate of poor results and an incomplete roster, the team was forced to withdraw from tournaments and failed to register in time for the Kiev Major. The team will continue to search for three replacement players as Ohaiyo and Yong-min "Febby" Kim will remain with the team. Mushi's plans are not yet set in stone.
DotA 2 | @Mushi_Chai to depart.

READ » https://t.co/rzsytXaFPd pic.twitter.com/tPzJ5lhwlC

— FNATIC (@FNATIC) February 6, 2017
In a bold and surprising move, Chai "Mushi" Yee Fung has parted ways with long time teammate and friend, Chong Xin "Ohaiyo" Khoo and Fnatic. The two players had been competing together on and off through the years, with their most recent stint being for Fnatic since June 2015.
We are so incredibly grateful to Mushi for all that he's given us: for each fan that he has drawn to Fnatic, for all he has done to grow the organisation in South East Asia, for the professional example that he sets every day for aspiring gamers around the world. For all of this, a simple 'thank-you' does not do justice. We of course hope to stay close, and who knows, maybe our journeys will come together once more. It goes without saying that we wish Mushi all the best going forward.
Chai "Mushi" Yee Fung and Chong Xin "Ohaiyo" Khoo have been a dynamic duo of the Dota 2 SEA scene for multiple years. Earning high respect and achievements together, their history is intertwined at almost every turn starting in 2013 with Team Orange. Their most recent partnership has lasted for two years – starting in March 2015 on EHOME.Malaysia which quickly turned into Team Malaysia before being picked up by Fnatic.
Anyone who has seen the two together can confirm their relationship is deep and personal, clearly evident in Valve's documentary series True Sight.
But for Mushi, who sources close to Dotablast have confided in, his goal is to be the best and to not drop any more major tournaments – something he did not see possible any longer happening under Fnatic, with his long term teammate, or even in the SEA region.
I would like to start off by saying thank you to Fnatic for supporting me all the way from when we had just started off, and all my teammates along the way for your support. I would also like to thank my fans for supporting me through thick and thin.
At the moment I'm leaving Fnatic as a player. I'm not sure about my future plans ahead yet, but I'm looking forward to explore into a new environment.
-Chai "Mushi" Yee Fung
Chai "Mushi" Yee Fung
Regarded as one of the best players in the world, Chai "Mushi" Yee Fung has been a professional Dota player since 2009.
In 2011, he joined Orange Esports. He temporarily retired from Dota in 2011, citing fatigue and poor results as the main reasons. Eventually, he slowly moved back to a managerial role and then finally rejoined Orange as a player once again. In 2012, the team was invited to participate in TI2, where they would end up taking 7th-8th place.
Mushi took some time off from Dota 2 but eventually came back to Orange when YamateH announced he was leaving the squad for Zenith.
In Malaysia, Mushi's home country, Dota 2 is a nationwide phenomenon. Almost 80% of the Malaysian teenage population plays Dota. In recent years the Malaysian Ministry of Youth and Sports has recognized eSport as an official national sport, listing it under the Sports Commission of Malaysia. Mushi played a big part in the process. eSports started to receive a lot of publicity throughout the nation when Mushi's former team, Orange eSports, placed third at The International 2013.
Although he led his team to a third place finish at TI3, Mushi walked away from Orange Esports, moved to China and joined Team DK during the post-TI3 roster shuffle.
When Mushi joined Team DK, the team's roster consisted of BurNIng, iceiceice, LaNm, MMY. Team DK finished 4th at The International 2014 and disbanded immediately after the event, when BurNIng and LaNm announced their retirement.
Mushi would return to the SEA Dota scene and join his former Orange teammates in team Titan. Together with Ohaiyo, he returned to Malaysia to create an EHOME Malaysian division with kYxY, Kecik Imba and JoHnNy. By March 26, they had already separated from the organization. However, the team continued to play together under the name of Team Malaysia, which quickly became one of the top Dota teams in the SouthEast Asian region. Without any sponsoring organization they were picked up by Fnatic, in June 2015.
Mushi is well-known for being one of the most versatile Dota 2 players in the world, being able to convincingly play almost all heroes in all role capacities. He is famous for his mid lane role and is arguably one of the best mid players of all times.
For the Malaysian player, it wasn't all smooth sailing from the beginning. In an interview aired by TV channel NTV7, Mushi opened up about the struggles he had to cope with early on in his career, talked about his teammates and TI5 hopes, and confessed he has "never had any ideal other than to play Dota well".
Fnatic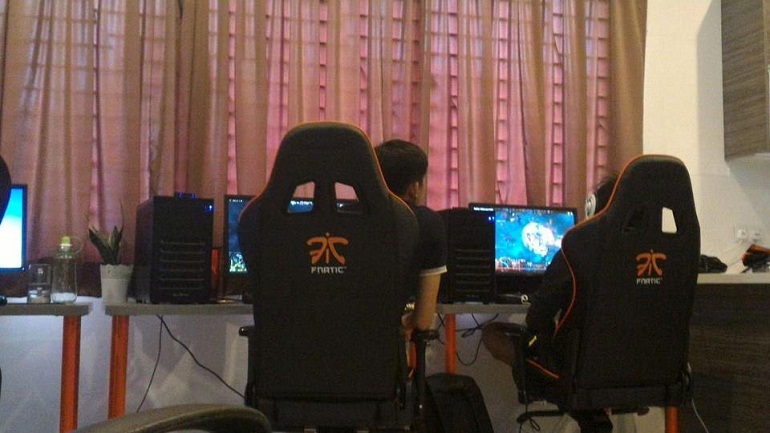 At the end of November Jimmy "DeMoN" Ho, Nico "eyyou" Barcelon and Marc Polo "Raven" Luis Fausto took their leave from the squad, following a sub-par season and limited achievements.
Joining Chai "Mushi" Yee Fung and Chong Xin "Ohaiyo" Khoo – both who have been on the team since June 2015 will be Korean support star Yong-min "Febby" Kim and newcomer Indonesian player Muhammad Rizky "Inyourdream" Anugrah were welcomed into the organization.
Inyourdream is a rookie, who only began his career this year with Fnatic being his first professional team. Known on the SEA servers and leaderboard the veteran players have recruited him as fresh blood to add life to the team.
However, after playing ESL One Genting 2017 with renowned legendary Malaysian player Ng "YamateH" Wei Poong as a stand-in for the event – the team took a brutal 7-8th place finish. YameteH parted ways with the team and Inyourdream was reported to return home to attend to family matters.
The team has since failed to complete their lineup and will be forced into the Kiev Major open qualifiers if they choose to participate at all.
They withdrew from DAC qualifiers less than a week ago
Fnatic roster

Chong Xin "Ohaiyo" Khoo


Yong-min "Febby" Kim