DAC 2017 qualifiers group stage has finished for the four regions – Americas, SEA, Europe and CIS. A total of 24 teams began the battle for the one spot per region for DAC 2017 LAN event in Shanghai, China March 28 – April 4th. Only four teams per region remain – only one team per region will be left standing by February 13th. SEA and Europe playoffs begin immediately on February 8, followed by Americas on February 10th and CIS starting on February 11th.
Starting on February 3, the DAC 2017 qualifiers kicked off with fierce competition and cut-throat action.
The Americas saw both compLexity and Team NP top the charts with perfect scores in their respective groups. Group A was fierce and started off with Peter "PPD" Dager's new team WanteD upset Digital Chaos 2:1 right out of the gate. They were unable to hold on to their momentum and strong start, eventually slipping into the third place slot and being eliminated. Team Onyx on the other hand in Group B clinched the second place spot with a commendable run for their debut, giving the opportunity to strut their stuff in the playoffs.
SEA played out as expected with Team Faceless and TnC Pro laying claim to the top place positions after a flawless run. Although given a prime opportunity to turn heads, Next Generation who replaced Fnatic were unable to seize the day and were eliminated. Execration continued to suffer from dismal results, unable to grab one victory at all.
The European qualifiers ushered in an impressive debut by B)ears as they didn't yield a single match to their opponents and surged over the competition. Na'Vi's new roster was unable to rise to the occasion while newly signed NiP and Ad Finem both appear to have some hurdles to overcome before the Kiev Major qualifiers.
The CIS region qualifiers will forever be ingrained in memory as the qualifiers of disaster for Virtus.Pro. The CIS stars who were expected to be at the top of pack fell victim to internet woes on more than one occasion. Their unfortunate circumstances resulted in two different default losses on their part which quickly eliminated them from contention and changed the outcome of Group A. After picking up a default win from the fiasco, Effect then toppled over Team Spirit to take a perfect record in the first place position. Team Empire came out ahead of Vega in Group B, with both teams still advancing as expected into the playoffs.
A total of 16 teams – four from each of the four corners – Americas, SEA, Europe and CIS will continue battling it out for only one spot allocated to each in the main event taking place in Shanghai, China March 28 – April 4th. The base prize pool of $500,000 is quite attractive – especially as the last iteration of DAC in 2015 reached a staggering $3,057,519.
At the end only four teams will join the four Chinese teams which already earned their battle scars and places – Invictus Gaming, iG.Vitality, VGJ and LGD.ForeverYoung.
Four teams – Evil Geniuses, OG, Wings Gaming and Newbee have been directly invited to participate.
DAC 2017 qualifiers playoff teams: SEA
Team Faceless
Mineski
WG.Unity
TnC Pro
DAC 2017 qualifiers playoff teams: CIS
Effect
Vega Squadron
Team Empire
Team Spirit
DAC 2017 qualifiers playoff teams: Europe
B)ears
Cloud 9
Team Liquid
Team Secret
DAC 2017 qualifiers playoff teams: Americas
compLexity
Team Onyx
Team NP
Digital Chaos
DAC 2017 qualifiers format
February 3-13
Eight teams
Divided into two groups of four teams
Best-of-three GSL format
Top two teams in each group advance to playoffs
Double elimination
Best-of-three series
Winning team qualifies for main event
DAC 2017 teams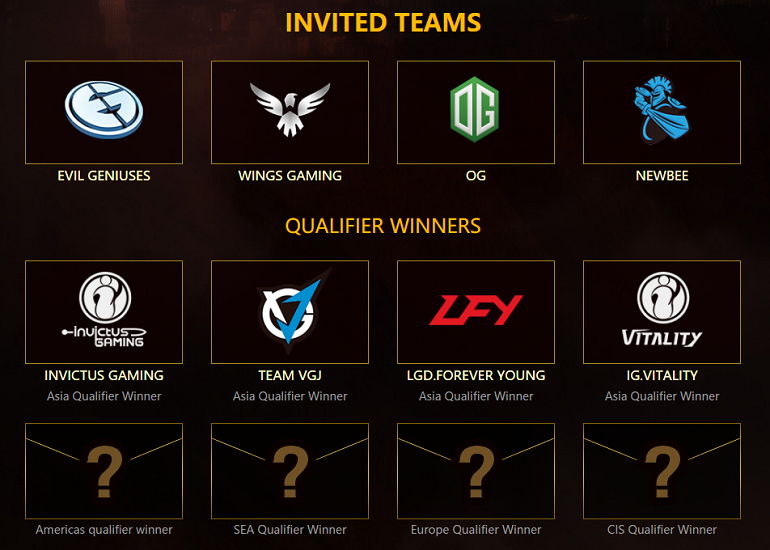 DAC 2017 prize pool
The starting prize pool amount is $500,000. It is expected that the prize pool will be supplemented with crowd funding as DAC 2015 was. The starting prize pool for DAC 2015 was set at $250,000 USD, but viewers are able to increase it via Compendium purchases. As of February 9th, 2015, the prize pool was $3,057,519.
1st place – $200,000 (40%)
2nd place – $75,000 (15%)
3rd place – $60,000 (12%)
4th place – $45,000 (9%)
5/6th place – $30,000 (6%)
7th/8th place – $15,000 (3%)
9-12th place – $7,500 (1.5%)