The DAC 2017 China Qualifiers results are as expected, with iG.Vitality and LGD.ForeverYoung assuming the two remaining qualifier spots for DAC 2017 for the end of March. Four teams had advanced to the playoffs following the group stage. The two victors had already shown remarkable performances and talent and cruised through the playoffs with relative ease. They will be joining Invictus Gaming and VGJ – both of whom secured their positions yesterday.
And with that, DAC's Chinese qualifiers come to a close. @LGDgaming.ForeverYoung and @invgaming.Vitality are going to LAN! pic.twitter.com/mVk6d17UrP

— Beyond the Summit (@BeyondTheSummit) January 15, 2017
The DAC 2017 China Qualifiers results are in!
After being edged out in the witching hour of the group stage – iG.Vitality returned today with a vengeance and to claim what they were denied by VGJ.
They were initially matched up against LGD.ForeverYoung – and fell to the lower brackets after a 2:1 defeat.
Rematching against ViCi Gaming, who had taken a win from them in the group stage, iG.Vitality bested them 2:1 to advance and dominate over CDEC Gaming 2:0. Their victory assured them the coveted spot they missed earlier.
Meanwhile, LGD.Forever had stepped up to the plate with vigor and knocked out iG.Vitality and then CDEC Gaming.
A total of twelve international teams will compete for the starting prize pool of $500,000 in Shanghai, China March 28 – April 4th – only two weeks before Kiev Major.
Four teams – Evil Geniuses, OG, Wings Gaming and Newbee have been directly invited to participate.
Invictus Gaming and VGJ had already secured their place in the LAN event yesterday by taking the top spots in their respective groups. Now joining them are iG.Vitality and LGD.ForeverYoung to round out the Chinese representation.
Four other teams will participate by way of regional qualifiers. One team from CIS, NA, SEA and EU will be lucky enough to join the ranks of teams for the prestigious event. Details, teams and dates on the regional qualifiers have yet to be disclosed.
The DAC 2017 China Qualifiers results
DAC 2017 teams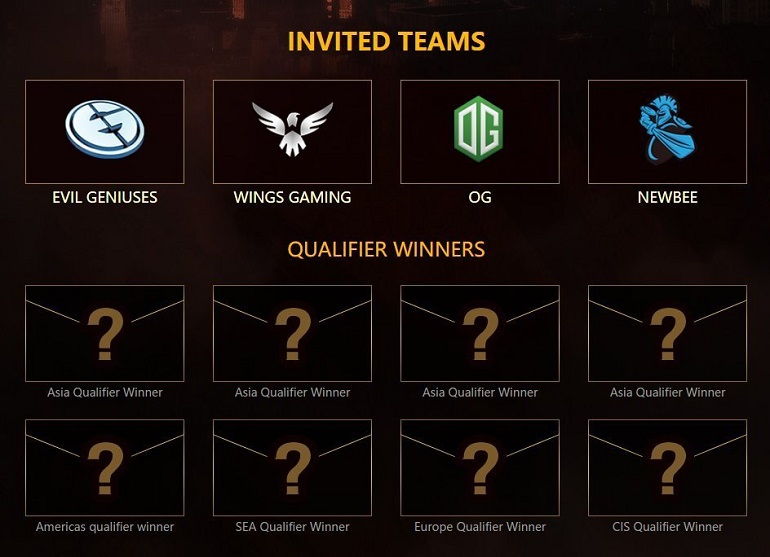 DAC 2017 prize pool
The starting prize pool amount is $500,000. It is expected that the prize pool will be supplemented with crowd funding as DAC 2015 was. The starting prize pool for DAC 2015 was set at $250,000 USD, but viewers are able to increase it via Compendium purchases. As of February 9th, 2015, the prize pool was $3,057,519.
1st place – $200,000 (40%)
2nd place – $75,000 (15%)
3rd place – $60,000 (12%)
4th place – $45,000 (9%)
5/6th place – $30,000 (6%)
7th/8th place – $15,000 (3%)
9-12th place – $7,500 (1.5%)