Invictus Gaming dominated the DAC 2017 China Qualifiers to take a direct route to the LAN in Shanghai, China at the end of March. The iconic organization almost had a double play but VGJ played their hearts out in the last series to edge out iG.Vitality and claim the second LAN spot. iG.Vitality, ViCi Gaming, CDEC and LGD.Forever Young still have another shot at securing one of two remaining spots as they will lock horns in the DAC 2017 China Qualifiers playoffs next.
DAC we are coming!

— Invictus Gaming (@invgaming) January 14, 2017
The DAC 2017 China Qualifiers began with a group stage, followed by playoffs. Two teams – Invictus Gaming and VGJ advanced directly to the LAN finals from the group stage. Two teams will emerge to the LAN finals through the playoffs.
Invictus Gaming were uncontested in their group. Their flawless 15 point/Five game win was a testament to their decision to stick together this season and continue to strive for better results. The team led by veteran player Xu "BurNIng" Zhilei has secured their place in one of the most prestigious tournaments in China this year.
The organization was poised to see both of their teams advance directly – until the last series and moments.
In a dramatic ending of the group stage and day, VGJ clamped down on ViCi Gaming.Potential to take both matches and claim victory to the series. On the other side of the coin, iG.Vitality struggled in their first game against ViCi Gaming. Their comeback for the second win of the series wasn't enough to retain their top position and their direct route to the LAN came to a grinding halt.
iG.Vitality will still have another shot at participating at DAC 2017, as one of four teams to compete in the DAC 2017 China Qualifiers playoffs next. They will face LGD.Forever Young first and eventually come face to face with CDEC Gaming and ViCi Gaming once again.
A total of twelve international teams will compete for the starting prize pool of $500,000 in Shanghai, China March 28 – April 4th – only two weeks before Kiev Major.
Four teams – Evil Geniuses, OG, Wings Gaming and Newbee have been directly invited to participate.
Invictus Gaming and VGJ have already secured their place in the LAN event.
Six other teams will participate by way of regional qualifiers. Two more teams from China will earn their place among them – one team from CIS, NA, SEA and EU will be lucky enough to join the ranks of teams for the prestigious event.
DAC 2017 China Qualifiers: Teams
Group A
CDEC Gaming
EHOME
FTD club A
LGD.Forever Young
Invictus Gaming
Newbee.Boss
Group B
iG Vitality
LGD Gaming
Vici Gaming
Team VGJ
Vici Gaming Potential
We Are Young
DAC 2017 China Qualifiers: Format
Group Stage
12 teams split into 2 round-robin groups
All matches are Best-of-two
3 points awarded to the winner, 1p for both teams, and 0p for loser in each match
Top team from each group qualify to LAN Finals directly
2nd and 3rd teams from each group advance to Playoffs
Playoffs
Four teams
Best-of-three matches
Double-elimination bracket
Top 2 teams qualify to LAN Finals
DAC 2017 teams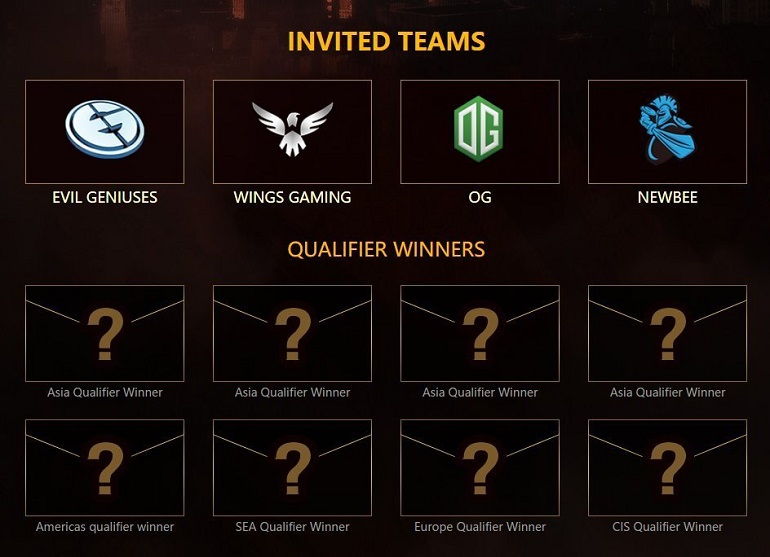 DAC 2017 prize pool
The starting prize pool amount is $500,000. It is expected that the prize pool will be supplemented with crowd funding as DAC 2015 was. The starting prize pool for DAC 2015 was set at $250,000 USD, but viewers are able to increase it via Compendium purchases. As of February 9th, 2015, the prize pool was $3,057,519.
1st place – $200,000 (40%)
2nd place – $75,000 (15%)
3rd place – $60,000 (12%)
4th place – $45,000 (9%)
5/6th place – $30,000 (6%)
7th/8th place – $15,000 (3%)
9-12th place – $7,500 (1.5%)
Feature Image courtesy of Minty Blue