Esportal Dota 2 League will conclude tonight with the grand finals series between CIS powerhouses Virtus.Pro and Team Empire. The finals are set to take place tonight, July 5th, at 17:00 CEST.
An all CIS grand finals showdown will take place tonight to conclude the long running Esportal Dota 2 League season. Virtus.Pro and Team Empire will face off in the best-of-five series to claim a championship title for the second time in just over one week. On June 24th, Virtus.Pro swept through Team Empire in the Egaming Bets show match.
This will be the second time that the two teams will square off in two months. Besides the show match, the two teams faced each other in May for the DreamLeague Season 3 group stage, when Virtus.Pro grabbed the series, 2:0.
Esportal Dota 2 League Playoffs
Virtus.Pro triumphed over 4ASC, 2:1, sending the Finnish team to the Lower Bracket.
In a surprising and impressive performance, Vega swept through Team Empire, sending them to the Lower Brackets to face 4ASC.
Virtus.Pro then conquered Vega with a 2:1 score sending them to the Lower Brackets semifinals.
4ASC were eliminated by Team Empire, 2:0, in the Lower Brackets
Team Empire then swept through Vega, 2:0, eliminating them from the event. The victory gave Team Empire the chance to advance to the Grand Finals.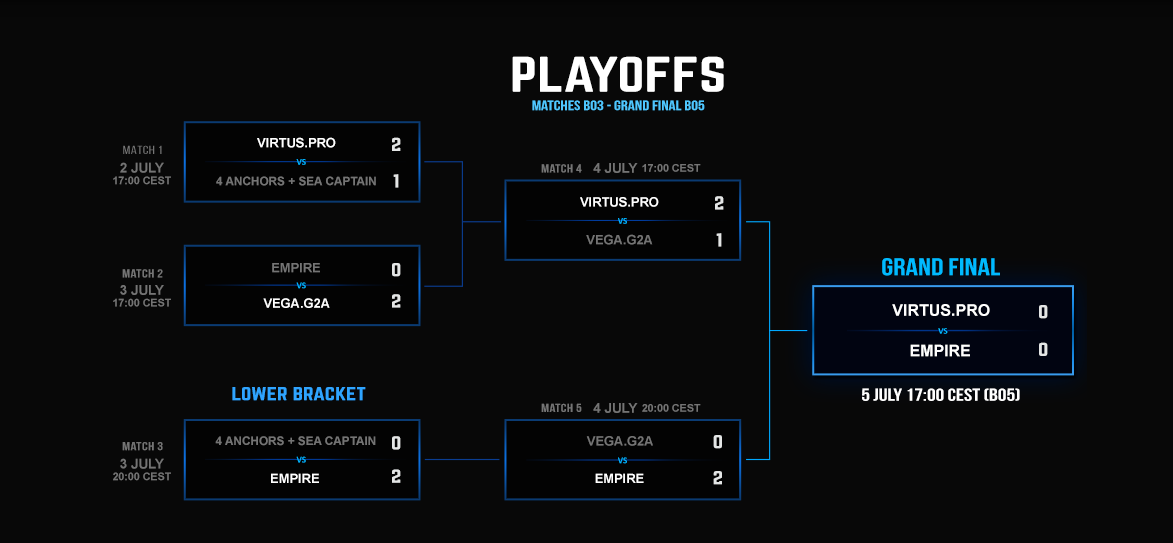 Esportal Dota 2 League broadcast
Coverage is provided by Beyond the Summit on the Esportal dedicated channel.
Esportal Dota 2 League prize pool
1st place: $32,000
2nd place: $16,000
3rd place: $4,800 – Vega Squadron
4th place: $4,800 – 4ASC

Virtus.Pro

In the last year, Virtus.Pro's roster has shifted significantly and many changes have occurred within the organization. With the current lineup, the team has been displaying stellar performances and are quickly rising to the top of fan favorites for TI5.

After taking first place at the ASUS Play it Cool invitational, the team had a sub-par performace at the MLG Pro League Finals, at X-Games, earlier this month, but then came back to claim the championship title in the DreamLeague Season 3 LAN finals.

The team swept through all of their opponents in the seeding phase for ESL One Frankfurt and secured the first place, thus taking the first choice in selecting an opponent for the first round of the main event. Virtus.Pro was later defeated by Evil Geniuses in the semifinals of the ESL One Frankfurt main event.

Virtus.Pro topped their group during the Esportal Dota 2 League group stage, after sweeping mYinsanity, 2:0, and Vega Squadron, 2:0, in the Upper Brackets.

Virtus.Pro roster

Ilya "Illidan" Pivcaev
Sergey "God" Bragin
Alexander "DkPhobos" Kucheria
Artem "fng" Barshak
Ilya "Lil" Ilyuk

Team Empire

Team Empire have been displaying topmost performances, placing in the top three in all major tournaments they have participated in since October 2014. They are currently attending their second bootcamp in recent months and are one of the top favorites for TI5.

The Russian team won the MLG Championships, in April, and the D2CL Season 5, in May.

Team Empire were supposed to attend the MLG Pro League LAN finals, in Texas, Austin, but announced their last minute withdrawal, due to visa issues. Most recently, they finished second in the MarsTV Dota 2 League, after being bested by Team Secret, 3:1, in the Grand Finals.

Team Empire won their group in the Esportal Dota 2 League, after two 2:0 series versus 4 Clovers & Lepricon and 4 Anchors and Sea Captain.

Team Empire roster

Airat "Silent" Gaziev
Roman "Resolut1on" Fominok
Maxim "yoky" Kim
Ilya "ALOHADANCE" Korobkin
Andrey "ALWAYSWANNAFLY" Bondarenko