The TI6 EG journey was long and winding. They had to take the Open Qualifiers road into the Main Event. EHOME didn't have it much easier either, coming into the Main Event from the Wild Card series. As the two teams collided yesterday, KeyArena in Seattle erupted with fervor. In a fantastic, unparalleled series, the home-turf heroes and reigning champions would continue their perfect run through the Upper Brackets, sweeping EHOME, 2:0. Evil Geniuses have reached Top 3 for the third consecutive time at The International.

UPDATE (August 13th):
TI6 final standings, updates and highlights – HERE
Reigning champions Evil Geniuses had to come back to Seattle the hard way – through the Open Qualifiers and then the Regional ones.
They found themselves caught in the middle of some disheartening roster changes, when Saahil "UniVeRsE" Arora decided to leave them for Team Secret – an intempestive move, that he later came to regret. They put any animosity behind them and brought Saahil back in.
Switching out Kurtis "Aui_2000" Ling and welcoming back Ludwig "zai" Wåhlberg after a year off from school, the team was four-fifths their TI5 lineup and was starting to look like a well-oiled machine again.
However, after three roster changes in seven months, the TI5 champions would find themselves in the precarious position of forfeiting their TI6 direct invite – having broken the roster lock rules.
Together they looked towards their first TI6 challenge, the NA Open Qualifiers.
They sailed through without a single loss and moved into the second challenge, the NA Regional Qualifiers.
Topping their group with a 5:1 record, Evil Geniuses gained the coveted spot into the TI6 Main Event. They had reclaimed what was originally taken for granted as theirs.
"I felt it was the best thing for us as a new team," said veteran player and longtime Evil Geniuses member, Clinton "Fear" Loomis.


Their synergy is definitely back in full swing. We wouldn't want to get ahead of ourselves, but EG are looking better than last year. They certainly have what it takes to get their names written on the Aegis of Champions for the second time.
They had a solid group stage run, taking up residency in the second spot of their group, with nine points total. Their second day yielded a perfect run – not a single game dropped. Their surprising 2:0 loss to Alliance in their final group stage series pushed them into the second place seed, but still allowed them to slide into the Upper Brackets for the main event.
So far, EG's record in the Upper Brackets is flawless.
They took on TI4 champions Newbee – one of The International 6 favorites – and knocked them out of the ballpark with a 2:0 sweep.
Their spectacular 2:0 victory over EHOME brings them one step closer to claiming another historical moment in TI history – the elusive two-time TI championship achievement.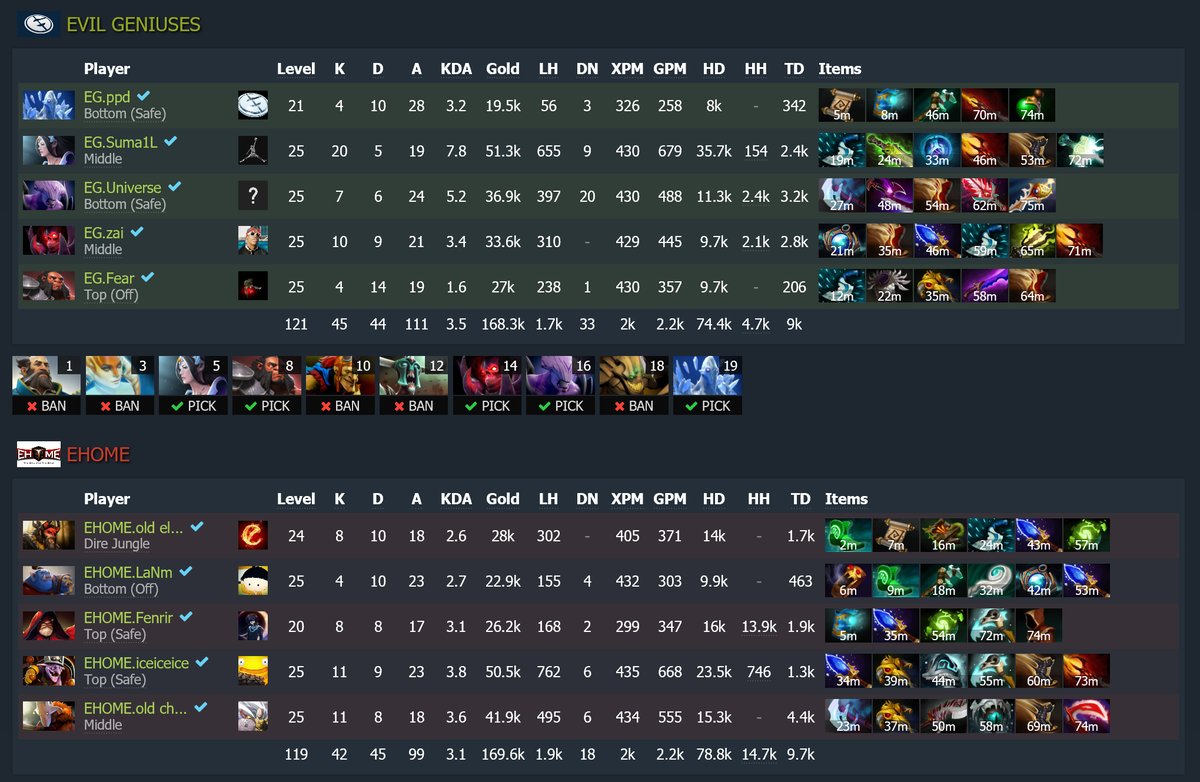 Evil Geniuses needed seven minutes to get themselves on the board for the first game against EHOME. The Chinese were steadfast and undaunted – armed with Daryl Koh "iceiceice" Pei Xiang's already dominating Timbersaw. The North American's prodigy player – Syed Sumail "SumaiL" Hassan, would punish the Chinese team for their over-extension and help to pave the way for EG's rise.
Sensing EHOME's weakness, EG went on the offensive and started to take map control and push into the towers. EHOME struck back, hitting time and time again with well executed initiations, but EG's coordination and communication continued to be on point. One hour in, the teams were now even and the action couldn't be more thrilling.
EHOME managed to secure Mega Creeps but then, in an unbelievable show of strength, EG would create another historic moment: the first Mega Creep comeback at a Valve event.
Flawless team coordination, good decision making coming out of PPD and Fear, great clutch saves from zai, UniVeRsE's great itemization and execution, as well as sumaiL's superb plays sealed the deal for EG after 75 minutes of heart-stopping battles.
EG TI6 EG TI6 EG TI6 EG TI6 EG TI6 EG TI6
EG TI6 EG TI6 EG TI6 EG TI6 EG TI6 EG TI6
Going into the second match of the series, the atmosphere was electrifying and the reigning champions were without a doubt on fire.
Evil Geniuses took control of the map and lanes on both sides. EHOME remained focused and would start to find their kills and place on the map.
A smoke initiation turned into a bloodbath would give way to Roshan and continue to showcase UniVeRsE's exceptional, game winning Faceless Void. By 38 minutes in, EHOME called "GG" to put an end to a rather one-sided match.
EG TI6 EG TI6 EG TI6 EG TI6 EG TI6 EG TI6
EG TI6 EG TI6 EG TI6 EG TI6 EG TI6 EG TI6
With their second victory, Evil Geniuses secured at least $2,000,000 and a Top 3 placement. This is the third consecutive year that Evil Geniuses have placed Top 3 at The International.
EHOME will face either TnC or Digital Chaos in the Lower Brackets, while EG have advanced into the Upper Bracket Finals to face Wings – a match-up reminiscent of last year's EG vs. CDEC.

TI6 EG: Taking the bad with the good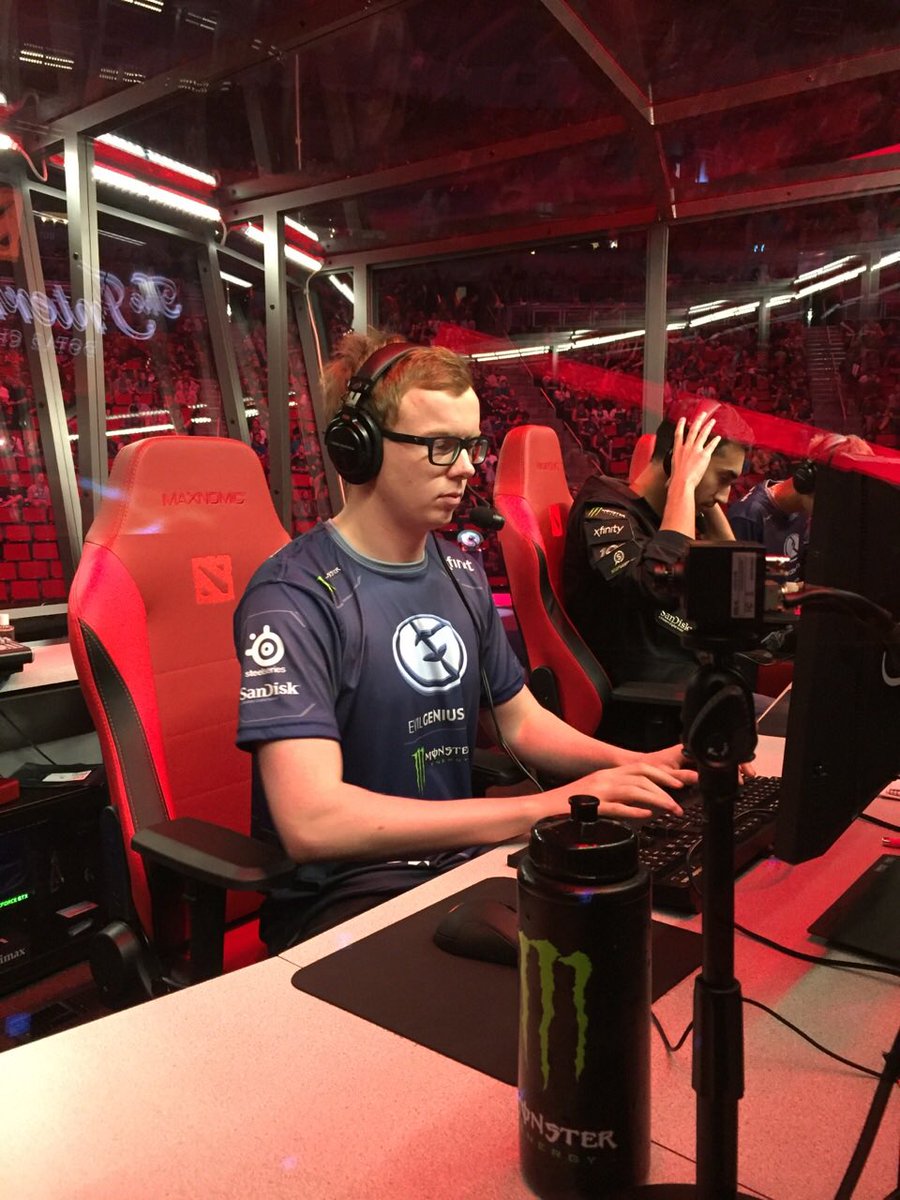 EG TI6 EG TI6 EG TI6 EG TI6 EG TI6 EG TI6
In August, Evil Geniuses managed to turn the odds to their favor and claim the coveted TI5 Aegis of Champions and $6.6 million in prize money, thus becoming the first American team to win The International.
In a shocking move almost immediately following their historic TI5 championship win, Evil Geniuses removed Kurtis "Aui_2000" Ling from the lineup. Welcoming back Artour "Arteezy" Babaev, they then shifted Clinton "Fear" Loomis to the support role.
Despite the fact that they started off the fall season on the wrong foot, being eliminated in the very first round of the ESL One New York, they went on to take second place at the MLG World Finals and third at the Frankfurt Major and Shanghai Major.
The results were just not good enough, or perhaps the grass was greener on the Team Secret side of the fence. Both Saahil "UNiVeRsE" Arora and Artour "Arteezy" Babaev left the team before the rosters locked in for the next big event – the Manila Major.
After their unanticipated departure to Team Secret towards the last days of the team registration period, the future of Evil Geniuses seemed uncertain.
They welcomed back both Kurtis "Aui_2000" Ling and Sam "BuLba" Sosale to the organization, on March 26th.
EG TI6 EG TI6 EG TI6 EG TI6 EG TI6 EG TI6
EG TI6 EG TI6 EG TI6 EG TI6 EG TI6 EG TI6
The new roster had a shaky start but overall commendable performances in the next three months. Unfortunately, it wasn't enough to secure them a decent place at the Manila Major, where they fell into the 13 – 16th rank. Roster changes would strike again.
After Team Secret announced Saahil "UNiVeRsE" Arora's unexpected departure on June 9th – during the Manila Major main event, Evil Geniuses officially confirmed his return. At the same time, Kurtis "Aui_2000" Ling was let go and replaced with Ludwig "zai" Wåhlberg.
The TI5 championship team forfeited their direct invite for The International following their roster changes – an unprecedented move for a TI title-holder to be taking the open qualifier road. They eventually fought their way back into the big event after taking the open qualifiers and regional qualifiers by storm.
Evil Geniuses roster:

Clinton "Fear" Loomis


Syed Sumail "Suma1L" Hassan


Saahil "UNiVeRsE" Arora


Ludwig "zai" Wåhlberg


Peter "ppd" Dager
TI6 EG TI6 EG TI6 EG TI6 EG TI6 EG
TI6 EHOME: The unproven force
TI6 EG TI6 EG TI6 EG TI6 EG TI6 EG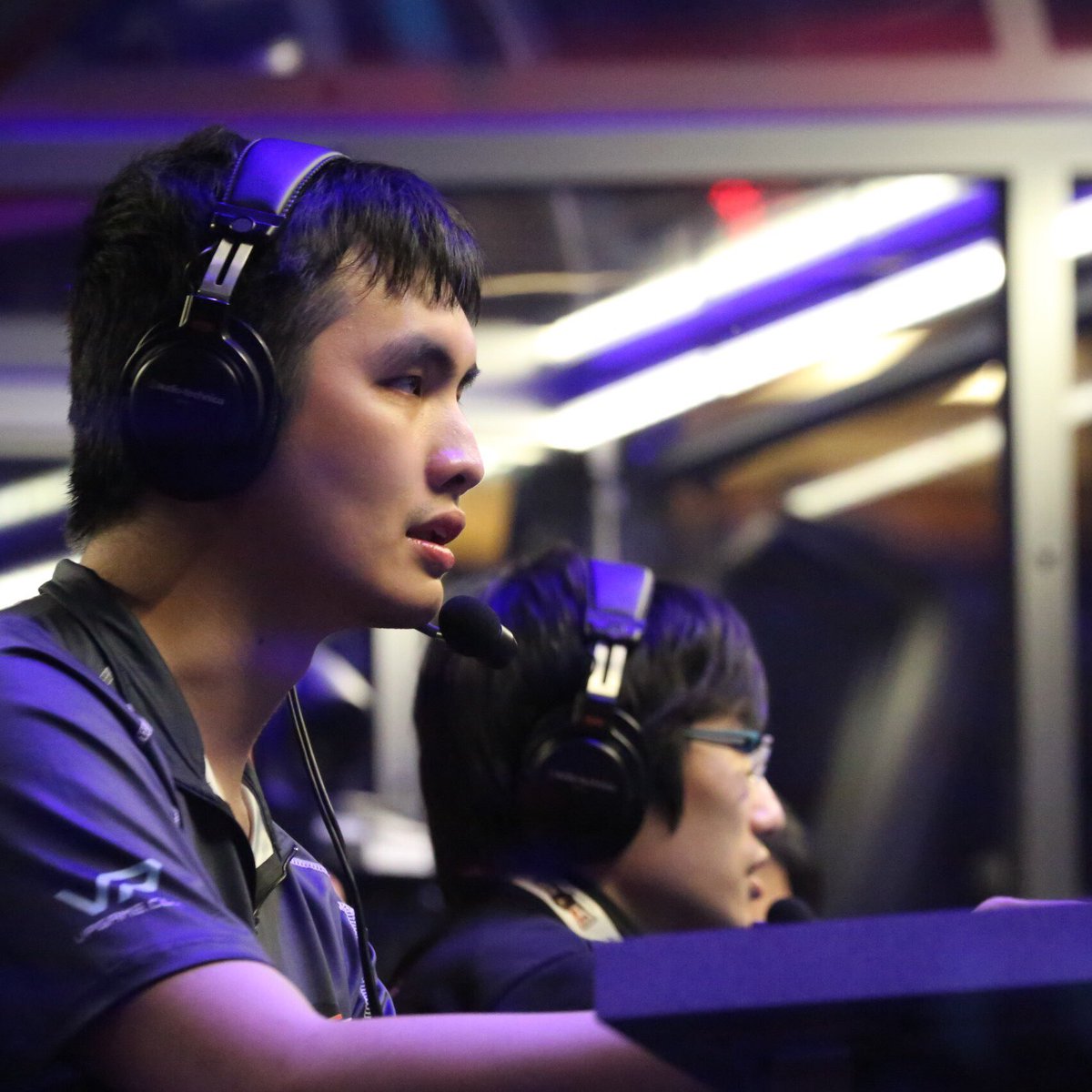 EG TI6 EG TI6 EG TI6 EG TI6 EG TI6 EG TI6
Daryl "iceiceice" Koh Pei Xiang and Lu "Fenrir" Chao, two former Vici Gaming players, joined the EHOME roster in March. Zhang "LaNm" Zhicheng switched to the carry position and iceiceice started playing support alongside Fenrir. The changes were drastic, but the Chinese team was set on making big improvements coming into the new season after a 9th-12th place finish at the Shanghai Major.
After being invited to participate in ESL One Manila, the newly reformed squad took a disappointing 7th-8th place. They also missed out on the Manila Major.
Several more qualifiers and a 9th-16th place finish at G-League 2016, the once Chinese giants were attempting to claw their way back up from the trenches.
EG TI6 EG TI6 EG TI6 EG TI6 EG
EG TI6 EG TI6 EG TI6 EG TI6 EG
Their journey through the TI6 Chinese Regional Qualifiers was fairly smooth. They slid into the second place spot during the group stage with a tied 7:2 record with Wings Gaming – losing the first place seed in the tiebreaker.
They first swept through ViCi Gaming and ViCi Gaming.Reborn to seize a place in the grand finals. ViCi Gaming.Reborn emerged victorious from the Lower Bracket Finals and challenged EHOME once again – defeating them, 3:2. EHOME had to secure a main event spot in the Wild Card series.
EHOME roster:

Daryl "iceiceice" Koh


Wang "old chicken" Zhiyong


Ren "eLeVeN" Yangwei


Lu "Fenrir" Chao


Zhang "LaNm" Zhicheng
TI6 EG TI6 EG TI6 EG TI6 EG
The International 6
EG TI6 EG TI6 EG TI6 EG TI6 EG
The International is the annual Dota 2 tournament hosted by Valve Corporation. The International made its debut in August 2011, with a total prize pool of $1.6 million.
Last year's event, The International 5, took place between August 3rd-8th at the KeyArena – a multi-purpose arena in Seattle, Washington, with a maximum capacity of over 17,000. The Dota 2 community contributed with a staggering $16,829,613 to the $1.6 million base prize pool, making the total prize fund of almost $18,429,613 million the largest in esports history at that time. The International titleholder is North-American team Evil Geniuses.
This year's main event will take place at the KeyArena in Seattle, Washington, between August 8th-13th.
The International 6 prize pool has outpaced The International 5 one from the very beginning. As of July 27th, the total TI6 prize pool has already broken last year's record, thus becoming the largest in esports history. The International 6 winners will walk away with close to $9 million.
TI6 EG TI6 EG TI6 EG TI6 EG
TI6 EG TI6 EG TI6 EG TI6 EG