DAC 2017 Chinese Qualifiers are getting ready to kick off with twelve of the best teams from China. Newbee.Boss secured their place in the qualifiers after thriving in the additional pre-qualifier featuring four teams. Four teams will advance to the DAC 2017 LAN Finals to be held in April. The DAC 2017 Chinese Qualifiers will take place from January 13-15th. Details on the other regional qualifiers have not yet been released.
DAC 2017 China Qualifiers kick off tomorrow. 4 teams qualify for the Main Event. #DAC2017 pic.twitter.com/3NXAcElrR9

— Wykrhm Reddy (@wykrhm) January 12, 2017
DAC 2017 Chinese Qualifiers will feature 12 of China's top teams competing for one of four spots for DAC 2017.
With BraveHeart giving up their invitation, an additional pre-qualifier was held between four teams – Rush B, Avalon Club, CAVALRY and Newbee.Boss – to determine the team to assume BraveHeart's spot.
Newbee.Boss claimed the spot as uncontested champions of the pre-qualifier, taking down CAVALRY and Rush B 2:0.
The event will begin with a group stage, followed by playoffs. Two teams will advance directly to the LAN finals from the group stage, two teams will emerge to the LAN finals through the playoffs.
A total of twelve international teams will compete for the starting prize pool of $500,000 in Shanghai, China March 28 – April 4th – only two weeks before Kiev Major.
Four teams – Evil Geniuses, OG, Wings Gaming and Newbee have been directly invited to participate.
Eight other teams will participate by way of regional qualifiers. One team from CIS, NA, SEA and EU will be lucky enough to join the ranks of teams for the prestigious event. Four teams from China will earn their place among them as well.
DAC 2017 Chinese Qualifiers: Teams
Group A
CDEC Gaming
EHOME
FTD club A
LGD.Forever Young
Invictus Gaming
Newbee.Boss
Group B
iG Vitality
LGD Gaming
Vici Gaming
Team VGJ
Vici Gaming Potential
We Are Young
DAC 2017 Chinese Qualifiers: Format
Additional Pre-Qualifier
Four teams
Best-of-three matches
Single-elimination bracket
Top team qualifies to the Group Stage
Group Stage
12 teams split into 2 round-robin groups
All matches are Best-of-two
3 points awarded to the winner, 1p for both teams, and 0p for loser in each match
Top team from each group qualify to LAN Finals directly
2nd and 3rd teams from each group advance to Playoffs
Playoffs
Four teams
Best-of-three matches
Double-elimination bracket
Top 2 teams qualify to LAN Finals
DAC 2017 teams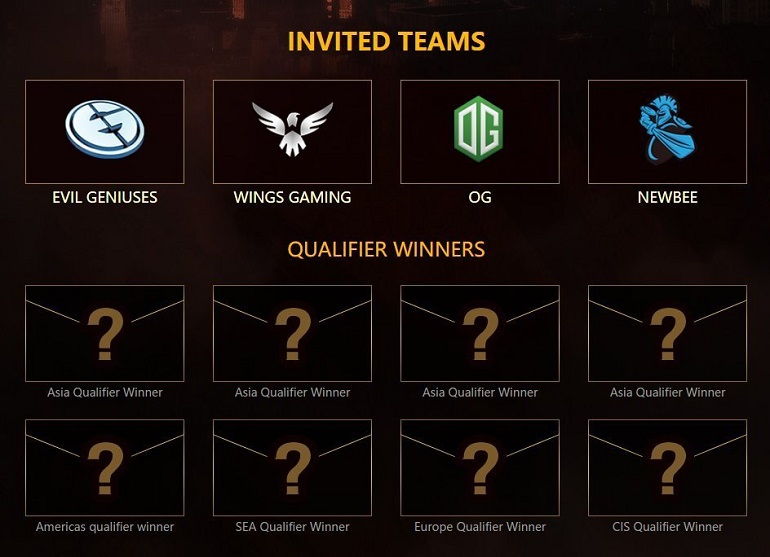 DAC 2017 prize pool
The starting prize pool amount is $500,000. It is expected that the prize pool will be supplemented with crowd funding as DAC 2015 was. The starting prize pool for DAC 2015 was set at $250,000 USD, but viewers are able to increase it via Compendium purchases. As of February 9th, 2015, the prize pool was $3,057,519.
1st place – $200,000 (40%)
2nd place – $75,000 (15%)
3rd place – $60,000 (12%)
4th place – $45,000 (9%)
5/6th place – $30,000 (6%)
7th/8th place – $15,000 (3%)
9-12th place – $7,500 (1.5%)