Fan "rOtk" Bai has reported that he will be parting ways with LGD Gaming for the next major and TI6. ROTK went to LGD Gaming shortly after The International 5, joining along with Liang "DDC" Faming to replace Zhang "xiao8" Ning and Yao "Yao" Zhengzheng.
Today, Fan "rOtk" Bai took to his Weibo page (Chinese social network) to announce to fans that he would be parting ways with LGD. In his Weibo statement, rOtk reported that he would be continuing with his career and plans to reunite with old friends for the next major and TI6.
I will regroup with my old friends, and restart for next Major and TI. Sorry to LGD fans and all Chinese Dota fans, most of you want me to retire, but my fire of motivation on Dota hasnt extincted yet.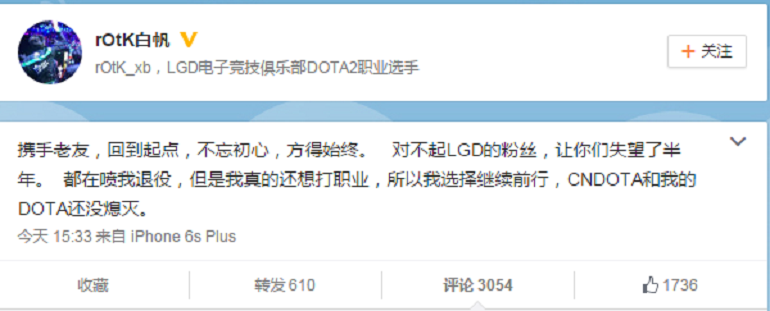 The statement has been confirmed by LGD manager. There has been no word on who will replace the veteran player or which team he will join.
rOtk joined LGD Gaming shortly after TI5, on August 26th along with EHOME teammate Liang "DDC" Faming
Since he joined the team the team has had lackluster performances since, taking seventh at MLG World Finals and eighth at the Frankfurt Major. They were not directly invited to the Shanghai Major and had to qualify through the Chinese regional qualifiers. They claimed their spot in the second Major after decisively taking down Invictus Gaming.Vitality, 2:0, in the Shanghai Major Qualifiers China Upper Brackets.
LGD Gaming went on to take second place at WCA 2015 and 3rd-4th at StarLadder iLeague.They ended their run at the Shanghai Major in the brutal best-of-one elimination series in the Lower Brackets after losing to compLexity gaming.
LGD Gaming roster:

Liu "Sylar" Jiajun


Lu "Maybe" Yao


Lei "MMY!" Zengrong


Liang "DDC" Faming
Fan "rOtk" Bai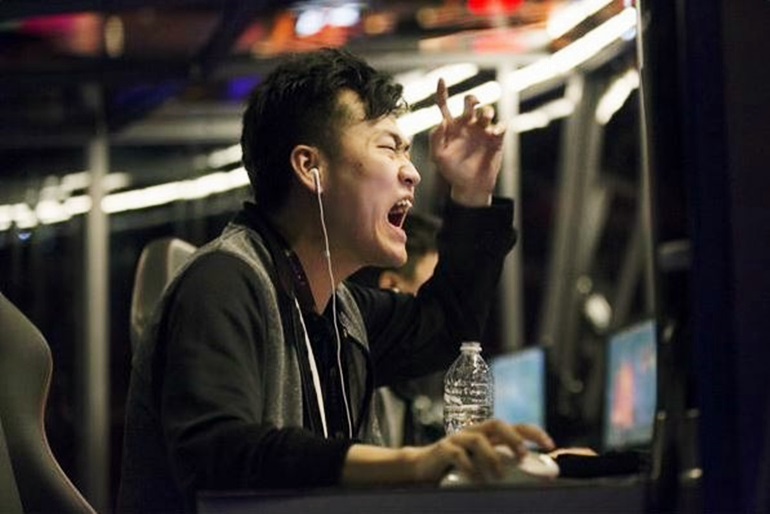 Bai is one of the riskiest players, sometimes benefiting his team incredibly. He has a vast amount of experience and fame, having started his career with Team DK in August 2011. He remained on the team until 2013. Following TI3, he joined ViCi Gaming where took the captain role and the team went on to win RaidCall EMS One Fall Season Finals, their first premier championship. He continued to lead his team to numerous top three finishes, including second place at The International 4.
Following TI4, ROtk announced his retirement, together with Xu "BurNIng" Zhilei. The two Chinese stars would move on to casting and promoting Dota 2 in China together, however, in December 2014, rOtk put together Big God, a team that was made up of players retired from Team DK, Newbee, and Vici Gaming, to participate in the i-League. In March 15, 2015, during the Great Chinese Reshuffle, Bai joined EHOME, along with Big God teammate LaNm.
rOtk has played in TI2 (fourth place), TI3 (sixth place) and TI4 (second place).
Read rOtk's TI5 player profile: rOtk: "I feel our scene lacks fresh blood"