compLexity saw LGD eliminated from the Shanghai Major, in the second round of the main event's Lower Brackets. LGD was the sixth squad to be knocked out of contention. compLexity will continue in the Lower Brackets, tomorrow. The Shanghai Major elimination series will continue today with OG vs. Virtus.Pro at 13:00 CET.
LGD are eliminated. coL advance to Top 8. Newbee remains China's only hope. #ShanghaiMajor

— Wykrhm Reddy (@wykrhm) March 3, 2016
compLexity Gaming destroyed one of the favorite Chinese teams in the tournament. The North American team was able to outplay LGD with fantastic plays and decision making. compLexity was able to continue to put more and more pressure on the Chinese team and bring them to defeat with mega creeps at 46 minutes.
Despite having 930 pro-games as an organization, @LGDgaming has never made a comeback after the enemy has secured megacreeps.

— Ben Steenhuisen (@NoxvilleZA) March 3, 2016
The Shanghai Major Main Event continued earlier today with the Upper Brackets matches between Team Secret and OG, followed by Evil Geniuses vs. Fnatic. Team Secret and Evil Geniuses continue through the Upper Brackets, while OG and Fnatic have dropped to the Lower Brackets best-of-one series scheduled for later today.
EHOME were the fifth team to be ousted from the Shanghai Major. Team Archon, Team Spirit, ViCi Gaming, and CDEC were dropped from the tournament, yesterday.
compLexity Gaming saw LGD eliminated as the sixth team to be dropped from Shanghai Major
Two more teams will be eliminated today. OG, Virtus.Pro, Fnatic and Newbee will compete in the next best-of-one elimination series.
Shanghai Major elimination: Lower Brackets
LGD Gaming vs. compLexity Gaming
The elimination series between these two teams was filled with back and forth action for the early-mid game. Once compLexity Gaming were able to swing the aegis and secure a team wipe in mid game, they were able to start bringing a significant advantage in their direction. Rasmus "Chessie" Blomdin was a beast on Lone Druid, having only died once and Kyle "swindlemelonzz" Freedman's Tide Hunter was instrumental in team fights.
Shanghai Major results: LGD 0:1 compLexity. compLexity Gaming continues in the Lower Brackets, after getting LGD eliminated from the event.
The Shanghai Major main event
The Shanghai Major main event will take place between March 2nd-6th, at the Mercedes-Benz Arena, in Shanghai, China. Viewers and visitors are in for dawn to dusk action. The Grand Finals will take place on Sunday, March 6th.
Shanghai Major brackets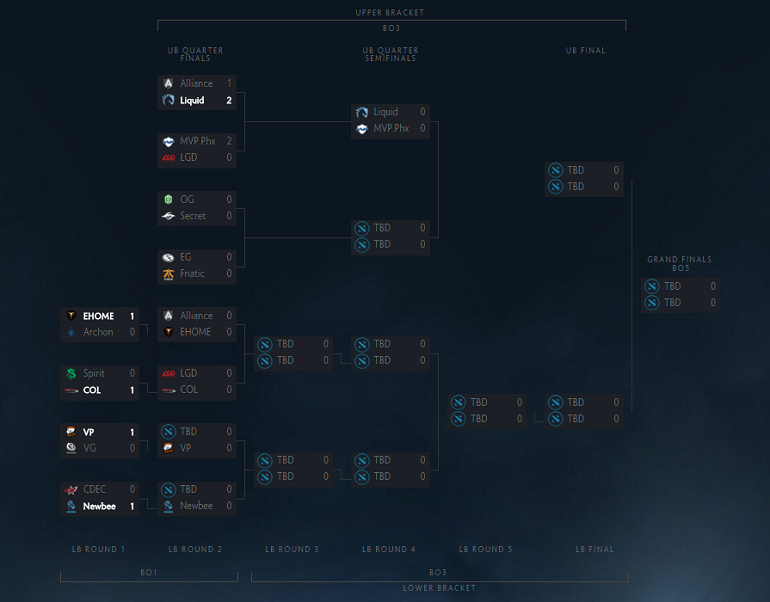 Shanghai Major main event schedule – Day 2
Thursday, March 3rd, starting at 03:00 CET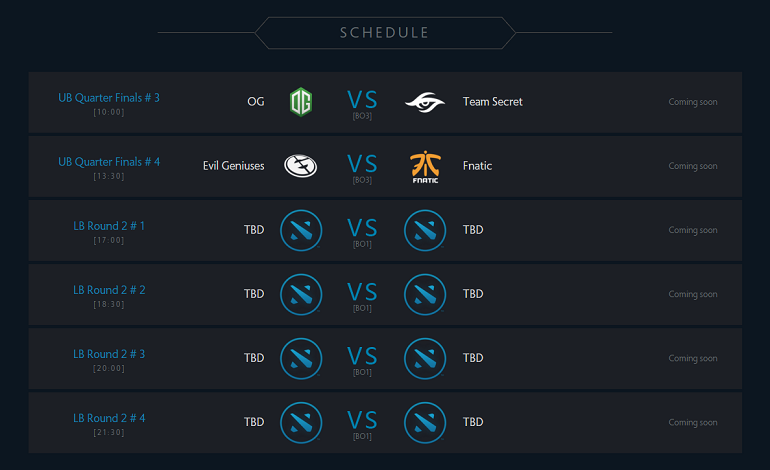 Format
Sixteen teams will play a double-elimination bracket.
Eight teams (top two teams of each of the four groups) will start the main event in the Upper Bracket. Eight teams (bottom two teams of each of the four groups) will start the main event in the Lower Bracket.
All the Upper Bracket match-ups will be best-of-three series.
The first two rounds of the Lower Bracket matches will be best-of-one elimination series. The following rounds will be best-of-three elimination series.
The Shanghai Dota Major Grand Finals will be best-of-five series, with no winners' advantage.
Shanghai Dota Major streams