Rave Dota is returning to the competitive scene after the Frankfurt Major. The organization has been on a hiatus since late June 2015 and is now asking regional players to apply for open slots.
Rave 2.0 will be released after the Frankfurt Major. https://t.co/nVg56CKXbV

— Rave-Dota (@RaveDota2) October 28, 2015
Rave Dota have announced on their Facebook page, earlier today, that the organization is anticipating their return to the competitive scene and is still in search of two or three more players to join the team.
As part of their dedication to developing and growing local talent, Rave Dota is encouraging young players to apply for the available slots within the team.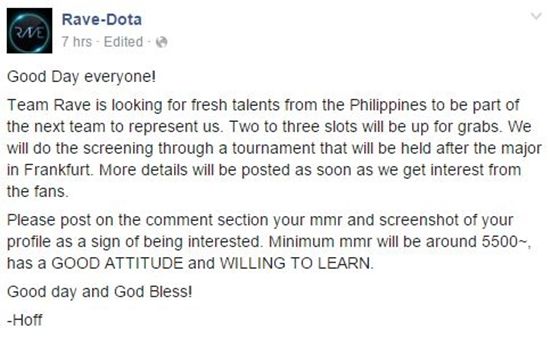 Back in June, Rave Dota announced that the organization would be inactive for a period of time.
To all our fans, Rave will be 'Reborn' in a few months. This inactivity will lead to a better Rave to continue the #RAVEvolution. Let's be patient and continue the support. God Bless!
Rave Dota roster changes timeline
TI5 SEA qualifiers
Despite their strong performances in the SEA region and in international tournaments, Rave Dota disbanded soon after they were eliminated, 0:2, by MVP.Phoenix in the Lower Bracket finals of the TI5 SEA qualifiers.
Jeyo and Ninjaboogie status
Earlier in June, Mineski.net revealed that the team had registered for one of their open qualifiers with a new roster that included three of the original members – Ryo "ryOyr" Hasegawa, Djardel "chrissy" Jicko b. Mampusti, Mark "Cast" Pilar, plus two other players.
The released information prompted Team Rave's confirmation on the roster changes. The organization indicated that Ninjaboogie has retired from competitive gaming and Jeyo has returned to Canada for some time.
Ninjaboogie then released a contradictory statement regarding his status.
Departure of Cast, Chrissy and ryOyr
Six days later, Mark "cast" Pilar made an announcement, stating that the Rave Dota trio had parted ways with the organization to form their own new team.
At the end of August, with the start of the new roster lock, it was confirmed that Djardel "Chrissy/DJ" Mampusti was an official member of Fnatic's new squad.
At the same time, Ryo "ryOyr" Hasegawa joined Mineski and Jio "Jeyo" Madayag joined NA team FIRE, which was picked up by Team Archon.
Rave Dota organization
Rave Dota is a South Korean organization. Their latest roster was comprised of Filipino players, who were supported by the organization and moved from the Philippines to a team house in South Korea, in an effort to provide them with better conditions to train and compete in, as the Philippines is widely known to have one of the worst Internet conditions in the Southeast Asian region.