Rave potential roster changes revealed as the team registers for Mineski's MPGL7 qualifier without Jio "Jeyo" Madayag and Michael "ninjaboogie" Ross.
Mineski event organizers exposed the potential roster change when the team signed up for their upcoming MPGL Season 7 qualifiers with a different roster.
The upcoming event also requires that the team play within the country, therefore also indicating that Rave will return to the Philippines instead of staying in South Korea.
Rave's roster for the MPGL7 Online Qualifiers

Mark "Cast" Pilar


Djardel "chrissy" Jicko b. Mampusti


Ryo "ryOyr" Hasegawa


Marvin "Boombacs" Rushton


Ralph "RR" Peñano
Conflicting statements
Team Rave has confirmed the roster change on their Facebook page and indicated that Ninjaboogie has retired from competitive gaming and Jeyo has returned to Canada for some time.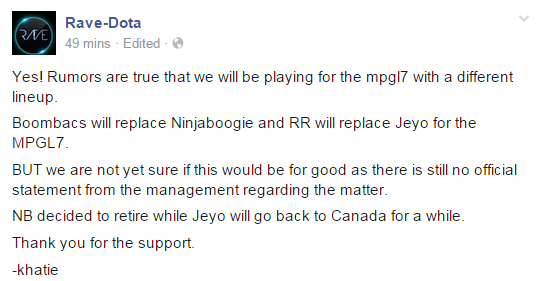 Ninjaboogie released a contradictory statement regarding his status:

Team Rave
The team had its share of hardships and successes through the year.
Their performances have been solid and steady, including an impressive show of skill during the Dota 2 Asia Championships, where they placed 5th-67th, after defeating HellRaisers and Invictus Gaming.
They also placed third-fourth at i-League Season 1 and first in the Korean Dota 2 League Season 4 and the MPGL SEA Grand Finals Season 6.
Team Rave had qualified for the MLG Pro League in Columbus, but were unable to attend due to visa issues. They were also forced to withdraw from the StarLadder StarSeries 12 tournament, for the same reasons.
When the team was not directly invited to attend TI5, the community had strong reactions.
Until now, the team had made only one change in their lineup since their very inception, in May 2014, when Pyeong "pYung" Kwon moved to coaching the team and was replaced by Michael "ninjaboogie" Ross.
The team has also won the hearts and respect of fans around the world, due to their positive attitude. When confronted with various visa issues, the team publicly acknowledged the situation and reported it, however maintained a level of professionalism while expressing their frustration. They received public support from national media and government, leading to a meeting with government officials to collaborate on the matter and find a solution.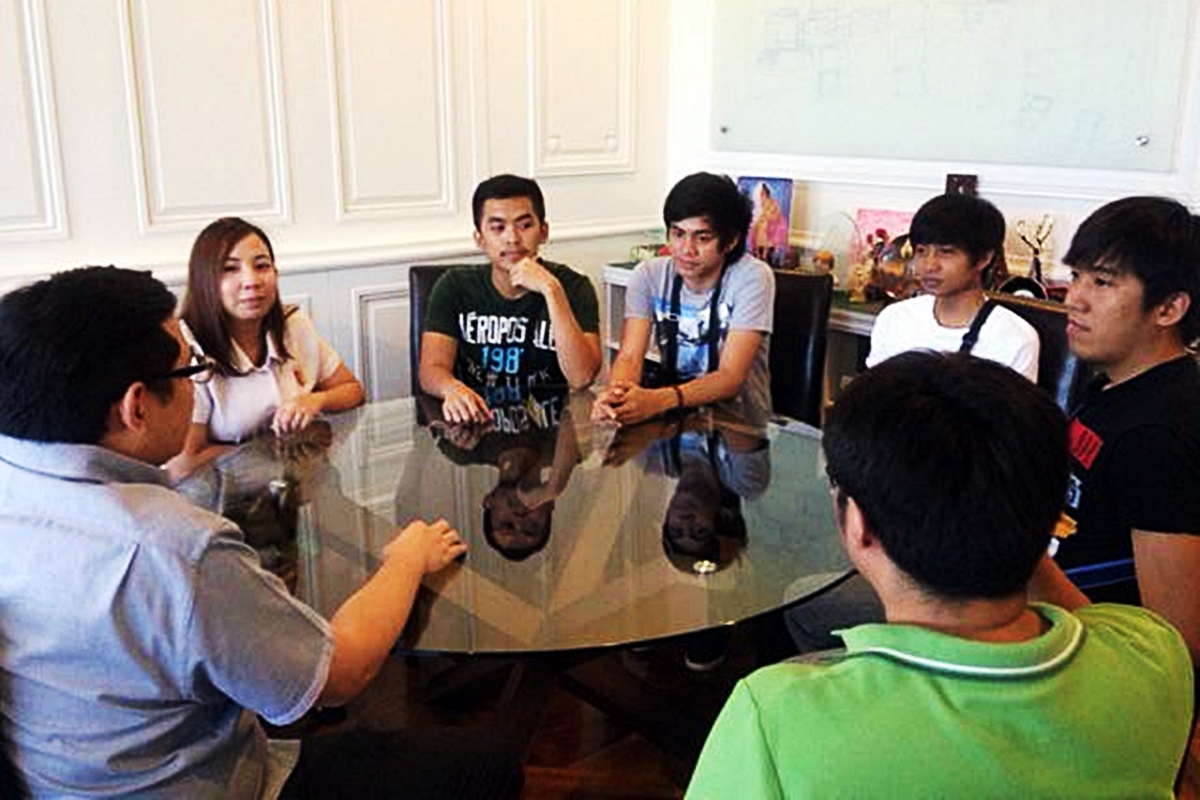 Rave was eliminated, 0:2, by MVP.Phoenix in the Lower Bracket finals of the TI5 SEA qualifier.
Rave TI5 Qualifier roster

Jio "Jeyo" Madayag


Mark "Cast" Pilar


Djardel "chrissy" Jicko b. Mampusti


Ryo "ryOyr" Hasegawa


Michael "ninjaboogie" Ross