The Korean organization, Rave Dota, has confirmed that their former player, Djardel "Chrissy" Mampusti, has joined Fnatic. Fnatic's Dota 2 squad was recently relocated to Malaysia and is currently in the process of being reformed, consisting of only two current members – Chai "Mushi" Yee Fun and Chong "Ohaiyo" Xin Khoo.
Rave Dota broke the news on their Facebook page, when they congratulated Djardel "Chrissy" Mampusti for his new team.
Last week, Fnatic announced that Lee "kYxY" Kong Yang, Siong "JoHnNy" Tait and Fadil "Kecik Imba" bin Mohd Raziff had been released from their Dota 2 squad.
No replacements were revealed at the time, but there had been rumors that the organization would complete their Dota 2 lineup with one player from Europe, one from Malaysia and one from the Philippines.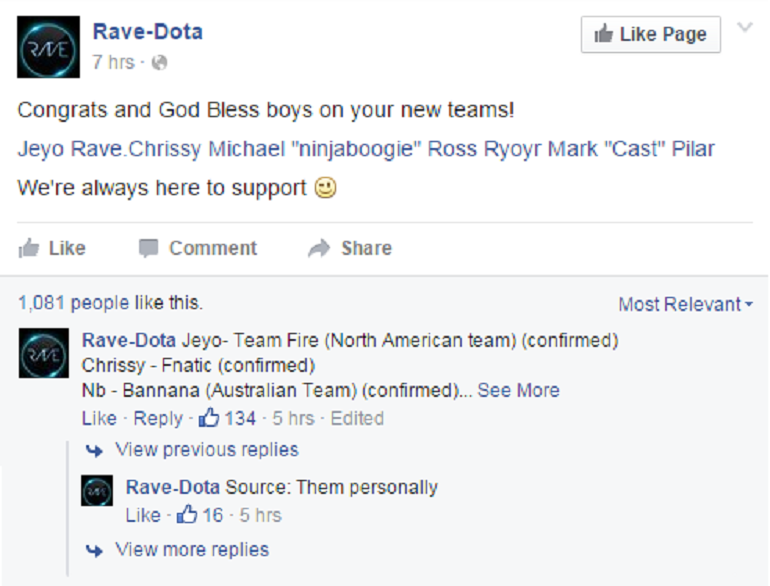 Djardel "Chrissy" Mampusti parted ways with Team Rave in mid-June. Two days after the announcement, he was picked up by MSI-Evolution Gaming.
Fnatic roster

Chai "Mushi" Yee Fung


Chong "Ohaiyo" Xin Khoo


Djardel "Chrissy" Mampusti
Fnatic
Fnatic's new roster sprung into life at the first signs of early spring. Since then, the Mushi-fronted Malaysian squad has participated in some of the biggest tournaments in the world. Reminiscent of the legendary TI3 Orange Esports and star-studded with previous TI attendees, the Fnatic roster had a certain sense of "pedigree" to it. Lee "kYxY" Kang Yang, Chong "Ohaiyo" Xin Khoo and Chai "Mushi" Yee Fun were a part of legendary Team Orange, which fought to a commendable third place at The International 3. Ohaiyo and kYxY also competed in TI4, where they finished 9th-10th with Team Titan, while Mushi attended last year's event, with Team DK, securing 4th place.
Read an in-depth profile feature about Fnatic's Malaysian squad: Fnatic brings back a taste of Orange Esports at TI5
During The International 5, Fnatic have failed to advance into the Upper Brackets of the main event, having secured only 4 points during the group stage. They were knocked out of contention by Virtus.Pro from the very first day of the TI5 main event, on August 3rd, in a brutal best-of-one elimination series.