Na'Vi crushed ViCi Gaming Reborn 2:0 during the SL iLeague Dota 2 Invitational LAN. ViCi Gaming Reborn drop to the lower brackets while Na'Vi continue in the upper bracket finals. Vega and MVP.Phoenix were eliminated and Alliance dropped to the lower brackets earlier in the day. The StarLadder Invitational continues tomorrow with lower bracket elimination series featuring ViCi Gaming Reborn vs Virtus.Pro at 08:30 CEST, followed by another elimination series, lower and upper bracket finals.
New Era wins Reborn! 2:0 for @natusvincere and we have the 1st finalist!#Dota2Invitational pic.twitter.com/TwEPnVub1Z

— Dota 2 SLTV (@dotasltv) April 15, 2016
The series between the hometown favorites and ViCi Gaming Reborn generated much hype and excitement as the last match of the evening.
Na'Vi have been looking better than ever, riding high on their momentum from yesterday and the energy from their home crowd. Guaranteed a top 3 finish, Na'Vi have delighted fans with their stand out performances and renewed spirit. Teamwork and synergy have been spot on while Danil "Dendi" Ishutin continues to be a prominent force for the Ukrainian team.
The first series of the day witnessed Virtus.Pro eliminate Vega Squadron 2:1 in a CIS showdown for StarLadder Dota Invitational LAN.
The series between two of Dota's most beloved teams as of late – OG and MVP.Phoenix ended with OG depriving the Koreans from a single win, eliminating them from the event.
The series between two iconic teams – LGD and Alliance. High tempo games filled with pressure and intensity created a stage for both teams to display their talents and team cohesion with LGD edging out Alliance 2:1.
SL iLeague Dota 2 Invitational LAN: Upper Bracket Semi Finals
Na'Vi started out strong, building their lead in both and gold and experience significantly. Heading into the mid game they wiped out their entire experience lead with a few bad skirmishes but were able to pull it back together with much discipline and taking things slow. Na'Vi had entire map control, gold lead and were ready for counter plays non stop, leading them to their victory.
As one sided as the first game was, ViCi Gaming Reborn pulled themselves together for the second game and took control of the game from the start. Through patience and diligence in items they built themselves up a sizeable led but Na'Vi were able to swing the advantage, leads and map control back in their favor. Their execution and restraint again worked in their favor to seize the victory out from under the Chinese team.
SL iLeague Dota 2 Invitational LAN results: ViCi Gaming Reborn 0:2 Na'Vi. Na'Vi will continue to advance through the upper brackets, while ViCi Gaming Reborn drops down to the lower brackets.
SL iLeague Dota 2 Invitational LAN
The SL iLeague Dota 2 Invitational LAN will feature a prize pool of $100,000. The event will take place between April 14-17 at the Kiev Cybersport Arena in the Ukraine.
Eight teams will compete, including reigning champions Alliance. OG, LGD, MVP.Phoenix, Na'Vi and Virtus.Pro have been directly invited. Vega Squadron has secured the European qualifier spot and ViCi Gaming Reborn grabbed the Chinese spot through their victories in the H-Cup.
SL iLeague Dota 2 Invitational LAN participating teams
Alliance
OG
LGD
MVP.Phoenix
Na'Vi
Virtus.Pro
Winner of the European qualifier – Vega Squadron
Winner of the Chinese qualifier – ViCi Gaming Reborn
SL iLeague Dota 2 Invitational LAN brackets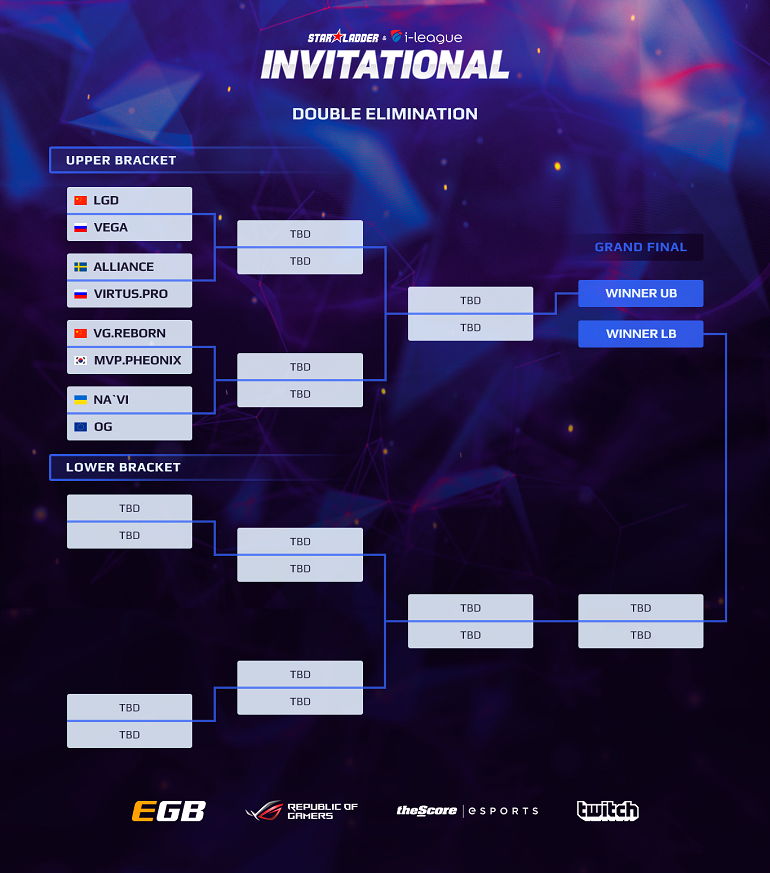 SL iLeague Dota 2 Invitational LAN schedule
Saturday, April 16
08:30 CEST – ViCi Gaming Reborn vs. Virtus.Pro
12:00 CEST – Alliance vs. OG
15:30 CEST – Winner of M9 vs. Winner of M10
19:00 CEST – LGD vs. Na'Vi
Sunday, April 17
14:00 CEST– Loser of M12 vs. Winner of M11
17:00 CEST – Grand Finals
SL iLeague Dota 2 Invitational LAN format
Teams will compete in a double elimination bracket.
All matches are best-of-three series.
Grand Finals are best-of-five series.
Feature image courtesy of StarLadder flickr