LGD Gaming were able to surmount Alliance 2:1 during the SL iLeague Dota 2 Invitational LAN. Alliance has been dropped down to the lower brackets and LGD Gaming will move forward in the Upper Bracket Finals. Vega and MVP.Phoenix were eliminated earlier in the day. The StarLadder Invitational continues with the upper bracket semi finals featuring ViCi Gaming Reborn vs Na'Vi at 20:30 CEST.
#Dota2Invitational@LGDgaming 2:1 @theAllianceGG
Next match – @natusvincere vs @ViCi_Gaming pic.twitter.com/biu0Gc2Bce

— Dota 2 SLTV (@dotasltv) April 15, 2016
The series between two iconic teams – LGD and Alliance. High tempo games filled with pressure and intensity created a stage for both teams to display their talents and team cohesion.
LGD have displayed amazing flexibility and capacity to think on their feet and switch gears even mid game. Alliance have shown tremendous resiliency being able to rebound with force and success. Both teams have demonstrated incredible skill and potential.
LGD Gaming continue to gain strength game by game and seem to have dialed in on their opponents and strategic planning. The Chinese powerhouse drafting has proven to be a step ahead and taken on an intricate design. Ultimately, their approach was able to lead to their victory and success.
The first series of the day witnessed Virtus.Pro eliminate Vega Squadron 2:1 in a CIS showdown for StarLadder Dota Invitational LAN.
The series between two of Dota's most beloved teams as of late – OG and MVP.Phoenix ended with OG depriving the Koreans from a single win, eliminating them from the event.
SL iLeague Dota 2 Invitational LAN: Upper Bracket Semi Final series
Alliance went with a heavy push draft to start out and by 14 minutes were already breaking high ground. Although Alliance were leading throughout most of the game, a few good fights in favor of LGD started to give them control. LGD showed amazing ability to adapt their strategy, exercise patience and prolong the game to get to late stage where they would be comfortable enough to fight Alliance outside of their base. LGD took the first game right out from under the Swedes.
The draft for both teams was really solid and it came down to the execution as the determining factor. The second game really showcased how integral both supports – Jerry "EGM" Lundkvist and Joakim "Akke" Akterhall are to the success of Alliance. The relocates from EGM and the play-style of Akke on Enchantress proved to be critical. Their win pushed the series to a deciding third game.
The last game of the series yielded some fantastic fights from both sides confirming just how hungry and equally matched these two teams were. Vision seemed to be the key factor in gaining advantage in this match for both teams and once again the Enchantress was a pivotal hero, this time on the side of LGD. Around 17 minutes LGD broke it wide open to take a significant lead. The Chinese team became too much to handle and too much to overtake, leading to LGD clinching the series.
SL iLeague Dota 2 Invitational LAN results: LGD 2:1 Alliance. LGD will continue to advance through the upper brackets, while Alliance drops down to the lower brackets.
SL iLeague Dota 2 Invitational LAN
The SL iLeague Dota 2 Invitational LAN will feature a prize pool of $100,000. The event will take place between April 14-17 at the Kiev Cybersport Arena in the Ukraine.
Eight teams will compete, including reigning champions Alliance. OG, LGD, MVP.Phoenix, Na'Vi and Virtus.Pro have been directly invited. Vega Squadron has secured the European qualifier spot and ViCi Gaming Reborn grabbed the Chinese spot through their victories in the H-Cup.
SL iLeague Dota 2 Invitational LAN participating teams
Alliance
OG
LGD
MVP.Phoenix
Na'Vi
Virtus.Pro
Winner of the European qualifier – Vega Squadron
Winner of the Chinese qualifier – ViCi Gaming Reborn
SL iLeague Dota 2 Invitational LAN brackets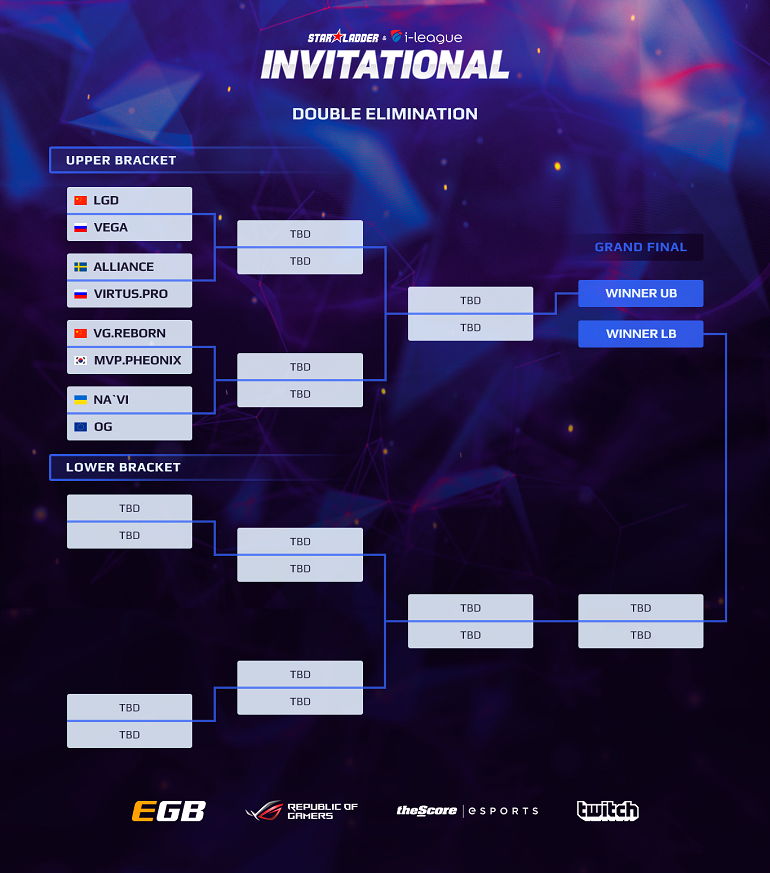 SL iLeague Dota 2 Invitational LAN schedule
Friday, April 15
08:30 CEST – Vega vs. Virtus.Pro
12:00 CEST – MVP.Phoenix vs. OG
15:30 CEST – LGD vs.Alliance
19:00 CEST – ViCi Gaming Reborn vs. Na'Vi
Saturday, April 16
08:30 CEST – Winner of M5 vs. Loser of M8
12:00 CEST – Winner of M6 vs. Loser of M7
15:30 CEST – Winner of M9 vs. Winner of M10
19:00 CEST – Winner of M7 vs. Winner of M8
Sunday, April 17
14:00 CEST– Loser of M12 vs. Winner of M11
17:00 CEST – Grand Finals
SL iLeague Dota 2 Invitational LAN format
Teams will compete in a double elimination bracket.
All matches are best-of-three series.
Grand Finals are best-of-five series.
Feature image courtesy of StarLadder flickr