Virtus.Pro knocked out Vega Squadron from StarLadder Dota Invitational LAN with their convincing 2:1 victory. Vega has been eliminated and Virtus.Pro will move forward in the Lower Brackets. One more team will be eliminated today. The StarLadder Invitational continues with another lower bracket elimination series featuring MVP.Phoenix vs OG at 13:00 CEST, followed by two upper bracket semi finals.
@TeamVirtuspro eliminated @VegaSquadron from #Dota2Invitational
Next match – @OGDota2 vs @MVP_GG pic.twitter.com/mNAgFVqJTL

— Dota 2 SLTV (@dotasltv) April 15, 2016
The first series of the day for StarLadder Dota Invitational LAN was a crucial elimination set.
In the CIS showdown between Vega Squadron and Virtus.Pro turned out to be a a three game series filled with brilliant plays and exciting twists. In a performance of well coordinated teamwork by both teams, Virtus.Pro were able to edge out Vega at the end.
Vega had made only one player change during the team registration period, and they continued to still apply their same tactics and playstyle. Virtus.Pro seemed to struggle the first game and left many wondering about the implications of their recent roster changes. When the two hit head on it was VP who were able to adjust as they lashed out in the second and third game with a high level of play and incredible strategies and drafting.
With their series victory, Virtus.Pro have secured themselves another day in the StarLadder Dota Invitational LAN as they knocked Vega out of contention.
StarLadder Dota Invitational LAN: Lower Bracket elimination series
Vega Squadron easily took the first game of the series from Virtus.Pro. In only 26 minutes they absolutely shellacked their CIS counterparts 27:5. Vladimir "No[o]ne" Minenko had a perfect game while Alexei "Solo" Berezin had an excellent performance. Virtus.Pro fell short as they have not been able to execute their strengths and signature playstyle as effectively.
Great fight between @VegaSquadron and @TeamVirtuspro in the 1st game#Dota2Invitational pic.twitter.com/5xWRUvs04p

— Dota 2 SLTV (@dotasltv) April 15, 2016

The second game Virtus.Pro were not about to be outdone. They executed their draft well and immediately grabbed control of the game and maintained it throughout. Virtus.Pro went all in with the push and sustainability, grouping up and playing together as a team. 13 minutes in they were pushing high ground and giving Vega no room to make any mistakes or take their time to farm. Virtus.Pro were able to pull out their first win of the event in order to tie up the series and force a deciding third game.
In the third game, Virtus.Pro seemed to find their groove and in a time that VP were having trouble coordinating, they went with a deathball strategy. Artsiom "fng" Barshack had an excellent draft and the team had fantastic execution and seemed to be prepared for Vega's moves and plays. Virtus.Pro took the lead once again early in the game and continued to maintain it and surge forward to the end for the win of the game and the series.
.@VegaSquadron vs @TeamVirtuspro teamfight @ game 3#Dota2Invitational pic.twitter.com/KT4pVoUuqG

— Dota 2 SLTV (@dotasltv) April 15, 2016

StarLadder Dota Invitational LAN results: Vega 1:2 Virtus.Pro. Virtus.Pro will continue to advance through the lower brackets, while Vega has been eliminated.
StarLadder Dota Invitational LAN
The StarLadder Dota Invitational LAN will feature a prize pool of $100,000. The event will take place between April 14-17 at the Kiev Cybersport Arena in the Ukraine.
Eight teams will compete, including reigning champions Alliance. OG, LGD, MVP.Phoenix, Na'Vi and Virtus.Pro have been directly invited. Vega Squadron has secured the European qualifier spot and ViCi Gaming Reborn grabbed the Chinese spot through their victories in the H-Cup.
StarLadder Dota Invitational LAN participating teams
Alliance
OG
LGD
MVP.Phoenix
Na'Vi
Virtus.Pro
Winner of the European qualifier – Vega Squadron
Winner of the Chinese qualifier – ViCi Gaming Reborn
StarLadder Dota Invitational LAN brackets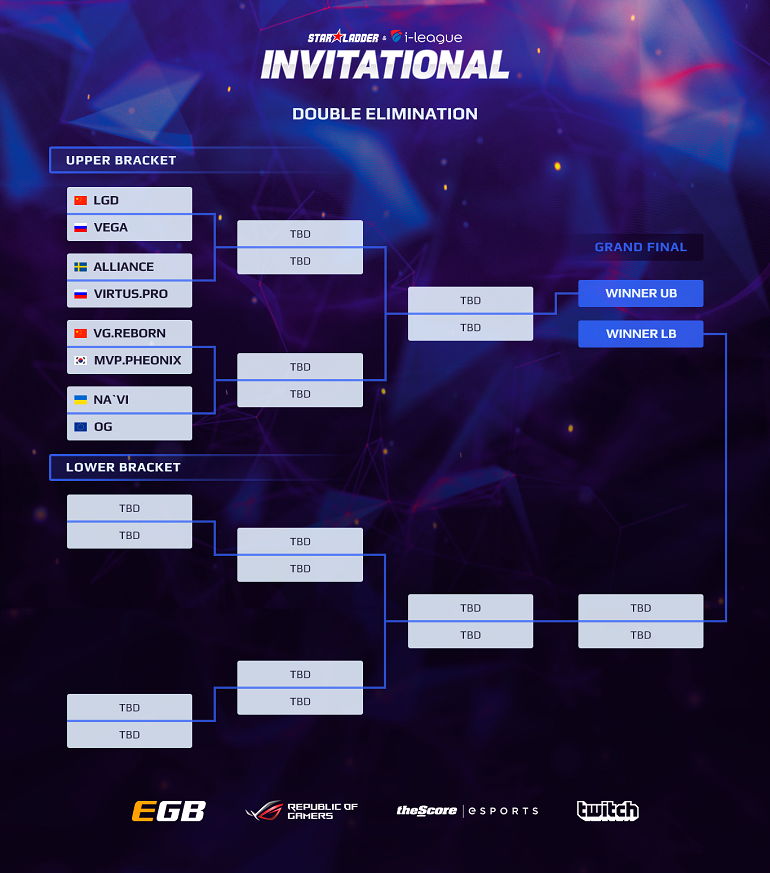 StarLadder Dota Invitational LAN schedule
Friday, April 15
08:30 CEST – Vega vs. Virtus.Pro
12:00 CEST – MVP.Phoenix vs. OG
15:30 CEST – LGD vs.Alliance
19:00 CEST – ViCi Gaming Reborn vs. Na'Vi
Saturday, April 16
08:30 CEST – Winner of M5 vs. Loser of M8
12:00 CEST – Winner of M6 vs. Loser of M7
15:30 CEST – Winner of M9 vs. Winner of M10
19:00 CEST – Winner of M7 vs. Winner of M8
Sunday, April 17
14:00 CEST– Loser of M12 vs. Winner of M11
17:00 CEST – Grand Finals
StarLadder Dota Invitational LAN format
Teams will compete in a double elimination bracket.
All matches are best-of-three series.
Grand Finals are best-of-five series.